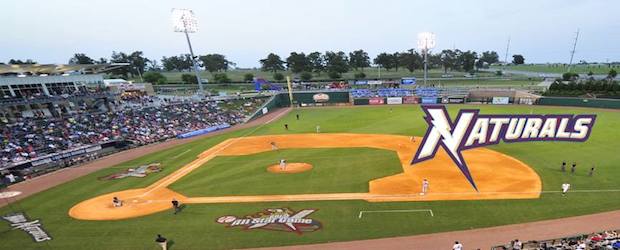 SPRINGDALE, AR- The 2014 Northwest Arkansas Naturals baseball schedule is up and out. Season tickets for the Naturals 2014 season at Arvest Ballpark are now on sale as well.
Season 7 of Naturals baseball will begin with a six-game road trip to Frisco and Midland before returning to Arvest Ballpark for their home opener on Thursday, April 10th vs. the Frisco RoughRiders (AA Texas Rangers). It will mark the first time since the 2012 season that the Naturals have opened with a road trip and the first time ever that the home opener has been against the Double-A Texas Rangers. The season stretches all summer long with the final home game of the regular season being on Labor Day, Monday, September 1st against the Arkansas Travelers (AA LA Angels of Anaheim).
The 2014 home slate, filled with seventy (70) games, is highlighted by a total of thirty-two (32) games falling on either a Friday, Saturday, or Sunday. During the month of May alone, the Naturals will have home games at Arvest Ballpark for four (4) consecutive weekends stretching from May 3rd until May 25th. The home schedule will also see the Naturals face off against the in-state Arkansas Travelers a total of fourteen (14) times and another sixteen (16) times against the Springfield Cardinals (AA St. Louis Cardinals).
In 2014, Arvest Ballpark will be the place to be during the summer holidays as the Naturals will host games during Memorial Day weekend, the Fourth of July, as well as Labor Day weekend. The Naturals will once again host three (3) School Kids Day Games (April 23rd, April 28th, and May 6th) in 2014 with each of those games beginning at 11am.
This year the Naturals were the proud hosts of the 2013 Texas League All Star Game and next year it will remain in-state as the Arkansas Travelers will host the 2014 edition of the Texas League All Star Game on June 24th, 2014 at Dickey-Stephens Park.
The Naturals will be passing out 2014 pocket schedules with our home dates listed during the upcoming homestand beginning on Saturday, August 24th. Pocket schedules will also be available at our Administrative Offices and a printable PDF copy of the schedule will be available in the coming days on the Naturals' official website, www.nwanaturals.com.
The Season 7 promotional schedule, game times and other details on discounted ticket plans as well as group information will be made available throughout the off-season. For any questions regarding our 2014 season, please give us a call at (479) 927-4900.
The Northwest Arkansas Naturals are the Double-A Texas League Affiliate of the Kansas City Royals and play at state-of-the-art Arvest Ballpark in Springdale, AR. For more information including 2014 ticket options, statistics and more, please visit nwanaturals.com, and follow us on Twitter @nwanaturals and Facebook.com/Naturals.