Arkansas at Alabama – Ugh.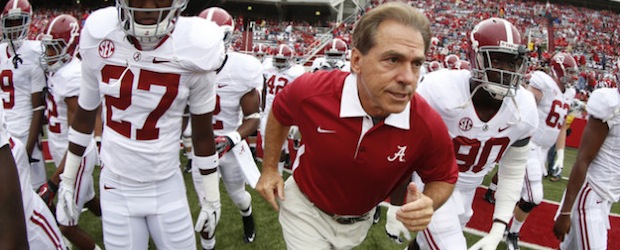 The series has been lopsided, particularly with the arrival of Nick Saban at Tuscaloosa (0-6, in fact). Here is a round up of practice notes, comments, game notes and more about the game scheduled for 6 p.m. (Central) on ESPN.
We will update this post throughout the week, so check back often.
UPDATE 10/18/13
FAYETTEVILLE – The University of Arkansas football team continued preparations Thursday for Saturday's game against the University of Alabama. Head coach Bret Bielema met with the media after practice and spoke about the team's upcoming opponent.
"I think myself and our guys are excited to go over and get the chance to play the No.1 team in the country, somebody that has done very well in the world of college football, not just this year, but every year since Coach Saban has been there, obviously the history they've had," Bielema said. "It's a chance for our guys to bounce back on the right track against a quality opponent."
With Vice Chancellor Director of Athletics Jeff Long's recent appointment as chair of the college football playoff selection committee, Bielema also spoke about the football program's relationship with athletic administration.
"I didn't really know Jeff before I got here," Bielema said. "He's getting to know me. He tackled me last night on the stage. He kind of startled me. I think that's what he's apologizing for. I think what Jeff sees, and the administration and the university in general, they see all the little things that maybe other people haven't seen yet that are great indicators of what's to come from the way we handle our recruiting to the way we handle our budget to the way we handle our business, the way we have a transparent relationship with administration. We're not looking to do anything behind your back. We're not looking to do anything other than everything we say we're going to do, and we back it up a hundred times over with the same guys every day. I think the spike in academics and the standards that we're holding our guys to, whether it be on the field, off the field, drug policy, all of that stuff is really on a positive upswing. At some point it's going to have the results that you want to carry over on the field."
Also Thursday, senior captains Chris Smith and Travis Swanson were named Midseason All-Americans by Phil Steele on Thursday.
Smith was tabbed to the second team, while Swanson was on the third team. They both picked up their second recognition this week after earning first-team Midseason All-SEC acclaim Wednesday.
Smith leads the SEC and is seventh in the NCAA in sacks and also leads the conference in sack yards and tackle for loss yards while ranking third in the conference and 22nd in the nation in tackles for loss. Swanson has started all 45 games of his collegiate career, tied for the second-longest active streak in the country, and anchors the offensive line that ranks 10th in the nation in sacks allowed.
***
UPDATE 10/17/13
FAYETTEVILLE – The University of Arkansas football team continued preparations Wednesday for Saturday's game against the University of Alabama. After practice, defensive coordinator Chris Ash caught up with the media and discussed the dedication of the team during practice this week.
"We've had a good week of practice so far," Ash said. "I think every week we've gotten ready for a game. We're working the process better and better. The true test is what we do on Saturday."
Coach Ash addressed the defensive line and how they've handled the loss of Robert Thomas.
"They've been fine," Ash said. "There's enough playmakers up there, enough veteran guys. They know what they need to do."
Ash also discussed redshirt freshmen Darius Philon and JaMichael Winston, who will play in Alabama for this first time as Razorbacks.
"There's a little bit of extra pep in their step this week," Ash said. "We're trying to teach these guys that every week is a big week and there's no week off. You've got to compete the same way every week if you're going to become the player that you need to be. I want it to be there every single week."
***
From the Anniston Star in Alabama:
TUSCALOOSA — Midway through the season, Alabama is undefeated and still sitting atop the college football world.
The Crimson Tide has had only one real scare, at Texas A&M, and has won every other game by at least 25 points. While some are praising the team's efforts, Tide coach Nick Saban's midseason report would include a few incompletes if he was dishing out grades.
"I don't think that we've played our best game by any stretch of the imagination," Saban said. "There's a lot of things that we can improve on."
What are some specific areas for improvement?
"Obviously, we haven't gotten a lot of turnovers on defense," Saban said. "I think there's times when we've given up too many big plays on defense."
***
UPDATE: 10/16/13 5:00 a.m.
Altee Tenpenny, a former North Little Rock star running back and current freshmen on the Alabama team, is attracting a bit of attention this week in the run up to the Arkansas-Alabama game. He was named one of the Tide's "special team players of the week" after his performance in Kentucky. The Dothan Eagle reports:
Nick Saban won a fierce recruiting battle for Altee Tenpenny, generally considered the best running back prospect from Arkansas last year.
Arkansas head football coach Bret Bielema noted the Crimson Tide's depth at that position.
"I remember extensively studying their running backs situation last year because I was trying to recruit one of them here," Bielema said Monday. "He's not even listed in their top four. … I know he had to have a number change because he was playing on special teams. They're very, very deep and they're very talented."
…
"Altee's done a really good job for us," Saban said. "He's played on several special teams and does a really good job in that regard. He's gotten to play some and plays fast and is explosive."
***
FAYETTEVILLE – The University of Arkansas football team continued game week preparation on Tuesday for its upcoming road game at Alabama.
Offensive coordinator and quarterbacks coach Jim Chaney met with the media after practice and talked about what Arkansas needs to do this weekend.
"We are going to go down there and play our hardest," Chaney said. "Hopefully we will move the ball and score enough points to win. That is our job, goal and mission and we are excited about the opportunity."
Chaney talked about coming together during times of adversity.
"We have to pick it up and stick together like glue," Chaney said. "We just have to keep teaching our method over and over again and hopefully it will sink in and the kids will grasp. We just have to keep fighting to find those details."
Here is a new video on recruiting from the University of Arkansas, highlighting the approach to recruiting new football players to become Razorbacks:
***
Pre-game report from ESPN's Alex Scarborough:
… Arkansas, by design as much as a lack of playmakers at quarterback and wide receiver, is dead last in the conference in passing yards. Compared to what Alabama's seen of late with teams throwing the ball incessantly, the change of pace will be as startling as much as it is challenging. The Tide's previous six opponents averaged 28.6 carries and 86.7 rushing yards per game, compared to Arkansas' per-game average of 39.6 carries and 216.3 rushing yards.
"They can run the ball really well," [Vinnie] Sunseri said. "The freshman is really strong and explosive, can break it any point. We have to bring our A-game to stop them up front."
Alabama coach Nick Saban, whose team Bielema praised as "second to none," had only flattering things to say of Bielema in turn, saying, "Bret has really done a good job of getting his guys to play hard and compete and play with a lot of toughness." Saban sounded refreshed when he talked about how much of a change of pace Arkansas' offense will be.
…
"It's going to take a very good effort," Saban said, "because this is really different than anything that we've played against so far this year in terms of how they run the ball and the sort of formations, the heavy formations, they get in to do it."
It will look different at first, but familiarity will sink in eventually. When it does, relish it. Arkansas is only one of a few programs still clinging to the old school. How Saturday plays out could help determine whether traditional power offenses like the Razorbacks will make a comeback or go the way of parachute pants and fly away for good.
***
FAYETTEVILLE – University of Arkansas head football coach Bret Bielema met with members of the media on Monday to recap last weekend's game against South Carolina, while also looking ahead to this weekend's matchup at Alabama in Tusacaloosa, Ala.
Amidst a stretch of scheduling that features four straight games against preseason top-10 teams, adversity is something Bielema said he believes can be channeled into a point of motivation and rallying.
"That's the same team that has done some pretty positive things," Bielema said. "Last week, that was our number one emphasis, adversity. When adversity strikes, you don't try to fight it alone, you try to fight it together. I think that's the part that we've got to rally around."
Bielema was pleased with the development and play he saw out on the field from young Razorbacks last Saturday.
"The part that I get excited about, if there was any silver lining in Saturday, it was that some of our younger guys probably played their best game," Bielema said. "Denver Kirkland and Dan Skipper played their best game by far. On offense, you take two offensive linemen, a tight end, two running backs that are a sophomore and a true freshman, a quarterback and a sophomore wide receiver and you like where they're going."
Kickoff for Saturday's game against Alabama in Tuscaloosa, Ala., is scheduled for 6 p.m., and the game will be televised nationally on ESPN.
The Arkansas football team began Alabama game week Sunday with a short workout, which was followed by assistant coaches meeting with the media.
Assistant head coach and defensive line coach Charlie Partridge commented on the play of redshirt freshman Darius Philon with the Mobile, Ala., native moving into the starting lineup this week.
"Everyone has seen his progress," Partridge said. "This is a great opportunity for him to get his first start in his home state. He's excited for the opportunity, and he has earned the chance to start."
Associate head coach and offensive line coach Sam Pittman remarked about the progress of the offensive line, which has featured two true freshmen starting in each of the last three games.
"We're making progress," Pittman said. "They work hard. I didn't feel they quit in any way, shape or form on the sideline yesterday and the film confirmed that. Our guys are getting better and improving."
ARKANSAS TRAVELS TO TUSCALOOSA (Game Notes)
The Razorbacks head to Tuscaloosa this week to face Alabama. Arkansas, playing for the eighth straight week, is one of two teams in the SEC to play at least eight straight weeks to open the season and one of three teams in the conference to play eight consecutive weeks at any point during 2013.
Bret Bielema is coaching in his 100th game Saturday. He is 71-28 through the first 99 games of his career. Below are some notable coaches and their win totals through 100 career FBS games.
| Coach | School | Wins |
| --- | --- | --- |
| Joe Paterno | Penn State | 84 |
| Tom Osborne | Nebraska | 76 |
| Steve Spurrier | Duke/Florida | 73 |
| Frank Broyles | Missouri/Arkansas | 72 |
| Woody Hayes | Miami (Ohio)/Ohio State | 71 |
| John McKay | Southern California | 71 |
| Les Miles | Oklahoma State/LSU | 69 |
| Brian Kelly | Central Michigan/Cincinnati/Notre Dame | 69 |
| Vince Dooley | Georgia | 67 |
| Bear Bryant | Maryland/Kent./Texas A&M | 66 |
| Nick Saban | Toledo/Mich. State/LSU | 65 |
| Bobby Bowden | West Virginia/Florida State | 63 |
Head coach Bret Bielema, currently 13th in career winning percentage among active FBS head coaches with at least five years of experience, is involved in a matchup of top-15 coaches for the second straight week and third time this season. Arkansas has already played Texas A&M and head coach Kevin Sumlin and South Carolina's Steve Spurrier. This week features Alabama's Nick Saban. By the end of the season, Coach Bielema will face off with four top-15 coaches, adding LSU's Les Miles on Nov. 29, the 2nd-highest total among the group.
Arkansas' remaining schedule is the 4th-toughest in the NCAA as the Razorbacks' five remaining opponents have a .714 winning percentage this season.
The Razorbacks are the only team in the country that plays preseason top 10 opponents in four consecutive weeks. Arkansas faced Texas A&M in Fayetteville on Sept. 28, traveled to Florida on Oct. 5, returned to Fayetteville to host South Carolina last week and ends the stretch by traveling to Alabama this week.
Arkansas plays at Florida, Alabama and LSU during the 2013 season, marking the third time in school history the Razorbacks will face each team on the road in a single season. Since 1992, Arkansas is the only school to play at Florida, at Alabama and at LSU in the same season multiple times, with four other schools having trips to Gainesville, Tuscaloosa and Baton Rouge on their schedule once.
UA's schedule includes games against teams that have won the last seven national championships (Florida 2006, LSU 2007, Florida 2008, Alabama 2009, Auburn 2010, Alabama 2011, Alabama 2012). Including this week's meeting with Alabama, Arkansas has played the defending national champion 13 times since 1993.
Arkansas has allowed eight rushing touchdowns this season, the fewest in the SEC among teams that have played seven games and the 3rd-lowest total in the NCAA among teams with seven games already this season.
The Razorbacks' +15 sack differential is the highest in the SEC and tied for 4th-highest differential in the NCAA, trailing only Fresno State, Northern Illinois and Louisville at +16.
***
THE ALABAMA/ARKANSAS SERIES: Alabama leads the all-time series with Arkansas, 13-8 (16-7 before forfeited and vacated games). The most recent meeting occurred on September 15, 2012, when the Crimson Tide posted a 52-0 victory over the Razorbacks in Fayetteville. The Tide has won straight games in the series by an average margin of 39.8-15.5 and four straight games in Tuscaloosa by an average score of 34.5-18. Alabama and Arkansas first met on January 1, 1962, as the Tide defeated the Razorbacks 10-3 in the Sugar Bowl en route to Alabama's sixth national championship. The Tide's last loss to the Razorbacks was in double overtime on September 23, 2006, by a score of 24-23 in Fayetteville. Arkansas' last win in Tuscaloosa was a 34-31 win in 2003 in double overtime.
ARKANSAS SERIES IN THE SABAN ERA: The Crimson Tide is undefeated against the Razorbacks since head coach Nick Saban arrived in Tuscaloosa with a 6-0 record. Many of the series highs for Alabama have come in the past four years under Saban. Last year's 52-0 victory in Fayetteville marked the most points and the largest margin of victory in the series. In 2008, Saban's first trip to Fayetteville (LSU played Arkansas in Little Rock during his time in Baton Rouge), the Crimson Tide scored 49 points, in large part because of dominance on the ground with the Tide picking up a series-high 328 rushing yards. The Alabama defense was successful in 2009 in making the Razorbacks' offense one-dimensional by holding Arkansas to a series-low 63 rushing yards, while the Tide's Greg McElroy threw for a then-career-best 291 yards and three touchdowns. In 2010, No. 1 ranked Alabama posted a come-from-behind 24-20 victory over No. 10 Arkansas at Razorback Stadium in Fayetteville. Junior running back Mark Ingram rushed for 157 yards on 24 attempts and scored two touchdowns. In 2011, Trent Richardson racked up 211 total yards on the day (126 rushing, 85 receiving) including a touchdown reception, while AJ McCarron finished the game 15 of 20 for 200 yards and two touchdown passes. Marquis Maze added an 83-yard punt return for a score. In the last five games against the Razorbacks, the Tide has outscored Arkansas 198-55.
***
Darius Philon, a former Alabama player and current defensive lineman for the Arkansas Razorbacks, drew praise this week from Nick Saban. AL.com reports:
"We do think a lot of Darius," Alabama coach Nick Saban said Monday. "He was a very, very good high school player with great quickness and played in a really good program and we certainly thought a lot of him. I'm not surprised at all he's doing extremely well at Arkansas and he's playing well for them and may have an opportunity to start for them.
"We'd have loved to have him at our program here, but it didn't work out that way for us. Everybody that we recruit, we want to see them do well wherever they end up going and he's certainly done a really good job there and we're really happy for him and his family."
Philon has 18 total tackles this season including six in the backfield and three sacks. He had three of those tackles for loss, a sack and forced fumble in last week's loss to South Carolina.
***
Check back throughout the week for updates to this post.