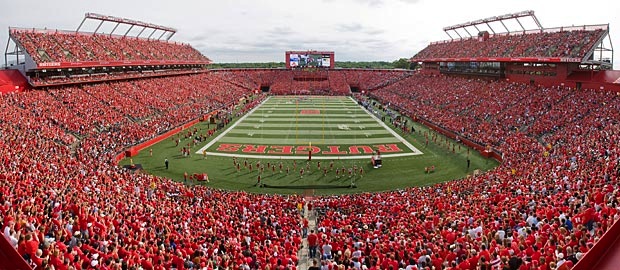 This Saturday is Arkansas at Rutgers and in full-throat are the questions of who plays, who's hurt, who's healthy and can the Rutgers defense stop the one-two running attack of Jonathan Williams and Alex Collins. The game is set for kickoff Saturday, Sept. 21 at 2:30 p.m. Central in Piscataway, NJ. Rutgers boasts the fifth-ranked rushing defense in the nation through the firs three weeks of the season.
UPDATE 9/20/13
FAYETTEVILLE - The University of Arkansas football team held practice Thursday in preparation for its first road game of the season. Head coach Bret Bielema spoke with the media after practice about the team's improved health moving into Saturday.
"We're actually taking 72 with us to Rutgers because out-of-conference you can take up to 80, and we haven't done that in the first three ball games," Bielema said. "We only took 70. So we're taking a couple extra because we're just that much healthier."
Bielema addressed the team's game plan against Rutgers.
"As far as our game plan against Rutgers, I thought our guys have bought into it," Bielema said. "We have very similar offenses going  against each other, both like to run the football. So, I think there's some carry-over there that's very, very good. Defenses both are four-three personnel and have some similar schemes defensively, so it's going to be a really fun game. I think it's going to be a game that comes down to who executes, who performs well in the red zone, offense-defense, who plays well on special teams, and obviously who's able to capitalize on other people's miscues."
The Razorbacks (3-0) travel to High Point Solutions Stadium in Piscataway, N.J., this Saturday to face Rutgers (2-1). Kickoff is set for 2:30 p.m. CT and the game will be broadcast on ESPN.
***
The Star-Ledger Reports on Gary Nova and center Betim Bujari:
Nothing changed today regarding the status of Rutgers quarterback Gary Nova and center Betim Bujari for Saturday's game against Arkansas — and that's a good thing from the Scarlet Knights' perspective.
One day after saying he was "very optimistic" about the prospects of both playing this weekend, coach Kyle Flood said the two remained on track to return to their starting positions after today's final practice of the week.
…
"I feel exactly the same," Flood said when asked about Nova and Bujari. "Both guys took a fair amount of reps today so I feel going into Saturday that both guys are ready and prepared for us."
Nova, Flood added, will not be restricted if he plays as anticipated.
"He will have the full game plan, as will Chas (Dodd)," Flood said.
UPDATE 9/19/13
The Star Ledger reports Rutgers starting quarterback Gary Nova practiced Wednesday:
Kyle Flood said Wednesday that he's optimistic that QB Gary Nova can play Saturday against Arkansas. Well, Arkansas is going to be bringing their starting quarterback, Brandon Allen, to the game despite an injured shoulder that hasn't allowed him to practice.
Whether this is optimism on the part of Arkansas coach Bret Bielema or gamesmanship will be seen that day.
UPDATE: 9/18/13
FAYETTEVILLE - The University of Arkansas football team continued game week preparation on Tuesday for its upcoming road game against Rutgers.
Offensive coordinator and quarterbacks coach Jim Chaney met with the media after practice and discussed the team's excitement for their first road game.
"We had a lot of wrinkles today that we need to work out," Chaney said. "But for the most part they had a great attitude and they are excited to go to Rutgers and play a very good football team. I think the kids understand what is in front of them."
Chaney talked about the loud atmosphere at High Point Solutions Stadium and how the team is preparing for it.
"I think the crowd noise is a major issue," Chaney said. "Coach Bielema wanted to go into the indoor facility and it always helps. It has more of a hollow sound which makes it a lot louder and harder to communicate. We have dabbled with a little bit of it during training camp. Coach would throw some crowd noise on, so it wasn't the first time. It really didn't seem to bother us that much."
The Razorbacks (3-0) travel to High Point Solutions Stadium in Piscataway, N.J., this Saturday to face Rutgers (2-1). Kickoff is set for 2:30 p.m. CT and the game will be broadcast on ESPN.
***
Here is the press conference Monday from Rutgers.
Tom Luicci of the Star-Ledger in New Jersey reports:
Rutgers coach Kyle Flood offered no clarification today on the status of quarterback Gary Nova for Saturday's game against Arkansas, saying he had not seen the junior yet but might later this afternoon.
Nova suffered a concussion in last Saturday's 28-10 victory over Eastern Michigan.
He was listed as "probable" on the injury report released this morning.
…
It was a year ago in a 35-26 victory at Arkansas that Nova had his best day as a collegian, throwing for 397 yards and five touchdowns.
Dodd, in his first extensive action since the 2011 Pinstripe Bowl showed rust. He finished 4-of-9 for 45 yards but was sacked three times and was flagged for being over the line of scrimmage on a pass.
The senior has 16 career starts to his credit, all as a freshman and sophomore, going 8-8 in those games.
***
Luicci's Tuesday practice report from Rutgers included this:
Rutgers quarterback Gary Nova practiced on a limited basis today but the final determination on his availability for Saturday's game against Arkansas has not been made yet, coach Kyle Flood said.
Center Betim Bujari, who missed last week's game with a head injury, also practiced on a limited basis today.
"We were able to have Gary out there on doing some things in a limited role, we were able to have Betim out there in a limited role, so that's good," Flood said following practice. "It was good to have those guys out there to be able to do something and then hopefully we can progress them as the week goes on."
Nova was not made available to the media following practice.
***
Luicci also reports on the expected absence of Rutgers linebacker Jamal Merrell:
The mystery surrounding Jamal Merrell's absence from Saturday's game against Eastern Michigan has been solved, with Rutgers coach Kyle Flood revealing that the fifth-year strong side linebacker has a kidney issue that will likely keep him out of this weekend's game against Arkansas.
***
Chip Patterson of CBSSports.com elaborates on the defensive backs situation for Rutgers with Merrell's absence:
Merrell has been a regular starter for the Scarlet Knights defense since 2011, finishing third on the team in tackles a year ago. Merrell and his twin brother Jamil, a senior defensive end, are two of the most experienced players on a unit that lost eight starters from 2012.
Arkansas enters High Point Solutions Stadium looking for revenge after suffering a 35-26 home loss to Rutgers a year ago. First-year Razorbacks coach Bret Bielema has brought a physical brand of offense to the Hogs, utilizing a one-two punch of Jonathan Williams and Alex Collins to lead the SEC rushing after three weeks, averaging 294.33 yards per game on a whopping 53.3 attempts per game.
***
The Daily Targum reports this on the Rutgers backup quarterback, Chas Dodd:
"I'm comfortable," Dodd said. "I'm ready to get going and I'm going to be prepared if my number's called and just ready to start game planning this week and get myself ready."
His most recent appearance was less than stellar, as Dodd appeared understandably rusty in the Scarlet Knights' 28-10 victory Saturday against Eastern Michigan.
Entering the game for the Knights' second series, Dodd threw just 4-for-9 against the Eagles. Dodd overthrew receivers, had a miscommunication with senior center Dallas Hendrickson resulting in a false start and was sacked three times.
…
"Any time an opportunity presents itself, it's an exciting one," Dodd said. "Any guy at this position wants to be the guy and wants to play, so it's definitely exciting to see what's going to happen with it, but obviously you don't want a guy to be hurt."
***
Rutgers running back Paul James discusses the game with the Razorbacks, which he looks at as a test. He is asked about his thoughts on Jonathan Williams and Alex Collins, to which he says he's not worried about them because his team's defense is strong against the run. "I feel like our defense is just going to stop them," James says.
For what it is worth, Rutgers has allowed less than 60 per game rushing on average through the first three games of the season.