Arkansas Football Practice Reports from the Razorbacks, Red Wolves and UCA Bears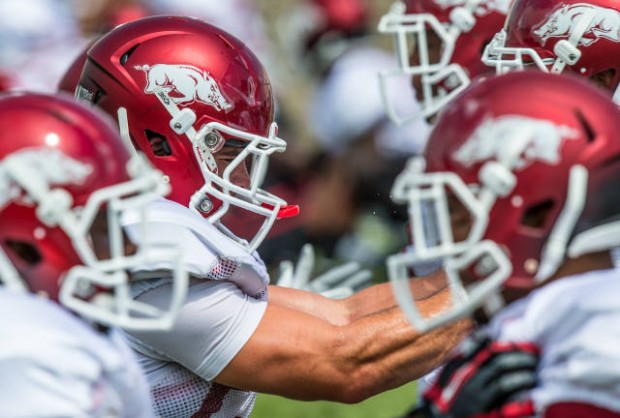 FAYETTEVILLE - The University of Arkansas Razorbacks football team continued its first week of preseason camp Wednesday afternoon on the outdoor practice fields. Defensive coordinator Chris Ash met with the media after practice and spoke about the first day in shoulder pads.
"It was a new day," Ash said. "First day in shoulder pads, but we really didn't have much more contact than we did with just helmets. The kids were flying around and working hard and getting better."
With the Razorbacks defense being under new direction this season, Ash talked about the process and what he is looking for at practice.
"These guys will work the process," Ash said. "They will come to work every single day, we will coach them in the meetings and they are going to get better through that time. I will be very excited and happy about the product that we will put on the field for game one."
Coach Ash also commented on the work ethic that he is looking for on and off the field.
"I tell the guys every single day is like NFL draft day," Coach Ash said. "They are getting evaluated in everything they do. When they get to a meeting room do they get their notes out first, are they the first to practice, how are they doing in the individuals, how are they doing in walk-through, so we are evaluating every single day."
Red Wolves Hit Field Twice for First Two-a-Days of the Football Practice Season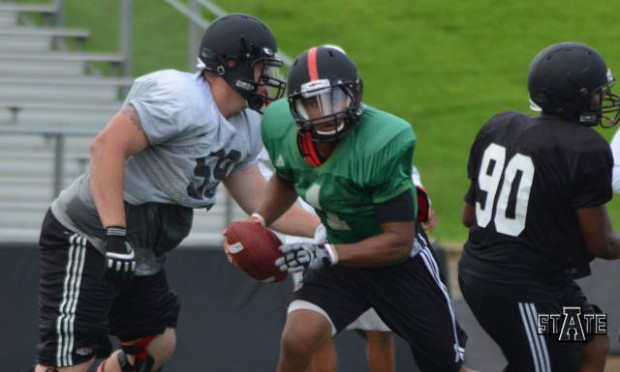 JONESBORO  – The Arkansas State Red Wolves football team held the first of three "two-a-days" planned for their fall camp this week.
The Red Wolves were  inside Liberty Bank Stadium in full pads this morning for the second straight practice, and then returned to the field in the evening in shorts and shoulder pads.
"Our morning practice wasn't bad, but the mentality wasn't what it needed to be tonight and that showed up some," said head coach Bryan Harsin.  "Two-a-days are about overcoming the fatigue that goes with it and showing some toughness to accomplish your goals.  We did some good things, but there were some other areas where we have to continue to improve."
The morning practice was highlighted by the performance of the offense in goal line periods, while the defense shined in the second with its effort in the red zone sessions that included an interception by sophomore defensive end Chris Stone.
"The goal line period this morning was live, and the offense did a great job," Harsin said.  "The defense came back with a different mentality this evening, swelled up in the red zone, and answered back.  They got a couple of turnovers.  Chris was flying around out there and made a nice play on a tipped ball at the end, so it was good to see the way the defense finished.
"I like the way our defensive line is playing right now," Harsin said.  "(Defensive line coach Steve) Caldwell is doing a great job with that group.  They go hard, and they are leaders by example.  The defensive energy we've had all around has been good for the most part.  The offense has done some nice things as well, and the quarterbacks continue to progress as a group, but it's a little harder right now to get into a rhythm on that side of the ball while you're switching out players at that position."
The Red Wolves will continue their fall camp with their first scrimmage, which is expected to include approximately 90-100 plays that will give each personnel group 30-35 reps.
UCA Bears Get Busy with Full Pads
CONWAY - Full pads went on for the first time Wednesday, and the University of Central Arkansas defense did not miss a beat on another hot, humid afternoon on the UCA campus.
"The defense really dominated today," UCA head coach Clint Conque said. "They are playing fast, they are playing physical, and they are just doing what they want to do right now. I'm very excited about the way the defense is playing, but we have to get our offense going where it is just as fast and physical and productive as our defense."
The Bears, in full gear, opened practice with what they call the "Cave Drill,' with one blocker, one tackler and one runner going head up against each other. It was a spirited start to the first practice in full gear.
"We wanted to get in there and let them go at it right from the start," said Conque. "We've been practicing for four days under the NCAA-mandated rules about limited contact and no pads, and we were ready to let them hit each other a little bit. I think it was a great way to start practice. I think the guys were ready."
Conque said the UCA offense had seven or eight turnovers Wednesday, with Jestin Love, Radarius Winston, Bobby Watkins and Dillion Winfrey recording interceptions.
"That's just unacceptable," said Conque. "You can't turn the ball over that many times, even if it's just in practice. We have a lot of work to do on that side of the ball to get our intensity where the defense is right now."
The UCA defense does return a bevy of starters, including Love, an All-Southland Conference safety, and SLC Freshman of the Year Jonathan Woodard at defensive end. Three others, including senior linebacker Justin Heard, senior lineman Matt Hornbuckle and senior defensive back Radarius Winston, were preseason first-team All-SLC selections.
"I'm proud of the defense they way they are coming to practice every day," Conque said. "They are coming to work every day and getting better every day. We need the offense to step up and do the same."
UCA will practice twice more this week in shoulder pads and helmets before their first scrimmage of fall camp, set for 4 p.m. Saturday at First Security Field at Estes Stadium.
Courtesy University of Arkansas, Arkansas State University and UCA Departments of Athletics