Courtesy University of Arkansas Athletics Department
OXFORD, Miss.- The University of Arkansas women's basketball team hits the road this weekend for an extended trip through the state of Mississippi. The Razorbacks (14-6, 2-5 SEC) face Ole Miss at 7 p.m. Thursday, and will stay in the state before facing Mississippi State on Sunday afternoon.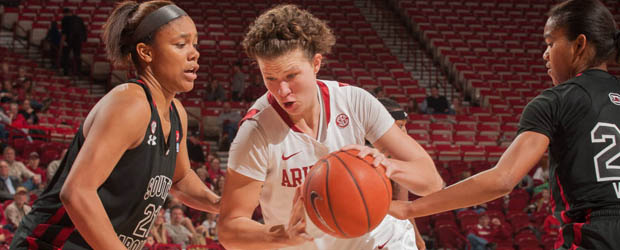 Arkansas is coming off a tough battle against No. 14/18 South Carolina. Facing one of the strongest defensive teams in the country, the Razorbacks had a chance to tie the game on the final possession before falling 43-40. The team is looking to rebound from that loss and earn two important wins in road games.
"Winning on the road in a major conference is pretty tough," Arkansas head coach Tom Collen said. "But I like my team. They're pretty resilient. They're motivated and they're not ready to lie down and quit yet."
Arkansas has been led by unlikely sources in the past two games. In the win over Missouri, fifth-year senior Erin Gatling stepped up to score a career best 23 points, including six three pointers. Against the Gamecocks, Jhasmin Bowen snapped a quiet stretch with a team high 13 points and Calli Berna had a career high 10 rebounds. Sarah Watkins still leads the team with 12.2 points per game, while Quistelle Williams leads the Razorbacks on the glass with 6.9 rebounds per game.
"We know that we're a good team, and every night is a battle," senior Sarah Watkins said. "We know we have the potential to get wins, and this is a big opportunity going into Mississippi against these teams to get two big wins."
Ole Miss is 8-12, and 1-6 in the SEC under first year acting head coach Brett Frank. Since starting the season 6-2, the Rebels have lost 10 of their past 12 games. Ole Miss is led by a trio of scorers, as Tia Faleru (11.9 ppg), Valencia McFarland (11.7 ppg) and Diara Moore (11.2 ppg) all average over 11 points per game. McFarland is also leading the team in assists, and is one pace to do so for the third straight season.
Ole Miss holds the lead in the all-time series 23-11, and the Razorbacks have just one win in Oxford, Miss. Arkansas is 1-14 at Ole Miss, with the win coming on Feb. 17, 2011. The Razorbacks also eliminated the Rebels from the SEC Tournament last season with a 67-47 win.
"Our team enjoys going into environments where they're fighting the crowd," Collen said. "They enjoy the challenge. We just have to go one game at a time. If we can go down to Ole Miss and find a way to win, that propels you into the Mississippi State game. We just need to hang in there with them."