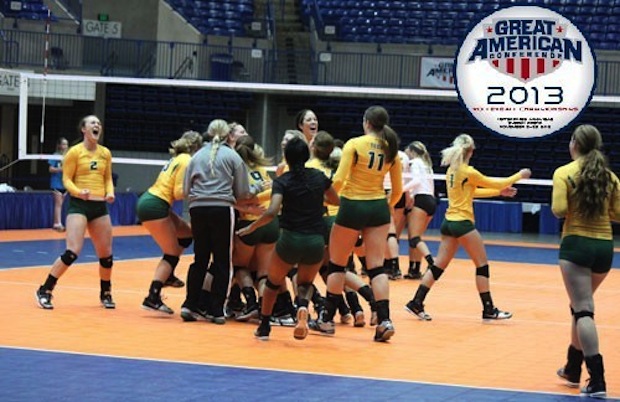 HOT SPRINGS, Ark. – The Arkansas Tech Golden Suns won their second Great American Conference Volleyball Championship by defeating top-seeded Harding in three sets, 25-19, 32-30, 25-17, on Saturday from Summit Arena.
Amber Cerrillos, the GAC's Setter of the Year, earned Tournament MVP honors as she collected a match-leading 33 assists. For the championship, she averaged 12.0 assists per set and in nine career GAC Volleyball Championship contests, she totaled 362 assists, good for an average of 11.67 per set.
The Golden Suns (25-11) grabbed control of the first set thanks in part to errors from Harding (27-8). The Lady Bisons committed seven of their nine first-set errors during a 12-6 Tech run. Conversely, the Golden Suns committed only three errors in the set and hit .229.
The contest's highest drama came in the second set. Arkansas Tech jumped out to a 10-6 advantage before Harding rallied back to take a 20-17 lead. The Golden Suns responded with a 7-2 burst to take a 24-22 lead. However, the Lady Bisons ripped off three straight points to earn set point at 25-24. They would eventually have four set-point chances in the set, before the Golden Suns took a 29-28 lead on a Sara Motsinger kill. The set continued all the way to 31-30 before Tech finally claimed it, 32-30 – the second-longest set, by points, in the three-year history of the GAC.
In the final set, Harding and Arkansas traded small leads until the Golden Suns scored five straight points off of Sierra Nighswonger's serve to grab a 14-9 advantage. The lead grew as large as eight before they Suns won the title on a Motsinger and Emily Todd block.
In the victory, Motsinger hit .440 with 12 kills. Morgan McKellar added a match-high 21 kills. Harding's Mollie Arnold, the GAC Player of the Year, registered a match-high 16 kills and added 13 digs for her 69th career double-double.
The Golden Suns did not drop a set in any of their three GAC Championship contests. They became the first non-top seed to win the GAC Tournament title.
With the win, the Arkansas Tech Golden Suns earned the GAC's first-ever automatic bid to the NCAA Tournament. They will learn the destination and opponent for their third NCAA appearance at 6:30 p.m. on Monday during the selection show that will air on NCAA.com. Harding could earn a bid as an at-large candidate. They entered the GAC Championships ranked ninth in the Central Region.
ALL-TOURNAMENT TEAM
Amber Cerrillos, S; Arkansas Tech (MVP)
Morgan Hatwig, MB; Arkansas Tech
Morgan McKellar, DS/L; Arkansas Tech
Mollie Arnold, OH, Harding
Lisa Copeland, L, Harding
Danielle Essix, OH; East Central
Tara Wait, S; Ouachita Baptist