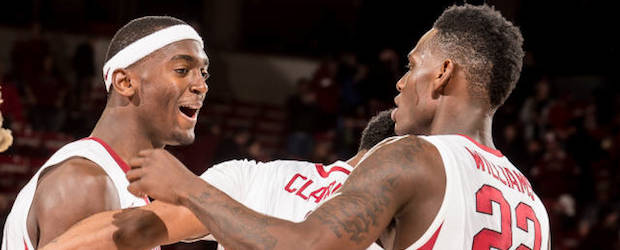 Bobby Portis was far from the star Saturday afternoon in Nashville. Arkansas' big man notched 31 minutes, 8 points, five rebounds, two turnovers, two steals, zero assists and nearly fouled out. Still, don't underestimate the large role he played in Arkansas' 77-75 win over the Commodores.
The 6-9 freshman's length and lateral quickness made him a a key figure in a full-court press that fueled 17 first-half points off turnovers. Vanderbilt repeatedly double-teamed Portis, which in turn freed up perimeter space for Arkansas shooters like Michael Qualls, Rashad Madden and Mardracus Wade to go to town. A season-best 10-for-16 three-point shooting performance later, the Hogs had their first road victory of the season and a two-game SEC winning streak. 
These games potentially mark a turning point in Arkansas' season. For potential to turn to reality, yes, guys like Qualls and Wade have to start putting in Vanderbilt-like efforts almost every game from now on. But the consistent intensity Portis has shown each game this season will continue to be a bedrock for any last-season Cinderella surge Arkansas may have up its anthracite sleeve. As a true freshman, he has been turned pre-season hype into mid-season history as puts together numbers already ranking with the best all-around big men who ever put on an Arkansas uniform.
Through his first 23 games as a Razorback, Portis ranks third in per-game rebounding when compared to the career averages of Marshawn Powell, Corliss Williamson, Oliver Miller, Joe Kleine and Scott Hastings. His 13.1 scoring average leads only Milller, but thanks to list-topping 76.9% free throw shooting, Portis has been a more efficient scorer than all except Williamson and Kleine.
Comparing Career Statistics of Best Razorback Post Players
Big Man
MP
PPG
FGM
FGA
FG%
3PT%
Portis
26.9
13.1
5.1
9.4
54.4%
22.7%
Powell
26.4
13.6
5.3
10.8
49.2%
29.0%
Williamson
29.1
19.0
7.2
12.4
58.3%
16.7%
Miller
23.7
12.2
5.0
7.8
63.6%
16.7%
Kleine*
35.2
18.1
6.9
11.8
58.5%
N/A
Hastings
32.3
14.8
5.5
10.2
54.4%
N/A
George Kok**
N/A
17.5
7.2
N/A
N/A
N/A 
| Big Man | FTM | FTA | FT% | RPG | APG | SPG | BPG |
| --- | --- | --- | --- | --- | --- | --- | --- |
| Portis | 2.6 | 3.4 | 76.9% | 6.6 | 1.3 | 1.0 | 1.4 |
| Powell | 2.6 | 4.1 | 64.5% | 5.6 | 1.3 | 1.0 | 1.0 |
| Williamson | 4.5 | 6.8 | 67.2% | 7.1 | 2.1 | 1.2 | 1.0 |
| Miller | 2.3 | 3.5 | 64.6% | 6.5 | 2.2 | 1.1 | 2.5 |
| Kleine* | 4.3 | 5.9 | 72.3% | 8.3 | 0.7 | 0.9 | 0.5 |
| Hastings | 3.7 | 5.0 | 74.8% | 5.7 | 1.3 | 0.9 | 0.6 |
| Kok | 3.2 | 4.5 | 69.8% | N/A | N/A | N/A | N/A |
*Kleine transferred to the UA after a season at Notre Dame. These stats reflect his UA games only. Stats courtesy of  HogStats.com. See the abbreviations key for the charts above here.
**George Kok was a four-year letterman from 1945-48, was a two-time All-American for the Razorbacks and three-time First-Team All-Southwest Conference selection. Kok was the first Razorback to score 1,000 points in a career in 1947 and finished his four-year stint with the Razorbacks with 1,644 points, a total that continues to rank 11th on Arkansas' all-time charts.
Of course, numbers in a vacuum tell only a small part of the story. There have been a few Razorback bigs who have put up guady stats (e.g. Powell and Michael Washington) but didn't help raise their teammates' play – nor, ultimately, the program's stature.
We now enter the realm of intangibles that not even the most advanced box scores show. In this department, Portis (who won four straight state titles with Little Rock Hall High) is first-team freshman All-American. "I think he hates to lose," ESPN analyst Jimmy Dykes said during Portis' 35-point effort in Arkansas' win last week against Alabama. "There are plenty of people who love to win, but there are very few people who hate to lose, and I think he has that about him," Dykes said. "You have to have that about you to be great."
Ron Brewer, Sr., the former Razorback All-American, loves Portis' ability to take defenders off the dribble, pick and pop, flash to the rim and snag hard-to-handle passes and rebounds, but Brewer wants to see Portis fill out his 240-pound frame. "One thing he lacks – and he's going to get better at it – is strength in the middle. From the waist down, as he gets stronger, he'll be able to stay in there and bang." 
Brewer also wants to see Portis and Arkansas center Moses Kingsley play more often in tandem. From the Razorback practices he has watched, he believes Kingsley is as talented as Portis and only needs more playing time to start showing a similar level of confidence in front of the crowds. He notes Arkansas' "weakness right now is rebounding and strength in the middle, toughness in the middle. And those two guys are your biggest bodies – they'll get that done for you." In recent games, coach Mike Anderson has more often paired Portis and Kingsley for short stretches, but Arkansas is still second-to-last last in rebounding margin in conference play (-7.3), and last in field goal percentage (39.3%).
Portis' development as a more consistent, dominant force this season is key to Arkansas' chances of winning two or three of the its last four road games – at Missouri on Thursday, then at Mississippi State, Kentucky and Alabama. His evolution as one of the program's all-time great big men is a dual-edged sword, though. The better he gets, likely the shorter his time on the Hill. Brewer believes after a strong finish this season Portis will have an even better 2014-15 season before entering the NBA Draft. "I've got a feeling he's got two years in him."
* * *
Demirel is projected to be a mid first-round Twitter follow by 2015. He blogs more about Arkansas basketball here.