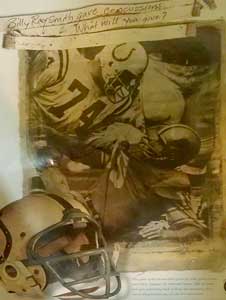 Featuring Clint Stoerner, former Razorback quarterback; B.J. Maack, the owner of Arkansas Sports Performance Center in Little Rock, an athletic trainer and an organizer of the Fellowship of Christian Athletes High School Football Combine; and Sporting Life Arkansas' Jon Davis, an avid sports fan and the father of two children.
In addition to the conversation on Twitter, there was another conversation about this story going on over at the Arkansas Times' Arkansas Blog worth checking in on, too.
We thought the discussion on Football Concussions on Twitter was worth sharing with you.
[tweet https://twitter.com/ClintStoerner/status/289781400784224256] [tweet https://twitter.com/DavisJon/status/289782366107480065] [tweet https://twitter.com/ClintStoerner/status/289783161079083008] [tweet https://twitter.com/DavisJon/status/289785336693940224] [tweet https://twitter.com/bjmaack/status/289785751795793920] [tweet https://twitter.com/bjmaack/status/289786007941951490] [tweet https://twitter.com/bjmaack/status/289786345151401984] [tweet https://twitter.com/bjmaack/status/289786584855891968] [tweet https://twitter.com/DavisJon/status/289787127271673858] [tweet https://twitter.com/ClintStoerner/status/289860431592448000] [tweet https://twitter.com/bjmaack/status/289861404905836545]