Courtesy University of Central Arkansas Athletics Department
CONWAY, Ark. _ University of Central Arkansas forward Jarvis Garner earned his first Southland Conference Player of the Week honor Monday after leading the Bears to a 2-0 week in conference play.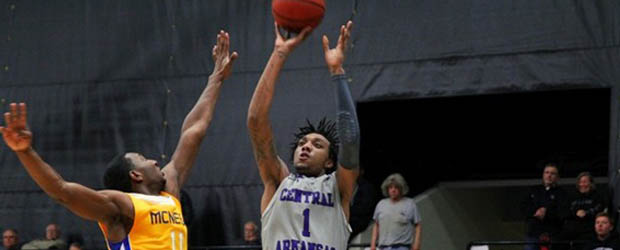 Garner, a 6-foot-7 senior from Conway, poured in 38 points in UCA's triple overtime victory over McNeese State last Thursday. Garner nailed a 30-foot three-pointer to send the game into overtime, then hit another from a few steps closer to put it into a second overtime. The Bears eventually recorded a 103-98 win over the Cowboys.
Garner added 15 points and 5 assists to go with his second 38-point scoring outing of the season and his fourth double-double of the year. He played only 14 minutes in Saturday's blowout win over Lamar, finishing with 8 points and 4 rebounds. For the week, Garner shot 60.7 percent overall (17 of 28), 61.5 percent from three-point range (8 of 13) and 100 percent (4 of 4) from the free-throw line.
Garner is now No. 3 in the Southland in scoring at 16.1 points per game and is No 3 in three-pointers made with 38. The Bears are riding a three-game winning streak and host Southeastern Louisiana on Thursday and Nicholls State on Saturday.