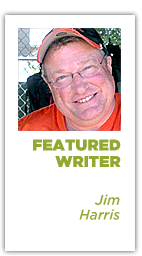 About five years ago, I thought I'd been sold a bill of goods: This Henderson State-Ouachita Baptist football rivalry wasn't what Rex Nelson and many others who'd spent years following the "Battle of the Ravine" had made it out to be, it seemed.
The Gulf South Conference had moved the game to a Thursday night for television, and there was more activity around the tailgating than there was in Carpenter-Haygood Stadium on Henderson's campus. Coach Scott Maxfield's powerhouse squad was supposed to win but the Reddies didn't look like they wanted to be there, and OBU surprised them. Ouachita's Julio Pruitt did convince anyone watching he might be one of the best receivers in all of Arkansas that night, though I had a hard time convincing Arkansas Razorback fans of that (Pruitt is with the Miami Dolphins these days, by the way).
Last Saturday, with Arkansas thankfully having an open date, I was willing to give the Battle of the Ravine another shot — last year's game reportedly drew more than 13,000 at Henderson — this time at the quaint surroundings of A.U. Williams Stadium on OBU's campus. From the pressbox, looking out at about 10 o'clock, one can see the west stands of Carpenter-Haygood Stadium a few hundred yards away, across Highway 7/10th Street.
And, turns out, this was more like what Rex and the other folks had been saying about the "Battle of the Ravine." In fact, under overcast skies and an unseasonable 70 degrees for mid-November, with an announced crowd of 9,630 fans split between the red of Henderson and the purple of OBU, it may have been the best ever game in the series. Certainly it will be as talked about as any for years to come.
After 10 weeks of watching mostly abysmal Razorback football, I saw two teams who absolutely refused to lose from opening kickoff to the finish. Ouachita, the decided underdog to 10-0 Henderson that was already headed to the Division II playoffs, simply ran out of downs. The Reddies survived in triple overtime, 60-52.
Some of the individual plays will stay etched in my mind. Darius Davis saved Henderson's undefeated season with a handful of big plays in the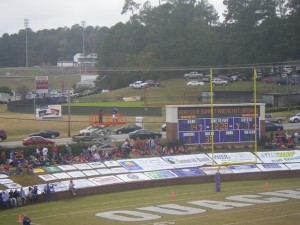 overtime, but none bigger than his fourth-down catch of Kevin Rodgers' short throw, then his effort to get past three potential tacklers for the final yard and the tying touchdown in the second overtime. Four plays before that, the junior from Frisco, Texas, somehow got his hands under a low throw from Rodgers on fourth down to keep the Reddies alive. In the first overtime, he took a short swing pass from the 9-yard line and took off like Superman through and over tacklers inside the 5-yard line for a touchdown.
You'll hear this over the next several weeks, that Henderson's Rodgers may be the best quarterback in the state. He's certainly the most successful one currently, taking that mantle from former Arkansas State quarterback Ryan Aplin, who won 20 games over his last two seasons. Rodgers, just a junior, has 21 wins and one loss in the past two years. He throws a bullet, and he has arm strength an accuracy for the deep throws. How it might translate onto the SEC playing fields, where the defensive speed is enormously better than the D-2 level, is anybody's guess. But Rodgers, who was only about 6-feet tall in high school at Rockwall, Texas, has bloomed into 6-foot-3 and 215 pounds, and he's the engine that makes Henderson's offense go to the tune of 50-plus points per game.
Rodgers and Henderson scored 17 straight points over the second and third quarters to take a 31-21 lead over the aroused Tigers, but it was hardly comfortable.
OBU was doing things offensively that, in the hands of an offensive coordinator whose team isn't winning, might have caused some head-scratching. But it worked marvelously for the Tigers, who have been contending every year in the Great American Conference under head coach Todd Knight.
Chris Rycraw, a terrific overachieving running back who starred at Bryant High School and is now a senior at OBU, and former Glen Rose star Steven Kehner, alternated taking direct snaps in what everyone now terms the "wildcat," whether it actually is the "wildcat" formation or not. Or they'd run it straight from the tailback position, while strong-armed Benson Jordan or Austin Warford took snaps at quarterback. OBU mixed it up and kept the Henderson defense guessing.
Meanwhile, OBU knew what was coming from Rodgers and the Reddies but was hard-pressed to stop it.
That's what made the overtime session so thrilling, not unlike that Saturday evening in Baton Rouge six years ago when Arkansas held on to knock off No. 1 LSU 50-48 in triple OT.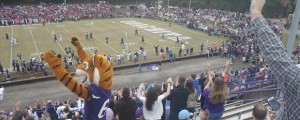 Both teams had so many weapons, stopping them from scoring from the 25 was nearly impossible. It would come down, most likely, to the two-point conversions required beginning with the third overtime.
Sure enough, it was Henderson's Davis who was the difference maker, grabbing a deflected fade pass in the far right corner that gave the Reddies an 8-point lead to start the third overtime, after tailback Daniel McCoy had darted in from 8 yards through a big opening in the tired OBU defense for the touchdown.
Now, not only did OBU have to score a touchdown, but it also had to make a two-point play. When the Tigers moved into position for the touchdown at the Reddies 13-yard line, an offensive pass interference penalty (a push-off by the receiver on an incompletion) in the end zone set the Tigers back to the 28 — not insurmountable, but difficult. Finally, on fourth down, Henderson's Gary Vines, from North Little Rock, picked a deflected pass in the end zone to seal the Reddies' win.
No one had left a stadium that was overflowing — the grass berms were filled with fans — before kickoff. By the overtime period, folks were lining the highway to watch the historic happenings. It took at least a half-hour before the field cleared of celebrating Reddie fans and players, as well as Tiger fans and players who were congratulating them. There was hate and passion between the rivals during the game, and a sense of camaraderie after it.
That's what a great rivalry should be. ESPN's "College GameDay" took note of the matchup earlier Saturday. And yes, now I know: The "Battle of the Ravine" is truly all it's been said to be. Here's hoping Arkansas has an open date again next season when the teams meet. Everyone who doesn't have another game to see should be in Arkadelphia that day.