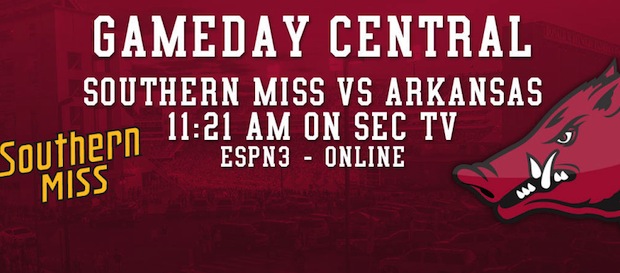 The stage is set. It's the Razorbacks vs Southern Miss Golden Eagles Live Blog from Fayetteville.
Join us today as Jim Harris tracks the action on the field from Donald W. Reynolds Stadium in Fayetteville. The Arkansas Razorbacks vs Southern Miss Golden Eagles.
The game kicks off at 11:21 a.m. Sept. 14, 2013, and is televised the SEC Network. Details on where to watch the game are available by clicking this link.
Bookmark this page and plan to come back often. No one live blogs a game like Jim Harris. Want proof? Here is Jim's work from the season opener against the UL-Lafayette Ragin' Cajuns. And here is last week's live game blog from Little Rock against Samford. You'll learn more about Razorback football during one Jim Harris Live Game Blog than you thought possible. Guaranteed.
Also, don't forget to tag us in pictures your take and post to Twitter, Facebook and Instagram. On Twitter, we're @sportinglifeark; click here to get us on Facebook and here to get us on Instagram. Whether you're at the game, at a party or hanging with friends at the sports pub, we want to see all the fun you're having.
It's game day, people. Let's have a blast!

3:38 p.m. 24-3 Hogs, final — Arkansas coach Bret Bielema said it was good for A.J. Derby to settle in after he was a bit "rattled" when he first entered the game, as the backup quarterback helped lead the Razorbacks to their third win of the year.
Arkansas' Alex Collins became the first freshman in SEC history to rush for 100 or more yards in his first three games. Imagine the players in league history who went on to greatness (or in the case of such stars as Bo Jackson and Herschel Walker, won the Heisman Trophy) who didn't accomplish that.
Now, let's not get too far ahead of ourselves and start mentioning Collins and Heisman in the same breath. Collins, in the post-game interviews, credited his offensive line for giving him the chance to top 100 yards in each of his three games so far.
His fellow tailback, sophomore Jonathan Williams, also cracked the 100-yard mark for the third game and had his third breakaway TD run in three games as well, this one of 45 yards that gave Arkansas some breathing room at 17-3 in the third quarter.
Jarrett Lake, the senior linebacker who had to sit out last week's game for a team violation apparently incurred under the previous staff, looked like he was trying to get two games' worth of tackles in one. He said he set his goal for 15 tackles but finished two short of that. Lake did sniff out USM's fake field goal attempt early in the fourth quarter; Lake said he noticed two Golden Eagles on his side whispering in a way that clued him in to a possible fake, and USM's shovel pass attempt only gained 2 of the necessary 7 yards to get a first down.
Defensive end Chris Smith had three sacks, and Bielema said he was the player of the game. His opposite bookend, Trey Flowers, returned from injury to deflect and then intercept a pass early in the game.
See you next week when Arkansas travels to Rutgers for a nationally televised game (ABC or ESPN's networks) that kicks off at 2:30 Arkansas time.
Meanwhile, catch me Saturday night at 6:30 p.m. and 10:30 p.m. as the KTHV, Channel 11 "Hog Zone Super Saturday" team breaks down this game. And look on this site for the Two-Minute Drill as we highlight various highs and lows in Saturday's game.