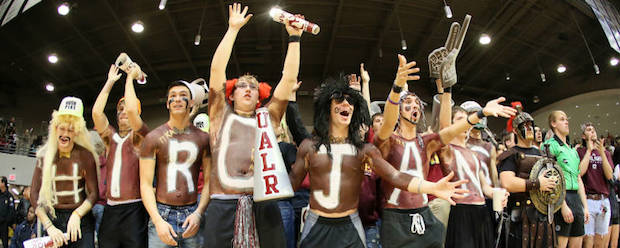 The fan support for Arkansas State University and the University of Arkansas at Little Rock is arguably among of the nation's best and the opening round results of the NCAA 6th Fan Contest prove it as the Red Wolves and Trojans both have advanced to the Sweet Sixteen in the nationwide online competition per an announcement made this Monday by the NCAA, CBS Sports and Turner Sports.
Arkansas State placed second in the opening round's final results, which concluded Sunday (Feb. 16) night following six weeks of fan online voting through Facebook, Twitter, and the NCAA 6th Fan website.  As a result, A-State has been awarded $10,000 in general scholarship funds and may either award the dollars to a randomly selected student or for deposit in the school's general scholarship fund.
And thanks to the tremendous show of support from its fan base over the last six weeks, UALR advanced to the Sweet Sixteen of the NCAA's online 6th Fan competition late Sunday night.
By voting online through Facebook, Twitter, and the NCAA 6th Fan website, Trojan fans catapulted the program into the top 16 among the more than 350 NCAA Division I schools in the nation.
UALR finished the opening round in 14th and will now face off in a bracket-style format against No. 3 seed South Dakota State for the next week as part of the Sweet 16. The winner of the UALR-South Dakota State matchup will advance to the Elite Eight to take on either No. 6 Western Illinois or No. 11 New Mexico.
The Red Wolves, who are seeded second, are presently competing against No. 15 seed University of North Carolina, Greensboro in the Sweet Sixteen bracket-style format with voting to be held Feb. 17-23.  Fans are encouraged to show their support and continue voting online atNCAA 6th Fan, through Facebook or via Twitter by using hashtags #6thFan and #ArkSt in tweets.  Voting for the Sweet Sixteen concludes this Sunday (Feb. 23) at 11 p.m. (CT).
The top vote getter among the two finalists of the 6th Fan contest will be announced March 16 on Selection Sunday and receive $100,000 contribution to its school's general scholarship fund.Following this week of Round Two voting, those schools receiving more votes than their head-to-head competitor will advance to the Elite 8, which will be announced Monday, Feb. 24. The A-State-UNCG matchup winner advances to the Elite Eight and will face either No. 7 Bryant University or No. 11 University of North Carolina, Asheville.
One randomly selected participant who registers and votes on NCAA.com will win an all-expense paid trip to the 2015 NCAA Division I Men's Final Four (April 4-6) in Indianapolis, Ind.  Additionally, iPad Airs will be awarded in each of the five rounds to randomly chosen individuals who vote via NCAA.com in each respective round.