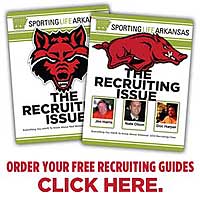 Last night, nabbing Alex Collins from the likes of Miami, Florida, Florida State and Wisconsin, marked a big pick-up for the University of Arkansas Razorback football team and new coaching staff headed up by Coach Bret Bielema. Click here to watch his announcement.
Depending on your recruiting services, Collins is THE top running back in the country, or one of them, certainly. He is a Five-Star recruit, or Four-Star recruit, again, depending on what sportswriter's service you care to believe.
Today, the morning after one of the largest "gets" in terms of recruiting for the Hogs, we take a look at what the experts are saying about new Arkansas Razorback Alex Collins.
Losing standout local RB Alex Collins to ARK is a tough loss for Miami who needs another RB to help Duke Johnson.

— Bruce Feldman (@BFeldmanCBS) February 5, 2013
Big get for Bret. RT @caneswatch: Alex Collins picks Arkansas. Big hit for UM. I watched this kid play 5 or 6 times. The real deal.

— Pete Thamel(@SIPeteThamel) February 5, 2013
Arkansas Football: Alex Collins' Commitment is Huge for the Hogs' Class bit.ly/11n7dxJ

— Barrett Sallee (@BarrettSallee) February 5, 2013
AM RT: What 5-star RB Alex Collins Means to Arkansas bit.ly/VAsb41

— Barrett Sallee (@BarrettSallee) February 5, 2013
Big get RT @kippladams: ESPN 150 RB Alex Collins announces on TV he has committed to #Arkansas es.pn/UqvZKn #Razorbacks

— Edward Aschoff (@AschoffESPN) February 5, 2013
Hurricanes miss on five-star running back, as Alex Collins commits to Arkansas sun-sentinel.com/sports/sfl-ale…

— Michael Casagrande (@ByCasagrande) February 5, 2013
5-star RB Alex Collins just committed to Arkansas. Big pick-up for Bret Bielema.

— Bruce Feldman (@BFeldmanCBS) February 5, 2013
And this from Edward Aschoff, SEC beat writer for ESPN.com
As for Arkansas, Collins is huge steal for Bret Bielema and his coaches. Talking with Bielema shortly after he was hired at Arkansas, he told me that his goal was to hit the southeast hard. He knew it was a must and he made it clear that Florida and Georgia would be priorities.

Well, getting a stud back like Collins, who was once committed to Miami for several months, is a great start. Collins is a player who could come right in and make an immediate impact in Arkansas' defense. He's not only a bruising back, but he's elusive and has tremendous speed. He might not be the biggest player, but he isn't going to be afraid to take/deliver hits.

Outside of getting a player of great need, Bielema — with some help from former Miami head coach Randy Shannon (linebackers coach) — got a player everyone in the state of Florida wanted. The Canes, Gators and Seminoles all missed out on one of the state's top players. That's big, and it will only help Bielema in the state of Florida from here on out.
We're pretty sure this is how Bret Bielema was feeling last night.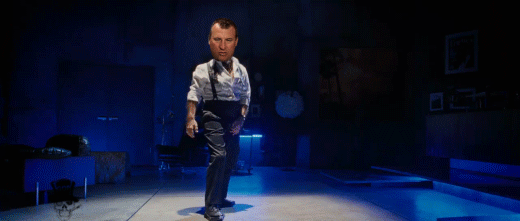 We found this funny gif on SecRant.com. It's too good not to share.