Razorbacks Lose SEC Opener to Texas A&M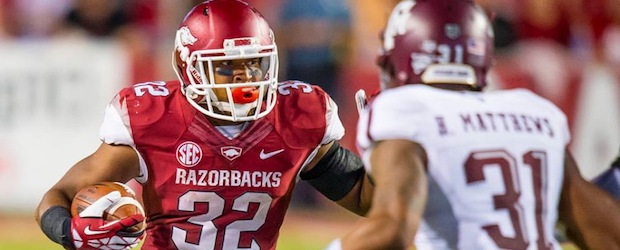 The Razorback football game against Texas A&M is in the books with a home loss for the Hogs 45-33. Here is a wrap up of what sportswriters and analysts had to say about the game.
MT: @SportsCenter: Arkansas' @Jwillpart2 had one of the sickest touchdowns of the WEEK » http://t.co/kSGdKPdTbe #SCtop10

— SportingLifeArkansas (@SportingLifeArk) September 29, 2013
Manziel finished 23-of-30 passing for 261 yards, and he rushed for 59 yards.
"We asked (Manziel) to make plays, and he made plays," Texas A&M coach Kevin Sumlin said. "He took care of the ball. We were able to run it and be patient."
…
The teams combined for 1,006 yards of offense. The Aggies, who entered the game leading the SEC in scoring at 50.2 points per game, outgained the Razorbacks 523-483 in total yardage.
"We knew we had to score basically every time we had it," Arkansas coach Bret Bielema said.
…
Despite the boost from Allen's return, the Razorbacks once again had few answers for the reigning Heisman Trophy winner Manziel.
"He did a lot of big things," Arkansas defensive end Chris Smith said. "We only got to him one time, but he's a great player. Like I said before, he made a lot of moves. Give credit to that offensive line. They were good too."
ESPN's Greg Ostendorf with his SEC Helmet Stickers:
The Texas A&M offensive line: Johnny Manziel gets most of the credit for Texas A&M's high-powered offense, but it was the offensive line that absolutely dominated Arkansas up front on Saturday. The Aggies rushed for 262 yards against the Razorbacks, averaging six yards per carry. No one player reached 100 yards rushing, but Trey Williams and Tra Carson played well down the stretch, and starting running back Ben Malena scored twice. Manziel still finished with 261 yards and two touchdowns through the air and another 59 yards on the ground, but it all started with the offensive line.
With Arkansas breathing down their necks and the crowd of 72,613 at Razorback Stadium raising the decibel level as the host squad threatened an upset of No. 10 Texas A&M, the Aggies handed over the game not to their quarterback but to their running game. It helped them put away the Razorbacks 45-33 on Saturday night.
…
Junior defensive back Deshazor Everett came up with the Aggies' biggest defensive play, a 34-yard interception return for a touchdown, on Arkansas' opening drive of the second half.
"Coach [Mark] Snyder told us on the sideline that he was going to change the call and he wants me to stay inside of [Julian Horton] and wait for the slant route," Everett said. "He dialed it up and called it and it was perfect. They ran the slant and I jumped it, just like he told me to."
Brock Huard on Manziel (w video of him slinging it) "He's Brett Favre w/o the arm strength and a whole lot more speed."

— Bruce Feldman (@BFeldmanCBS) September 29, 2013
Mike Evans is unfair.

— Bruce Feldman (@BFeldmanCBS) September 29, 2013
Johnny Manziel is the most amazing playmaker I've ever seen in college football -- he's jawing w/ and toying w/ the Razorbacks.

— Skip Bayless (@RealSkipBayless) September 29, 2013
Neither rain nor an inspired effort by the Arkansas Razorbacks could keep 10th-ranked Texas A&M from finding a way to continue winning on the road.
A powerful running game and a 34-yard interception return for a touchdown by junior free safety Deshazor Everett powered the Aggies to a 45-33 Southeastern Conference victory on Saturday night at Razorback Stadium.
…
"Anytime you go on the road and win in this league, it's a good win," A&M head coach Kevin Sumlin said. "I thought our defense did enough to win the game."
…
"I thought they had an excellent plan," Sumlin said. "They kept us off-balance, wheel routes, reverses. You name it. We got the kitchen sink tonight."
The reigning Heisman Trophy winner raised his arms in the air with palms up, urging on the home crowd on Saturday night late in the first half of a raucous Southeastern Conference contest.
Only Johnny Manziel was on the road, and a rowdy Razorbacks Stadium crowd heartily responded to the flamboyant Texas A&M quarterback's mocking gestures by roaring even louder.
Manziel's bravado, however, was simply emblematic of the Aggies' overall approach to their first road game, following four consecutive contests at Kyle Field to start the season. No. 10 A&M outshot overmatched Arkansas 45-33 before 72,613 fans, in the Aggies' first trip to Fayetteville since 1990, when both played in the now defunct Southwest Conference.
"Coach (Kevin) Sumlin has instilled in us that when we go on the road, we need to bring our own energy and passion," A&M safety Toney Hurd Jr. said. "We bring that."
…
"Kevin Sumlin has got them rolling, and for us to play the way we did I'm happy," Bret Bielema said. "But in no way am I satisfied with that."