Courtesy UofA Athletics Department
Fresh off a very good win at home, the University of Arkansas basketball team heads out on the road to face the South Carolina Gamecocks at Colonial Life Arena in Columbia, S.C., on Saturday, Jan. 26, at 12:47 p.m.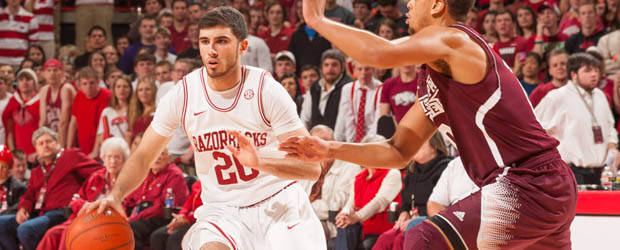 Arkansas (12-6, 3-2 SEC) is coming off a big win over Mississippi State at Bud Walton Arena in which it notched performances in several categories that rival the best in school history including a 26-point margin of victory, 27 assists, 11 blocks and 29 forced turnovers. Arkansas' 96 points against the Bulldogs were the most by a Razorback team against an SEC opponent since it scored 98 against No. 15 Mississippi State last year and just the fourth time in the last eight years that an Arkansas squad has scored at least 90 against a conference opponent during the regular season.
What made Arkansas so effective against Mississippi State was its ball movement in and out of the Bulldogs' 1-3-1 zone and around its man coverage. The Razorbacks made 33 shots against Mississippi State and had 27 assists on those made baskets with Marshawn Powell leading the way with 17 points. Powell was one of four Razorbacks in double figures with BJ Young (13), Coty Clarke (13) and Jacorey Williams (10) joining in and Hunter Mickelson continues his aggressiveness on the boards with a team high six rebounds and three blocked shots. 
South Carolina (11-7, 1-4 SEC) has had an extra day to prepare for the Razorbacks after a tough loss at Missouri on Tuesday night. The Gamecocks held an eight-point halftime lead against the Tigers, but were outscored 44-30 in the second half to fall, 71-65. Brenton Williams came off the bench to lead South Carolina in scoring with 16 points and RJ Slawson also came in to contribute 12. After hitting 5-of-10 three-point attempts in the first half, the Gamecocks hit just 1-of-10 in the second with Williams accounting for four of the six made three pointers. 
Arkansas holds a 14-10 lead in the all-time series which began when the Razorbacks joined the Southeastern Conference, but are just 4-6 against South Carolina in Columbia. The Razorbacks' last win in Carolina was during the 2000-01 season.
The Razorback game against South Carolina will be broadcast on the radio across the Razorback Sports Network from IMG College with Chuck Barrett and Rick Schaeffer giving the call. The game will also be carried live on the SEC Network with Mike Morgan and Barry Booker on air.