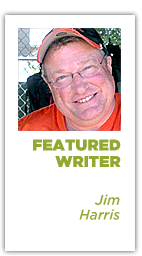 Like a lot of his Arkansas teammates, senior defensive tackle Robert Thomas was not a happy camper at times when Samford's offense seemed to elude his grasp. On one play in particular in the first half, Thomas disgustingly ripped the remainder of his gloves off his hands after Samford's hard-running tailback, Fabian Truss, wriggled out of a potential tackle for loss.
"I reached out there for him and I just fell," Thomas said "It was like he just ripped my whole gloves so I just threw them away, so they [Hog staffers on the sideline] just handed me a fresh new pair."
Thomas didn't despair. With new gloves, the next few plays were a new start. What happened next seems to exemplify this developing defense under first-year head coach Bret Bielema and his staff.
Samford had already driven 75 yards for a touchdown, and Arkansas began stalling on offense with penalties. Suddenly, the energy seemed to kick it high for Thomas, who blew up a pair of plays in a row, putting an end to a Bulldogs' march in the second quarter. Thomas didn't get credit for his first down work — the tackle on the Hogs' 40-yard line was given to linebacker Austin Jones, but Thomas obviously wrecked the play — and then he the quarterback on second down for a 4-yard loss. Two plays later, Samford was punting.
"The whole team, like, we had to make a big play. Everybody came out there and just executed and it made it easy for us," Robert Thomas said.
OK, if it were that simple — but it wasn't for the Arkansas defense on Saturday, and here's what happened in the final minute of the half: Javontee Herndon tried to make more than he had on a punt return and had the ball knocked loose, Samford d yet another chance at Arkansas' 35. But Thomas was all over the bothersome Truss on a first-down pass for a 2-yard loss, then combined with end Chris Smith to sack the quarterback again, a 6-yard loss, and again, two plays later, the scare was over.
Of course, frantic moments were just beginning. Arkansas' defense in the second half forced a first-series punt by Samford, only to return to the field two plays later when Hog tailback Jonathan Williams fumbled at his 24. The Bulldogs pushed that one across to cut the Hogs' lead to 17-14.
Arkansas' offense again did little, but the Hog defense forced yet another punt. The field position battle went Samford's way, however, with no offense and the Football Championship Subdivision-level Bulldogs took over at midfield after a punt and quickly moved to the stunning go-ahead score.
In retrospect, of course, it ultimately falls on the defense to keep the opponent out of the end zone, but the Razorback offense wasn't helping matters either.
The good news for Arkansas was that both units clicked for the last 20 minutes of the game and a shocking upset was avoided.
Defensively, Arkansas allowed 10 yards on six snaps in the fourth quarter and pitched consecutive three-and-outs. The offense scored twice and rang up 163 yards all on the ground in the fourth quarter. The last one-third of the game was all Hogs, but the way the first two-thirds unfolded should show how dangerous any game, even against an FCS team, can be in college football today. Thomas came away impressed with Samford, calling the Bulldogs "a real good team, they're going to win a lot of ball games this year."
Samford was 1-0 with an opening win over Georgia State after a 7-4 season last year.
"Everybody just came out there and just executed," Thomas said of the defense. "Like everyone knew we had to make a big stop, we had to do something. So everybody came out there with the same mindset that we're not going to quit. We made it happen.
"We had a never-quit attitude."
Thomas and the defensive tackles are trained to play both tackle positions. Sometime both Hog tackles line up over opposing guards. At other times, one may be head up over the opposing center and another looking straight into the gap between an opposing guard and tackle.
In the 34-14 opening game win over Louisiana-Lafayette, Thomas seemed to spend most of his snaps over center and often occupied two blockers. The rotation against Samford, for whatever reason, favored Thomas having more time line up against a guard (two technique) or facing the guard-tackle gap (three technique).
Either way, Thomas has clearly been the most dominant of the Arkansas tackles so far.
"It's just kind of how we rotate. Like sometimes I might be on the nose, and sometime I might be on the three, it just depends on how we're going. It don't matter to me, I can play either one of them."
Thomas struggled two years ago as a junior college transfer with three years of eligibility remaining. He showed some improvement last year and thus far in 2013 is the top Hogs' interior defender with his ability to bull rush an opposing lineman and disrupt an offense. He has seven total tackles in two games, 1.5 sacks and 3.5 tackles for 11 yards in losses. With this week's opponent, Southern Mississippi (11:21 a.m. kickoff in Fayetteville) relying mostly on a short passing game, Thomas' quickness and ability to pressure the quarterback from the interior will be paramount for the defense.
Oh, but there was one play last Saturday that may foretell something to look for this week. Arkansas defensive coordinator Chris Ash on one third-quarter snap called for a zone blitz from the outside and dropped Thomas back into coverage in the linebacker area, and it resulted in a Samford incompletion. Just food for thought.
"Anytime I make plays I feel it's a blessing, but I give it all to my teammates. Without them executing like them getting in their spots, I wouldn't be open, so I appreciate all of them."