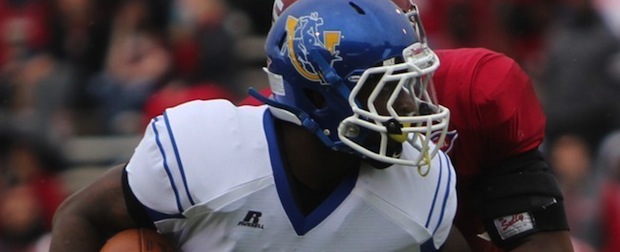 ARKADELPHIA - Henderson State put together one its best performances of the season as the fourth-ranked Reddies rolled to a 66-24 pounding of Southern Arkansas, Saturday at Carpenter-Haygood Stadium.
The Reddies, 10-0 overall and 9-0 in the Great American Conference, claimed the GAC championship title outright for the second straight season. With the win, Henderson State is guaranteed post-season play in either the NCAA Division II Playoffs or a spot in the Texarkana United Bowl.
Henderson State finished the regular-season undefeated at home for the second straight season. The win also marks the fifth time in school history that a Reddie team has won 10 games in a season.
The Reddies compiled 734 yards of total offense, averaging 8.2 yards per play. Henderson also set a school record with 40 first downs.
Harlon Hill candidate Kevin Rodgers put together another impressive performance,
completing 27-of-39 passes for 474 yards and three touchdowns. The junior from Rockwall, Texas also scored a pair of rushing touchdowns having scores of 11 and 8 yards.
Junior wide receiver Darius Davis had a career game totaling 232 yards on 7 receptions including touchdown catches of 68 and 9 yards. The 232 yards in a game is the third most in HSU history.
The game began with both teams trading field goals before Rodgers gave the Reddies a 10-3 lead on his first rushing touchdown of the game late in the first quarter.
Henderson State extended the lead to 17-3 just minutes later as Rodgers connected with Davis for a 68-yard scoring strike on the second play from scrimmage.
SAU, 5-4 on the season, answered with a 6-yard touchdown pass from Tyler Sykora to Chris Terry to begin things in the second quarter.
The Reddies then scored 42 unanswered points as Rodgers connected with Joseph Snapp for a 10-yard touchdown, then hit Davis for an 8-yard score.
After Rodgers made the score 38-10 with his second rushing touchdown of the game, linebacker Keaton Stigger scored the next three rushing touchdowns for the Reddies having scores of 1,1, and 2 yards.
SAU scored a pair of touchdowns late in the game, while Reddies' final score was a 1-yard plunge by Jaquan Cole.
Henderson totaled 503 yards through the air, while the ground game collected 231 yards.
Freshman Daniel McCoy led the Reddie rushing attack with 92 yards on 20 carries, while Cole ended the game with 52 yards on 8 attempts.
Dustin Holland followed Davis having six catches for 85 yards, while Snapp had 3 catches for 59 yards.
The Reddie defense was equally impressive as All-GAC running back Mark Johnson was held to just 33 yards rushing. Johnson entered the game averaging 92.2 yards per contest.
Along with his three rushing scores, Stigger had 13 tackles, a pass break-up and two quarterback hurries.
Blake Lopez had a big game with nine tackles, while Ricardo Mendez had seven stops.
Charles Gonsalves also made Henderson State history as the senior kicker had nine extra-points along with a 27-yard field goal.
The nine extra-points runs the McKinney, Texas product total to 120 career point after touchdowns, setting the Henderson State record once held by Bo Adkinson. Adkinson had 119 PATs from 1974 to 1977. Gonsalves is a perfect 47-for-47 this season and has a career success percentage of 93 percent (120-of-129).
The Reddies will conclude the regular-season next Saturday as they will face Ouachita Baptist in the most unique rivalry in all of college football. Henderson will walk across the street to face the Tigers in the 87th Southern Bancorp Battle of the Ravine with kickoff slated for 2 p.m. at A.U. Williams Field.
The Muleriders will return home for their final game of the season as they will play host to Arkansas-Monticello on Saturday, November 16. Kickoff for the game is set for 2 p.m. That game will also be Senior Day at Wilkins Stadium as 21 of the SAU football players will play their final home game as Muleriders.