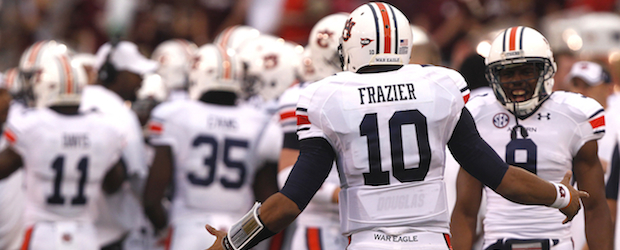 UPDATE 1/15/14:
From Ouachita Baptist University:
ARKADELPHIA, Ark. – Ouachita Baptist University Head Football Coach Todd Knight announced that former Auburn Tiger Kiehl Frazier has transferred to Ouachita and will play his final year of eligibility for the Ouachita Tigers. Frazier will play alongside his brother Jed Beach, an offensive lineman for the Tigers.
A highly sought-after recruit coming out of Shiloh Christian High School, Frazier was the USA Today National Offensive Player of the Year and a Parade All-American. He led Shiloh Christian to three consecutive Class 4A state championships, earning MVP honors all three seasons.
The Tigers are coming off a 7-3 season that produced 15 All-Great American Conference players, three All-Americans and five All-Super Region 3 players. It was also the sixth consecutive winning season for the Tigers, the longest current streak of any college football program in Arkansas.
Coach Knight said Frazier's transfer to Ouachita adds to an already strong program.
"Kiehl comes at a time when we have a great team, a great group of players and a good, solid football program," said Knight. "We've accomplished a lot as a team this past season, including having one of the highest fall GPAs of any team I've coached. This is one more step for our team to get back to another championship."
Frazier said he is excited about getting a fresh start and contributing to a winning program. Describing his goals for the spring and next season, Frazier immediately emphasized team. "Our focus needs to be on getting better," he said. "We were 7-3 last year and came close, but we're trying to get to the playoffs and that's our focus."
Frazier said the program as a whole has made his adjustment to Ouachita a smooth transition. "I immediately felt welcomed and like I was part of the team," he said.
Knight echoed Frazier's sentiment. "Our guys are ready and open for anyone who wants to come in and contribute and adapt to our system and our style of football," he said.
Being back home in Arkansas has also been a positive for Frazier, who got to visit home very little during his time at Auburn. Even more positive is the opportunity to be teammates with his younger brother.  "I talked to Jed after I made the decision to transfer," Frazier said, "and he said OBU would be a good place for me." The two played together for two seasons at Shiloh Christian.
Frazier added that after getting settled in to classes, he's looking forward to competing in the spring.
As a freshman at Auburn, Frazier ranked third on the team with 327 rushing yards. He had a season-high 16 carries for 55 yards and two touchdowns against the Virginia Cavaliers in the Chick-fil-A Bowl. In 2012, he started five games at quarterback for the Tigers. This past season, Frazier saw playing time at both the safety and wide receiver positions.
The 6'2", 224-pound history major is from Springdale, Ark., and is the son of Robin and Layron Beach.
***
UPDATE: Kiehl Frazier is in Arkadelphia and on the OBU campus, our sources confirm.
***
Brandon Marcello of AL.com reports former Arkansas high school standout quarterback and Auburn Tiger player, Kiehl Frazier, is returning to Arkansas with plans to join his brother, Jed, at Ouachita Baptist University.
From Marcello:
Kiehl Frazier's long and winding road at Auburn has reached its end.
The quarterback-turned-safety will transfer from the Tigers in an effort to play quarterback at another school, Auburn coach Gus Malzahn confirmed today. Frazier's landing spot appears to be Ouachita Baptist, a Division II school in his home state of Arkansas.
"He's always been nothing but a winner with his attitude," Malzahn said. "We've talked through the year. He just felt like at this time that he wanted to go somewhere and play quarterback. We wish him nothing but the best. He'll do well."
Frazier wants to transfer to a school where he will have a shot at playing quarterback immediately, said Josh Floyd, Frazier's former high school coach. News of Frazier looking at Ouachita Baptist, a small school in Arkadelphia, Ark., was first reported by 247sports.com and confirmed by AL.com through Floyd.
"Yes, looks like that's probably going to happen," Floyd told AL.com.
Frazier's brother, Jed Beach, plays offensive line at OBU.
Kiehl Frazier Bio:
2013 | Moved from quarterback to safety during second week of preseason camp in August. (He played wide receiver at Auburn as well, with no catches and 10 carries for 34 yards.)
2012 | Starter at quarterback first five games of season … five career starts … 11-27 passing for 194 yards with one INT in Clemson opener … 54-yard TD toss to Emory Blake for AU's opening score … 13-22, 125 yards passing at Mississippi State with three INT, two fumbles … 10-18 passing for 130 yards vs. ULM with a 33-yard TD pass to Sammie Coates … also caught a pass from Quan Bray that went 33 yards for a touchdown vs. ULM … 13-22 passing for 97 yards vs. LSU, with a long throw of 23 to Lutzenkirchen … 9-14 for 118 yards passing in first half vs. Arkansas, but sacked four times … did not see action against Ole Miss or Vanderbilt … 6-11 for 89 yards vs. Texas A&M … late action against Alabama A&M, Alabama… voted offensive MVP of the A-Day spring scrimmage accounting for 102 total yards
2011 | Played in all 13 games … third on team in rushing with 327 yards on 76 attempts … three rushing touchdowns … 327 rushing yards is 10th most on school single-season rushing mark by a quarterback … was 5-of-12 passing for 34 yards and two interceptions … took one snap against Utah State, a trick play that resulted in a 25-yard completion from Clint Moseley to Onterio McCalebb … took one snap against Mississippi State, rushing for 3 yards … the carry was the first of his Auburn career … rushed three times for 30 yards against FAU … also attempted the first pass of his career … rushed for career-best 48 yards on nine carries with a long of 22 against South Carolina … returning to the state of Arkansas for the first time, his 7-yard TD run vs. the Razorbacks with :02 left in the first quarter was the first touchdown of his career … earlier in the quarter, he completed his first career pass, a 14-yarder to Onterio McCalebb … finished the game with 13 carries for 54 yards and a seven-yard touchdown … completed one pass for no gain and rushed eight times for 41 yards in win over Florida … rushed for 31 yards on nine carries and completed 2-of-4 passes for 16 yards at LSU … rushed four times for 8 yards with a long carry of 7 yards in win over Ole Miss … carried once for 1 yard at Georgia … rushed for 48 yards on four carries against Samford … rushed for 28 yards on eight carries with a long rush of 12 against Alabama … career-high 16 rushing attempts for 55 yards and two rushing touchdowns in Chick-fil-A Bowl win against Virginia … scored on runs of 3 and 1 yard against Cavaliers
High School | Named USA Today's National Offensive Player of the Year … listed as the nation's No. 2 quarterback by ESPN.com/Scouts Inc. and the No. 47 player overall on the ESPNU 150 … ranked No. 4 nationally among quarterbacks by Scout.com … named the nation's No. 5 quarterback, the No. 2 player from the state of Arkansas and the No. 89 player nationally by Rivals.com … rated as the No. 4 dual threat quarterback in the nation, the No. 2 recruit from Arkansas and the No. 101 player overall nationally by 247Sports … ranked as the No. 2 combo passer and the No. 11 overall prospect in the MaxPreps Top 100 … named an All-American, the nation's No. 4 quarterback and the No. 1 recruit from Arkansas by SuperPrep and the No. 26 overall player nationally in the SuperPrep Elite 50 … named to the PrepStar Dream Team as the No. 100-ranked player in the nation … named to the Parade All-America team … played in the Under Armour All-American game … selected to play for USA Football's 2011 U.S. Under-19 National Team in the Team USA vs. the World game … ranked No. 42 in the Mobile Press-Register's Super Southeast 120 … named to the Orlando Sentinel's All-Southern Team as a first-team selection from Arkansas … led his team to Class 4A state championship each of the last three seasons, earning MVP honors all three years … during senior season, passed for 2,975 yards and 42 touchdowns and rushed for 1,164 yards and 22 TDs
Personal | Birthday is October 2 … son of Robin and Layron Beach … Major: History