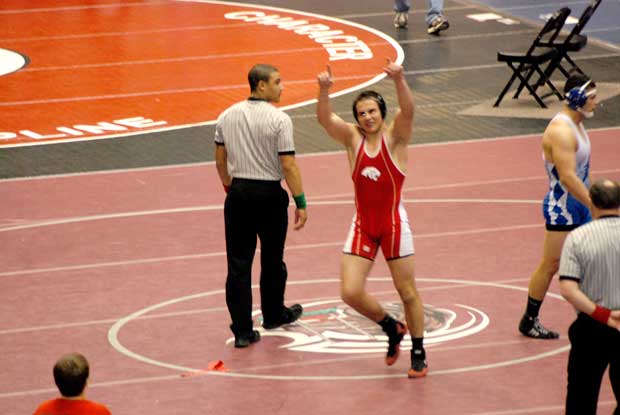 This weekend the Jack Stephens Center on the UALR campus, the state wrestling championships were held. And when the scores were tallied and the results were posted, a familiar name was at the top of the standings – Tyler Kurz.
The Cabot High School wrestler won his fourth individual state wrestling title, this time in the 182-pound 6A-7A division.
Tyler Kurz is the first wrestler in state history to win four individual titles.
"This title means the same as every other title," Kurz told Sporting Life Arkansas. "The only thing different about this one is that I'm the first to have won four of them. It sets a precedent for everyone to follow. I had no doubt in my mind that I could win this because I know I've worked hard for what I want."
Kurtz, who started wrestling at the age of seven in Georgia, has signed to wrestle for Ouachita Baptist University next school year.
"I would say that I have the best coaches and school in the nation," Kurtz said. "I wouldn't trade them for the world. They've supported me ever since before my first state title."
Team Results from Saturday's Finals Top 10 Class 6A-7A
| Rank | School |
| --- | --- |
| 1 | Bentonville |
| 2 | LR Catholic |
| 3 | Rogers |
| 4 | Cabot |
| 5 | LR Central |
| 6 | Bryant |
| 7 | Springdale Har-Ber |
| 8 | Fayetteville |
| 9 | Conway |
| 10 | Greenwood |
Team Results from Saturday's Finals Top 10 Class 1A-5A
| Rank | School |
| --- | --- |
| 1 | Maumelle |
| 2 | Beebe |
| 3 | Central Ark. Christian |
| 4 | LR Christian |
| 5 |  Bismark |
| 6 | Greenbrier |
| 7 | Ashdown |
| 8 | Mountain View |
| 9 | Episcopal Collegiate |
| 10 | Gentry |