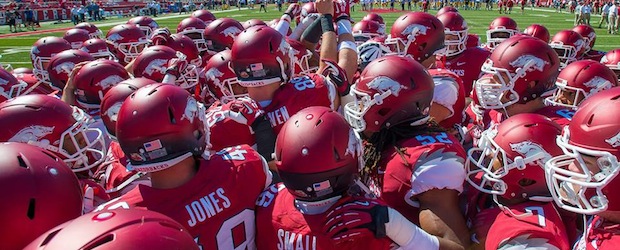 The Razorback football game against Southern Mississippi is in the books with a win for the Hogs 24-3. It wasn't very pretty, but the Razorbacks beat the Golden Eagles. Here is a wrap up of what sportswriters and analysts had to say about the game.
Edward Aschoff of ESPN's SEC Blog give "helmet stickers:"
Alex Collins/Jonathan Williams, RBs, Arkansas: For the third straight game, each rushed for more than 100 yards. Williams ran for a game-high 116 yards and Collins followed with 115 in the 24-3 win over Southern Miss. It marked the first time in school history the Razorbacks had multiple 100-yard rushers in the first three games of the season. Each also scored a touchdown. Collins became the first freshman in SEC history to rush for 100 yards in each of his first three career games and the first true freshman in the NCAA since Adrian Peterson in 2004.
***
From the Hattiesburg American:
Call it whatever you like — shooting themselves in the foot, getting in their own way, or being their own worst enemy — the bottom line is, if not for Southern Miss, Southern Miss would be a better football team than it has been this season.
Turnovers, bad timing and the Golden Eagles' continued ineffectiveness on offense were all significant contributors in their 24-3 loss to Arkansas Saturday at Razorback Stadium in Fayetteville, Ark.
Southern Miss lost a fumble, threw two interceptions, had a 49-yard Kendrick Hardy touchdown run negated by a holding penalty, and moved the ball into Razorback territory seven times only to come away with a single field goal.
…
"We're just not scoring enough. That's obvious. That's not rocket science," Southern Miss head coach Todd Monken said. "We can make all the excuses in the world: we had a holding call, missed a field goal and had some lost yardage plays. But at the end of the day, we've got to score. It's a game where you've got to find a way to score touchdowns.
"And we didn't."
…
For all of Southern Miss' inconsistency and ineffectiveness on offense in the first half — which included another interception thrown by quarterback Allan Bridgford, his seventh of the year — the Golden Eagles were still only down by one score, 10-3.
"It was a game we were in the whole time," Bridgford said. "A game we definitely could've come out with a win. But we didn't. So we have to learn from it and bounce back. We have a good football team. We just have to perform better."
In Arkansas' first two games this season, the Razorbacks ran up 980 yards of total offense. But on Saturday, the Golden Eagles held them to 327, including just 159 in the first half.
***
Also from the Hattiesburg American:
Southern Miss head coach Todd Monken does not address injuries as a matter of policy, but several starting Golden Eagles did not make the trip to Arkansas on Saturday.
Leading receiver Rickey Bradley Jr., defensive lineman Rakeem Nunez-Roches, safety Emmanuel Johnson and linebacker Dylan Reda were all missing from the lineup Saturday.
One Southern Miss receiver that had been absent from the team's first two games of the season was back in uniform Saturday. Senior Francisco Llanos, who missed the first two games with an apparent ankle injury, traveled with the team and suited up, but did not register a catch in the first half.
***
Bielema can mask the drop off in trust and production at quarterback with an even heavier emphasis on the running game which has been the strong point of the Razorbacks team in Bielema's first season.
With Allen sidelined for in undetermined amount of time, will rely on the strong Arkansas running game led by freshman phenom Alex Collins and sophomore Jonathan Williams. Collins leads the conference in rushing yards with 303 entering Saturday's game and Williams isn't too far behind with 277 which is good for third. The offense will be a bit more one-dimensional and lose the threat of the pass in the interim, but I trust Bielema to weather the storm.
Arkansas travels to Rutgers next Saturday before hosting Texas A&M in two weeks. The Hogs can beat Rutgers without Allen, but if Arkansas is going to accelerate the rebuilding project in Fayetteville this year and make it to a bowl game, they need Allen back for the conference game at least. If he's out beyond a week the onus will be on Derby to live up to his potential which he has yet to realize.
Allen has completed 24-of-39 passes for 355 yards and five touchdowns in his first two starts this season without an interception. Before leaving with injury, Allen completed two of his five passes for 33 yards and his first interception of the season.
***
From Robbie Neiswanger, reporting the Southwest Times Record:
The defense did more than its share, too, collecting two turnovers, three sacks and holding firm when Southern Miss cracked Arkansas territory.
The effort helped the Razorbacks improve to 3-0 under Bret Bielema — although the first-year coach admitted afterward it wasn't exactly a "real sexy" win. It also extended Southern Miss' losing streak to a Football Bowl Subdivision long of 15 games.
"This group, they just keep moving forward," Bielema said. "It's a group that learns every day. I know that they weren't clean in a lot of different things, but if we just keep making baby steps, keep playing a four-quarter game, keep getting the wins in the right column, we'll be all right."
The Razorbacks needed the rushing attack in this game even more than normal due to an injury to starting quarterback Brandon Allen, who hurt his shoulder on a first-quarter touchdown run. When Allen went down, the emphasis on the running game notched up even more. In the game, Arkansas rushed the ball 56 times for 258 yards, while passing only 11 times for 69 yards.
While this plan is working against teams like Southern Miss, it will be interesting to see if it will work once SEC play rolls around. Bielema certainly believes it will, and he's got two outstanding backs on the squad.