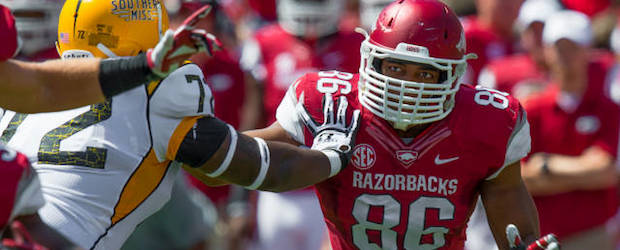 [tweet https://twitter.com/BretBielema/status/420280049548267521] [tweet https://twitter.com/III_Flowers/status/420258983333871616]
FAYETTEVILLE – Arkansas defensive end Trey Flowers announced Monday he was returning to the Razorbacks for his senior season after considering early entry into the NFL Draft.
"I have made the decision to stay at Arkansas for my senior season," Flowers said. "Coach Bielema was very supportive throughout the process and helped me and my family navigate this decision. I still have goals on and off the field I want to accomplish at Arkansas, beginning with graduating, and want to continue pursuing those. On the field, I am excited about the program being built and wanted to help the Razorbacks back in 2014. Even though my draft grade was good, I believe another year with Coach Bielema will help improve my draft status. I am looking forward to another season at Arkansas, where we have support from our administration, some of the best fans in the nation and a bright future for the football program."
A second-team All-SEC selection in 2013, Flowers finished the season with 44 tackles, including 13.5 for loss with 5.0 sacks, three forced fumbles, one interception, two pass breakups and five quarterback hurries. His average of 1.23 tackles for loss per game ranks second in the SEC and 35th in the NCAA, and his tackles for loss total is tied for third in the conference. His tackles for loss accounted for 58 yards lost, the ninth-highest total in the SEC. He recorded 9.5 tackles for loss in conference play, which ranked fourth in the SEC. The Huntsville, Ala., native also is tied for second in the conference and for 23rd in the country with three forced fumbles.
Through his first three seasons as a Razorback, Flowers has recorded 122 tackles, 32.0 for loss with 12.0 sacks, 17 quarterback hurries, three forced fumbles, seven pass breakups and one interception. He is tied for 11th on Arkansas' career tackles for loss list and is tied for 16th on the school's career sacks list. In addition to his All-SEC inclusion in 2013, he also was named to the SEC All-Freshman Team in 2011. The economics major has earned recognition on the SEC Fall Academic Honor Roll and the Razorback Honor Roll for his work in the classroom.