Courtesy University of Arkansas Athletics Department
FAYETTEVILLE – University of Arkansas volleyball teammates Liz Fortado, Emily Helm and Summer Morgan will participate in this week's USA Volleyball open tryouts in Colorado Springs, Colo. The tryouts for the U.S. Women's National Team, U.S. Women's National A2 Program and U.S Women's Junior National Team will be held Feb. 20-22 in Sports Center II at the U.S. Olympic Training Center (USOTC).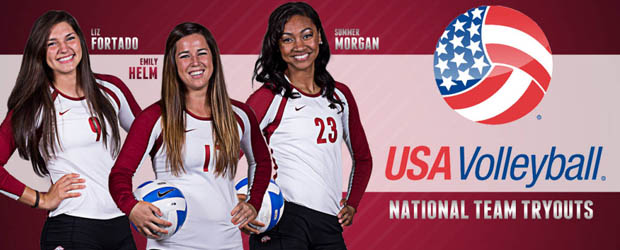 "This will be a great opportunity for Emily, Liz and Summer," head coach Robert Pulliza said. "This week also gives each of them chances to develop and grow playing against the best competition in the country. The experience they gain over those three days in Colorado will be invaluable to their volleyball careers here at Arkansas and beyond."
Among the 243 tryout participants representing 90 different colleges and universities are 59 outside hitters, 57 middle blockers, 54 liberos, 48 setters and 25 opposites. The previous record attendance at a USA Volleyball open tryout of 207 was set last year. Helm will be trying out for the National team while Fortado and Morgan will be competing for spots within the Junior National program.
In her first season with the Razorbacks, Helm was the starting libero in each of the team's 32 matches during the year. She was eighth in the Southeastern Conference with 3.93 digs per set and helped anchor an Arkansas defense that held its opponents to a .188 hitting percentage, the sixth-lowest figure in the league. Helm had eight 20-dig matches in 2012, including a career-high effort of 27 digs at LSU. For her performance at the adidas/Michigan Challenge, she was named the SEC Defensive Player of the Week.
Fortado was selected to the SEC All-Freshman Team in recognition of her first season in Cardinal and White. Playing on the ride side, she racked up 21 matches with six or more kills including seven double-digit performances. In the regular-season finale, Fortado put down a career-high 13 kills at South Carolina. She also had 11 matches where she had at least six kills coupled with a hitting percentage over .300. Fortado was an all-tournament pick at the Razorback Invitational.
Morgan made her collegiate debut with a kill against Houston Baptist during the Razorback Invitational. As a freshman middle blocker, she played in 10 matches with eight appearances during the SEC schedule. Morgan came off the bench to record her first career block in the Razorbacks' five-set win over Kentucky. She was part of the Arkansas freshman class that helped the program make its return trip to the NCAA Tournament.
For more information regarding Razorback volleyball or University of Arkansas athletics, please visit ArkansasRazorbacks.com. Fans can also keep up with Arkansas volleyball through the team's sport-specific RazorbackVB Facebook and Twitter pages.