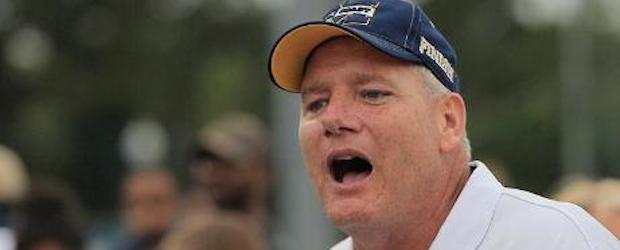 In the past, Steve Campbell has turned down numerous offers to coach at four-year colleges and instead stay at perennial MACJC football powerhouse Mississippi Gulf Coast Community College.
This time the opportunity was too tempting to refuse as the man who led Gulf Coast to an NJCAA National Championship and three MACJC titles is now the new head football coach at The University of Central Arkansas. He replaces Clint Conque who resigned after 14 years as head coach of the Bears.
"It's a bittersweet day for me and my family," said Campbell, who went 87-22 in 10 seasons at Gulf Coast. "Being at Gulf Coast has been special for all of us, on and off the field. You always want to leave a place in better shape than when you arrived, and I hope I've been able to do that."
In addition to a National Championship and three State titles, Campbell led the Bulldogs to an MACJC record seven straight trips to the post-season, six straight trips to the MACJC title game, and six MACJC South Division titles. In the 2007 National Championship campaign, Gulf Coast went 12-0 and also won its first state title since 1986. Under his tenure, Gulf Coast has been ranked in the NJCAA football poll for 115 straight weeks and has finished the last eight seasons ranked in the NJCAA's top 10. Campbell has also coached 28 NJCAA All-Americans, 17 Academic All-Americans, and currently six former Bulldogs who played for Campbell are on NFL rosters.
"I believe there's no better coaching job at the community/junior college level than at Gulf Coast," Campbell added. "We've been blessed to be a part of this college and South Mississippi during these last 10 years."
"I am proud for Coach Campbell and I have not doubt his success as a head coach will continue," said Ladd Taylor, Gulf Coast Dean of Athletics. "The bar at Gulf Coast has been set high and we're looking for a dynamic leader for our football program."
"Coach Campbell has a proven record as an outstanding coach and outstanding recruiter," said UCA director of athletics Dr. Brad Teague. "He has three national championships to his credit and he has vast recruiting ties throughout the southeast and the country. He has been highly successful everywhere he has been as a player and as a coach. He's never had a losing season at any level of coaching, which is pretty remarkable.
"Coach Campbell's abilities and talents are a perfect fit for the University of Central Arkansas," Teague said. "He is extremely excited about the opportunity to come to UCA and continue our success both on and off the field. He is a very impressive individual, as well as an outstanding football coach, and we're excited to have him at UCA."
Here is an interesting bit of trivia from Rex Nelson:
Who did the new UCA coach replace at Delta State?

Todd Knight when Knight resigned after the 1998 season to go to Ouachita.

When Campbell won the NCAA Division II national title at Delta, a number of his players were people who had been recruited by Knight.

Now they're college head coaches in the same state.
***
Steve Campbell's bio:
Entering 10th season as Gulf Coast head coach and 24th year in college coaching (79-20 record while at Gulf Coast)
MGCCC Under Steve Campbell: CO-NJCAA National Champs, 3 MACJC State Titles (2007, 2008, 2010), 6 MACJC South Division Titles (2005, 2007, 2008, 2009, 2011, 2012), 6 Bowl trips
Has Coached 27 NJCAA All-Americans & 17 NJCAA Academic All-Americans At MGCCC
Led 2007 Bulldogs to 12-0 record, NJCAA Co-National Title, MACJC State Title, and MACJC South Division Title
MACJC Coach of the Year (2005, 2007, 2011)
Region 23 Coach of the Year (2007, 2008, 2010)
MAC Coach of the Year (2010, 2012)
2007 Awards: Schutt Coach of the Year, Region 23 Coach of the Year, NJCAA Co National Coach of the Year, MACJC Coaching Staff of the Year
2008 National Football Foundation and College Hall of Fame Distinguished American Award Recipient
1999-2001: Delta State head football coach (27-8 Record, highest win percentage in school history, Coached five All-Americans & Conerly Trophy winner at DSU
Led DSU to 2000 NCAA Division II National Championship
Was named 2000 National Coach of the Year by Chevrolet, All-American Football Foundation, and Don Hansen Football Gazette
1997-98: Southwest Mississippi Community College head football coach (Led Southwest to its first winning season in 10 years)
1998, 2004, 2006 MACJC All-Star head coach (South Team)
Served as assistant coach at Mississippi State, Middle Tennessee State, Nicholls State, and Delta State
1987: All-Conference center on Troy State University's NCAA Division II National Championship team
Master's Degree: Auburn University, Auburn, Ala.
Bachelor's Degree: Troy State University, Troy, Ala.
High School: Tate High School, Gonzalez, Fla.
Courtesy of Mississippi Gulf Coast Community College and UCA