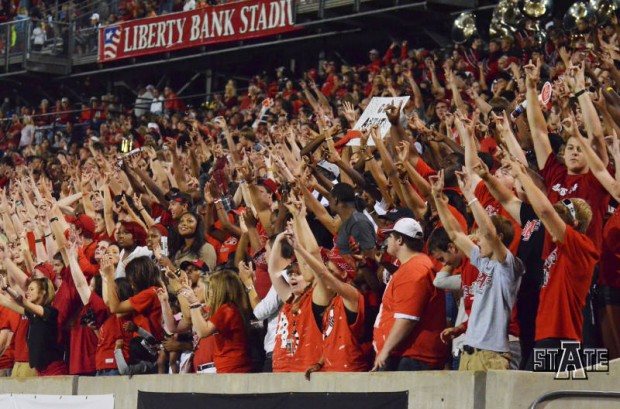 The folks at ASU Fan Rules have put pen to paper and are predicting an undefeated and admittedly unrealistic 2013 Red Wolves season. If that happens – Howl Yes!
The best part about college preseason football for fans is that your team is perfect. Absolutely sublime. There are no weaknesses because you can ignore all weaknesses.
It doesn't matter if the Red Wolves are learning under a first-year head coach or breaking in a new quarterback, because our offensive line is the most experienced in the Sun Belt! We have David Oku! The defense is still helmed by GoDaddy Bowl conqueror John Thompson! And don't forget A-State mystique! 
So we at ASU Fan Rules are predicting  12-0 for the 2013 Red Wolves Season.
Sorry, Bryan Harsin. We're not ones to apply unneeded pressure, but we've analyzed the schedule and all we see are big wins. Are we wearing scarlet-colored glasses? Of course we are. We're fans. But that doesn't mean we should dampen unrealistic expectations.
AUGUST 31, UAPB  (Liberty Bank Stadium): Here's what we know about UAPB: 1) They're located in Pine Bluff, 2) They are an FCS team, 3) They're a good FCS team, entering the season as defending SWAC champions. But FCS isn't FBS, and UAPB has only faced upper-division talent twice in its history – and lost both times. A couple years ago, the Red Wolves hosted a feisty UCA Bears team, and the game resulted in a 53-24 beatdown from A-State. We expect similar results against UAPB, with the Golden Lions playing out-of-their-minds for the first quarter before submitting to the Red Wolves' superior size, talent, experience and moxie. 45-13, A-State
September 7, Auburn (Jordan-Hare): In 2010, a Tiger team led by Cam Newton and destined to win the BCS crystal ship clobbered a heroically over-matched Red Wolves team 52-26. Since then, Auburn has gone from the nation's elite program to the SEC's punching bag. Meanwhile, the Red Wolves are coming off two conference titles and a pair of GoDaddy Bowls. Fueled by swagger and an overwhelming urge to crotch-punch former A-State head coach Gus Malzahn, the Red Wolves volcanic fire should prove too hot for a rebuilding Auburn team to handle. It's time for some payback. Expect Fox Sports to air many shots of a red faced Gus Malzahn furiously chewing gum on Auburn's sad sideline of defeat. 35-24, A-State     
September 12, Troy (Liberty Bank Stadium): A-State won't have much time to savor its victory over Auburn. Not when the team has to prepare for Troy on a Thursday evening. Luckily, these aren't your 2009 Trojans, who were in the midst of a five-year run of conference dominance. These are the 2013 Trojans, currently known as "The 5th Best Team in the Sun Belt," which isn't exactly something Larry Blakeney wants printed on his business cards. Whatever leftover rage the Red Wolves saved from Auburn will be dished out to Troy, plus bonus punishment for embarrassing A-State 27-0 in 2007. 27-0, A-State
September 21, Memphis (Liberty Stadium): It's fun to do fun things, and nothing is more fun than trouncing Memphis, the Red Wolves' oldest foe. Sweetening the deal is the Tigers' move to the unimaginatively named American Conference, where it will have a ridiculous one-year shot to play in a BCS bowl. Such undeserved good-fortune should not go unpunished. While 2nd year head coach Justin Fuente untangles the damage created by the catatonic Larry Porter, the Red Wolves should find little resistance against a Tiger team that's looking forward to another splendid basketball season. 38-6, A-State
September 28, Missouri (Faurot Field): You would think that playing three tigers in four games would dull the Red Wolves' hunger for tigers. Nope. A-State's appetite for wins cannot be sated! Tiger is our tasty Tang! These Tigers sauntered into the SEC and were immediately spayed and neutered by teams not named "Kentucky." If you think that was humbling, wait until Missouri faces a Red Wolves squad still flossing chunks of Memphis and Auburn Tigers from their incisors. Expect to see more woe for the Arkansas Razorback's new manufactured rival, prompting sightings of a depressed Gary Pinkel  making copies of his résumé at Kinko's. 48-24, A-State
October 12, Idaho (Liberty Bank Stadium): There's only one way to welcome a future conference member – with merciless domination! Idaho may reconsider joining the Sun Belt after facing a pack of rabid Red Wolves during Homecoming. But it's too late! The paperwork is already filed! You're trapped, Vandals! We needed a new FAU and you're it! Look for the Arkansas Democrat-Gazette to publish a full page story of Paul Petrino's return to Arkansas, followed the next day by wall-to-wall WNBA coverage. 56-3, A-State
October 22, Louisiana-Lafayette (Liberty Bank Stadium): UL-Lafayette pretentiously wants to be called "Louisiana." We like the "Lose" part! Ha! Because the Red Wolves like nothing better than spoiling the Cajuns hopes and dreams of a New Orleans Bowl season that doesn't include a loss to A-State. ULL may be the Sun Belt favorite this year, but the ghost of Mario Cristobal is surely haunting Mark Hudspeth about that. And if he isn't, last year's 50-27 thumping from the Red Wolves should provide enough terror. 50-26, A-State 
November 2, South Alabama (Ladd-Peebles Stadium): There is only one reaction to playing in historic Ladd-Peebles Stadium: Get the hell out of Ladd-Peebles Stadium! Because you're not just playing South Alabama. You're also fighting staph infections, shadowy conditions, and a moody fan base who waited too late to buy Crimson Tide tickets. Don't look for anything fancy from the Red Wolves – just a quick, business-like beating, followed by two-hours of the team wandering the dark parking lot, looking for the bus. 17-3, A-State
November 9, Louisiana-Monroe (Malone Stadium): Former Sun Belt Celebrity ULM has a big beef with A-State after losing 45-23 last year. Sadly for the Warhawks, "big beef" is the official snack of the Red Wolves, who look forward to dishing out another steaming hot plate of abuse. But this time, they get to serve a bitter helping to Kolton Browning, noticeably absent from last year's picnic. He might consider sitting this one out, too, because the Red Wolves are always eager to remind foes who's the iron chef of the Sun Belt. 31-10, A-State
November 16, Texas State (Liberty Bank Stadium): Welcome to the Sun Belt, Bobcats! Have a complimentary beating! Last year, Texas State ponied up to the FBS by outgunning Houston, Idaho and New Mexico State. You're gonna need thicker chaps this year, partner. We don't cotton to upstarts around here. If you don't like the inauthentic Texas twang of this prediction, try reading it with the voice of Sam Elliot. We find it helpful. 52-3, A-State
November 23, Georgia State (Liberty Bank Stadium): If the pre-season poll makers agree on one thing, it's this: Georgia State ranks dead last. Not just in the Sun Belt, but in all of FBS football. And possibly last in the universe. And the Red Wolves are not about to allow the 125th ranked team in the sixty-trillion known universes derail their undefeated season. It's that simple. 75-0, A-State
November 30, Western Kentucky (Houchens Industries–L. T. Smith Stadium): No Sun Belt team plays the Red Wolves tougher than WKU, with only a handful of points separating the teams from an overall 3-3-1 record. Plus, the Hilltoppers have retained the services of the hot-blooded mercenary Bobby Petrino, who will attempt to thoroughly annihilate every team in his path to a BCS job. Of course, this is of no concern to the Red Wolves, who would like to remind Western Kentucky that they are a divisional school with a mildly amusing basketball team – nothing more! 28-24, A-State
Editor's note: We want to know your prediction for the Red Wolves this season. Please take the poll below.

Loading ...