Jonathan Williams, the rising junior and most experienced veteran running back on campus in Fayetteville, is clearly an important component in any rebuilding effort toward success for the Razorbacks. And while his younger teammate Alex Collins gets many headlines, it is Williams who has provided some grown man carries and grit during these dark days of Razorback football struggles the previous two seasons.
Who could forget that blast into the end zone against Texas A&M last season?
As Jim Harris wrote immediately following that game last year:
EFFORT AND THEN SOME
Arkansas coach Bret Bielema was happy for his entire team's effort Saturday night, but there was no better example than what was displayed by running back Jonathan Williams, who was constantly refusing to go down on the first, second or even the third tackle at times. Williams broke at least four tackle attempts on a swing pass he turned into a 19-yard touchdown late in the third quarter, the Hogs' last score of the night. Williams was also on the receiving end of a 19-yard bullet from Allen for a touchdown in the second quarter that pulled the Hogs to within 7, 24-17. Williams had 53 yards running on 10 carries. Freshman Alex Collins found some big openings to lead the Hogs with 123 yards on 14 tries (8.3 yards per carry).
We could watch this clip from that game over and over.
http://www.youtube.com/watch?v=7cz9X71xuWs 
Here are a couple of Jonathan Williams' bonafides from last season:
College Football News All-Sophomore (Honorable Mention) – 2013

Doak Walker Award Watch List – 2013
Saturdays Down South's Jon Cooper recently wrote this after Arkansas was tapped "Running Back U" by ESPN…
ESPN says Arkansas should hold the title of Running Back U because of Darren McFadden, Felix Jones and Peyton Hillis, and the three are among six total backs to be drafted from the Hogs' program. Don't look now, but Alex Collins, Jonathan Williams and Korliss Marshall just might give the Razorbacks another three-headed monster.
Let's take a closer look at the career of Jonathan Williams: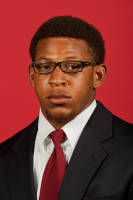 2013: Jonathan Williams played in all 12 games and made 11 starts. He finished the year with 150 rushes for 900 yards and four touchdowns, seven receptions for 72 yards and two touchdowns and 1-for-1 passing for 21 yards and a touchdown and averaged 6.0 yards per carry to rank 12th on Arkansas' single-season list.
He teamed with Alex Collins to produce Arkansas' second pair of teammates to each rush for at least 900 yards in the season.
In Arkansas' 34-14 season-opening victory vs. Louisiana, he rushed 18 times for a career-high 151 yards and a 75-yard touchdown. His 151 yards were most by a Razorback in a season opener since Darren McFadden had 151 in 2007, and Williams was one of only 11 players in the NCAA with a 70-plus yard rush in week one. He rushed 17 times for 126 yards and one touchdown in the 31-21 win vs. Samford and totaled 116 yards and one touchdown on 16 carries during a 24-3 victory vs. Southern Miss.
Williams rushed 12 times for 25 yards, caught two passes for five yards and completed a 21-yard touchdown pass on his first collegiate pass attempt at Rutgers. He was the first Razorback to record at least one rushing, receiving and passing touchdown in one season since Darren McFadden in 2007.
Williams rushed 10 times for 53 yards and caught a career-high four passes for 67 yards and two touchdowns to open conference play vs. No. 10 Texas A&M. He rushed eight times for 32 yards and one touchdown at No. 18 Florida and recorded 61 yards on six carries vs. No 14 South Carolina. He rushed 13 times for 48 yards at No. 1 Alabama and rushed 15 times for 104 yards vs. No. 8 Auburn. Williams gained 67 yards on 14 carries at Ole Miss and rushed eight times for 59 yards and made one reception vs. Mississippi State. He ended the season with 58 rushing yards on 13 carries at No. 15 LSU.
2012: Williams played in 11 games, missing only the ULM contest, and made two starts.
He finished his true freshman season with 45 rushes for 231 yards and eight receptions for 208 yards and two touchdowns. His first collegiate catch was a 74-yard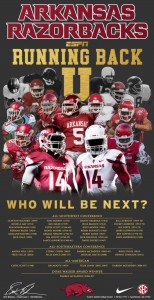 touchdown pass on the Razorbacks' first offensive play of the 49-7 victory vs. Kentucky, his first career start. He also added a 77-yard touchdown catch and was the only player from the SEC to have two 70-plus yard receptions in the same game and one of two freshmen in the NCAA to have two 70-plus yard touchdown catches in the same game. He finished the game vs. the Wildcats with three catches for 150 yards and two touchdowns.
He had a career-high 61 rushing yards and caught a career-high-tying three passes for 13 yards at No. 12 South Carolina. He rushed once for one yard in his collegiate debut, the season-opening 49-24 win vs. Jacksonville State. He carried the ball three times for 18 yards vs. No. 1 Alabama and rushed once for two yards vs. Rutgers.
He had a career-high nine carries for 40 yards at Texas A&M. He gained 34 yards on six carries in a 24-7 win at Auburn. Williams rushed five times for 28 yards vs. Ole Miss and had seven carries for 27 yards in the 19-15 victory vs. Tulsa. He gained 16 yards on four rushes and added one eight-yard reception at Mississippi State and started the season finale vs. No. 8 LSU and had two carries for four yards and one catch for 37 yards.
HIGH SCHOOL: Jonathan Williams collected more than 3,500 rushing yards at Allen and was ranked as the 17th-best running back in the country and the 26th-best overall prospect in Texas by Rivals.com, the No. 13 running back in the nation and No. 28 prospect in the state by 247Sports.com and as the 20th-best running back in the country by Scout.com.
He played for the West Team in the inaugural Semper Fidelis All-American Bowl and helped his team to a 17-14 victory.
In 2011, he rushed for 1,169 yards and 12 touchdowns on 187 carries and added 14 catches for 161 yards and two touchdowns while leading the Eagles to a perfect 10-0 record in the regular season before falling in the second round of the playoffs.
As a junior, he exploded for 2,078 yards and 19 touchdowns on 249 carries while catching 17 passes for 174 yards and one touchdown as the Eagles posted a 10-2 record and advanced to the second round of the state playoffs. His sophomore season, he rushed 35 times for 263 yards and four touchdowns and made four receptions for 39 yards and one touchdown.
He was coached at Allen by Tom Westerberg. Williams chose the Razorbacks over Texas A&M, Tennessee, Missouri, Baylor and Wisconsin.
PERSONAL: Born Feb. 2, 1994, he is the son of John and Constance Williams. His brother Jeremiah played football at Eastern Kentucky in 2011-12.
You may notice the number of times Jonathan Williams and former Razorback great Darren McFadden come up in the same breath. While D-Mac holds the single-season rushing record of 1,830 yards, he also holds the single-season All-Purpose Yards record of 2,310 in 2007. Is it possible that single-season record is in jeopardy with a threat in the backfield like Williams?

Loading ...