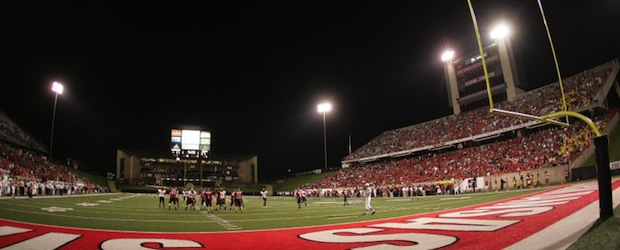 Our friends at A-State Fan Rules discuss passion, apathy and booing, the latter of which occurred on several occasions Tuesday night from Liberty Bank Stadium in Jonesboro during the nationally televised Sun Belt Conference football game featuring the Red Wolves and Ragin' Cajuns. Well, actually, that game starred the Ragin's Cajuns, but the Red Wolves were contractually obligated to appear in the show.
During one of my years as an A-State student, something strangely significant happened at the University cafeteria that has stuck with me lo these many years.
"ARKANSAS STATE…INDIANS!" screamed a voice from the center of the spacious room. I looked up from my tray of lukewarm spaghetti to discover Boston Pete standing atop a table like a crazy revolutionary. Hands held in the air like a referee signalling a touchdown, Boston Pete repeated himself with an overly-patient tone one usually reserves for 5-year-olds.
"ARKANSAS STATE…INDIANS!"
The cafeteria sat in morose silence, irritated that our unremarkable lunch was being interrupted by this unsolicited challenge of loyalties.
"ARKANSAS STATE…INDIANS!"
As recent entrants into Division I football, A-State had already endured Fort Perkins, a string of embarrassing shut-outs, and the condescending ridicule from the state's flagship university. Now it was being treated to something far, far worse: student indifference.
"ARKANSAS STATE…aw, forget it," surrendered Boston Pete, and he slunk back into his chair, completely defeated. We returned to the comfort of our cobbler and vegetable medley without acknowledgement of Boston Pete's boisterous display of school pride.
***
Tuesday night, October 22nd of 2013, the A-State faithful serenaded the Red Wolves with a chorus of boos.
The boos rained down after an especially crippling 4-and-out that left the ULL Cajuns just enough time to boot a field goal before the close of the half. Scores of fans plugged the exits before the Cajun's 23rd point even landed behind the goal post.
It is a fan's right to boo. After all, we are asked to travel great distances, interrupt the banal normalcy of a Tuesday, pay good money for a section of freezing aluminum to witness the triumphs and failures of a team for which we've invested so much emotional collateral. When the team exceeds our expectations, we cheer. When it doesn't, we give voice to our dismay.
"Booooooo! BOO!"
The alternative is to stare indifferently into our cafeteria trays, waiting for a change of subject.
***
Before Harsin and Malzahn and Freeze, there was darkness.
We had our moments of light. The Bluff City Miracle. The upset of Texas A&M. Bursts of brilliance from a Reggie Arnold or a Cleo Lemon. And we were content with those moments, accepting our subservience to our doppelgangers out west. All we could hope for was the occasional .500 season and some entertaining Sun Belt victories. We knew our role.
And then we won ten games.
And then, to prove it wasn't a cosmic abnormality, we did it again.
Suddenly we didn't have an assigned role. We were writing our own script! We lost Freeze. Screw it! We got Malzahn. We made it to the GoDaddy Bowl? Not good enough. The next year, we stood in the cold gloom of Ladd-Peebles and won the damn thing. This was A-State football! Spectacular wins! Top 25 flirtations! Pep talks from the Governor!
Boston Pete, if you could only see us now.
***
And now, here we are.
We flew close to the sun, but now the wax that held our wings together is melting. But the sun's warmth still lingers on our cheeks. Victory is the only feeling we care to remember.
"BOOOOO!"
As a student watching A-State football in the 1990s, there were no boos. Just the occasional polite applause when something competent happened. A failed field goal or a botched snap or goal line fumble was just part of the experience.
Today, we expect a little more from our Red Wolves. We want to relive that season-ending stomping of Middle Tennessee State University every game. We want an unceasing barrage of fireworks. We'll take a hard-fought beating from the Privileged Five so long as we take care of business come conference time. We don't believe that's too much to ask. Not anymore. Not when we're featured on ESPN. Not when we're finally appearing in the Arkansas Democrat-Gazette. We survived 1994 and 2000. We endured the Western Kentucky University Fiasco of 2010. We bore the slings and arrows of those who openly questioned our qualifications as a FBS school.
Punt when down 16 points with 9 minutes left in the game?
"BOOOO!"