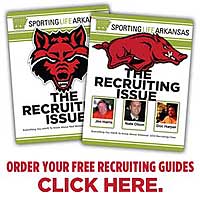 We came across an interesting analysis of Arkansas Razorbacks' head coach Bret Bielema's ability to recruit South Florida, now that he's at Arkansas, but based on his and Charlie Partidge's existing relationships with high school football coaches from the area.
Arkansas football doesn't have a single player from South Florida on its current roster. With Bret Bielema taking over as head coach of the Razorbacks, that should change.

Bielema, who served as the Badgers co-defensive coordinator in 2004 and 2005 before taking over for the legendary Barry Alvarez, has coached 10 Palm Beach County products in his time in Madison.

"He's always done a great job of recruiting South Florida," said Palm Beach Central head coach Rod Harris, Jean's high school coach. "I assume he's going to continue recruiting the area. He has great connections at high schools in the region."

The most notable Palm Beach County pipeline for Bielema has been Dwyer High School. Head coach Jack Daniels' program has produced five Badgers since 2004, the most recent being LB Jaevery McFadden (Class of 2010). He was quick to respond when asked if he thought Bielema would make South Florida a priority for Arkansas.

"Without a doubt. I mean, I know he'll be recruiting our school."
Does this analysis from the fertile ground of Florida change now that a key recruiter of the area is no longer on the staff? 
With George McDonald's sudden departure, we're curious what you think?