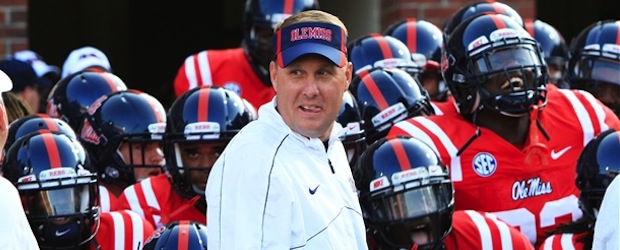 Arkansas at Ole Miss, an SEC showdown and another shot for the Razorbacks to pick up it's first conference win of the season and of the Bret Bielema era.
Kickoff for Saturday's game in Oxford, Miss., against Ole Miss is scheduled for 11:21 a.m. and the game will be televised nationally on SEC TV. For a complete list of affiliates click here.
As usual, we will update this post throughout the week with news and information from both campuses. Be sure to check this page often.
UPDATE: 11/8/13
FAYETTEVILLE – The University of Arkansas football team held practice Thursday inside Donald W. Reynolds Razorback Stadium in preparation for Saturday's game at Ole Miss. Head coach Bret Bielema was available to the media after practice and spoke about the team's performance this week.
"It was a good week of practice," Bielema said. "I thought our guys really took the highs from Saturday night and tried to build on those. The lows of Saturday night we tried to correct. It's a work in progress, but I do feel closer this week and I don't know when it's going to come. I sure would like it to happen Saturday, but it's getting ready to pop."
Bielema also talked about the team's progress during practice this week.
"Three things jump out to you," Bielema said. "Our execution is so much more crisp and detailed. All of the phases that we're doing whether it's offense, defense, special teams, I sit there as a head coach and I can just see there is less verbiage before the snap, which means the coaches aren't talking to them as much. I think the execution overall, whether it's a slant route, pick route, post route, it's just cleaner in everything that we're doing. There isn't a guy flopping free and destroying a play before it gets started. There isn't near as many whistles before the snap even happens which means you've got a pre-alignment issue. The third thing is just all of those little indicators that I always talk about, academics, social and weight room behavior. All three of those add up into football and they've all been arrows up. We've taken a number of bad grades we've had going and we've almost reduced it by half."
Darius Philon:
***
UPDATE: 11/7/13
FAYETTEVILLE – The University of Arkansas football team continued game week preparation Wednesday for its upcoming game at Ole Miss. After practice, defensive coordinator Chris Ash met with the media and discussed the intensity of this week's practices.
"It's been a good week," Ash said. "The guys are into it, practicing hard. Practicing to get better and to improve."
Ash also spoke about the play of freshman linebacker Brooks Ellis, who made his first career start last Saturday against Auburn.
"I thought Brooks played a good game for his first game," Coach Ash said. "I was very pleased with what Brooks did. A lot of positives to build off of, to build for the future. I'm encouraged by what he did and what he brings to the table this week as we continue to move forward. I'm very happy with where he's at right now."
Brooks Ellis, freshman linebacker:
***
Mike Herndon of AL.com said Ole Miss head coach Hugh Freeze and Auburn coach Gus Malzahn talk, but…
And so this week, as Freeze's Rebels prepare for an 11:21 a.m. home kickoff on Saturday against an Arkansas team that Malzahn's Tigers beat 35-17 in Fayetteville just last week, Freeze said he hasn't hit his old friend up for any inside info.
"I wouldn't put him in that position and he probably wouldn't feel comfortable doing anything like that anyway," Freeze said of Malzahn. "He doesn't put me in those positions. I'll shoot him a text — congratulations — when he wins. He does the same for me.
"We kind of just stay away form talking about other schools within our conference."
***
FAYETTEVILLE – The University of Arkansas football team practiced Tuesday evening in preparation for its upcoming road game at Ole Miss.
Offensive coordinator and quarterbacks coach Jim Chaney met with the media after practice and talked about the preparation for this weekend's SEC Western Division matchup.
"Well we made it through practice," Chaney said. "We put some new things in and had some fun. The kids had a nice tempo at practice. It was all normal down and distance today. The running backs had an exceptional day and now we move on to the next day."
Chaney also commented on the improvement of the passing game in last weekend's game against Auburn.
"I think they were much improved," Coach Chaney said. "There was more consistency in their performance and that is what we are looking for. I also think that collectively as a team we improved in every aspect of the passing game. We protected a little bit better. I thought the quarterback threw the ball a little bit better and the receivers caught the ball a little bit better. It is never just one person, it takes a lot of people to improve the passing game."
***
WHAT TO WATCH FOR …
This game marks the 60th meeting all-time between Ole Miss and Arkansas dating back to 1908 … Ole Miss records show the Rebels trailing the series 27-31-1, while Arkansas' records indicate a 32-26-1 advantage for the Razorbacks … Arkansas claims a forfeit victory in a 1914 game that Ole Miss won 13-7 … The two teams met almost yearly from 1937-1969 before the series took a hiatus until 1981 … The two schools have played yearly since then, and Ole Miss is 12-19-1 against Arkansas since the series resumed … Arkansas holds a 12-9 edge since it joined the SEC in 1992.
A win over Arkansas would make the Rebels bowl eligible for the second straight year under Hugh Freeze.
Ole Miss is 5-3 for the second straight year and is looking for its first 6-3 start since 2009.
Ole Miss has never before hosted six straight home games in its previous 118 years of football.
Ole Miss has received votes in one or both national polls every week since the preseason.
Ole Miss has played 12 true freshmen this season, which is tied for 11th-most among Division I FBS teams.
Ole Miss ranks 4th in the SEC in passing offense (272.1 ypg) and 7th in passing defense (214.2 ypg).
QB Bo Wallace ranks 5th in the SEC in total offense (266.2 ypg) and 5th in passing (247.0 ypg).
FS Cody Prewitt has been named a semifinalist for the Jim Thorpe Award (nation's top defensive back).
***
Hugh Freeze talks Arkansas, Alex Collins and where his team stands at this point in the season:
Opening statement:
"As excited as we were last week to have an open week, we're equally as excited to get back to playing. To be at home again is always nice. We're looking forward to getting an early kickoff. That's something we haven't had this year. We've enjoyed the ones we've had, but it's always good to have a variety. Our kids had some off time this past weekend. We came back last night. I was proud of the attitude they came back with. We had a good workout last night. We got things started off right academically today. We'll get back at practice tomorrow. We're as healthy as we've been in a while. I expect everyone to play. Still questionable is Charles Sawyer and Jeff Scott. Everyone will play with the exception of those done for the year, like CJ (Johnson), Aaron (Morris) and Evan (Engram). Carlos Thompson is still on the doubtful list. The off week came at a good time. Hopefully we won't be very rusty at all, but we'll continue to improve as I thought we had the last couple of weeks. We're playing a very scary football team, to me. If they ever convert drives, they would be very, very dangerous because they control the time of possession. They run the football extremely well, two of the finer running backs that we've seen. Again, just for whatever reason, they haven't finished drives the amount of times that they've had chances to. If they ever did that, it would be a very, very scary game. We sense that in this building. Hopefully our kids will sense that and know it's another SEC battle that's going to take place Saturday and will be a very difficult task."
On concerns on momentum coming back from open week:
"I get concerned about all of those things that could be possibilities. We needed the open week because we were just so beat up. The last open week we had, we didn't play particularly well after it. All of those things run through your mind. Everyone has to go through them. That's no excuse. We've got to make sure that momentum is carried on and we practice well this week, which requires leadership from our football team and hopefully our guys are mature enough to realize what's at stake in November. In November, the way you finish, as last year proved, can carry momentum into a lot of things. Hopefully we see the big picture and our leaders will lead. We'll be prepared for the stretch that's coming."
On players coming back on defense: 
"They're really good players. They're kids that the other kids like to know are out there with them in the battle. Robert (Nkemdiche) gives us some flexibility up front, with the emergence of Bryon Bennett the last few weeks. Even Lavon Hooks has played significant minutes and gotten better and more experienced, as well as Woody (Woodrow Hamilton), Carlton (Martin), Isaac (Gross) and all of those guys. Robert coming back not only gives us more depth, but gives us some flexibility to move some things around. Denzel (Nkemdiche) was our leading tackler last year. Hopefully we'll finally get him healthy for a stretch of games, it will pay great dividends. (Mike) Hilton was maybe the most improved player coming on our defense. We do a lot of things with him. He can play our nickel; he can play our corner; he can play any kind of six DB and anywhere in that. All of those guys give us some flexibility."
On impact:
"It's probably given us some more confidence, particularly in the LSU game, when you had so many kids out and lost a couple during that game. The kids that were wings made the most of their opportunity. That's one of the more rewarding things of coaching, probably. When you see a kid you didn't count on, but he got his chance and he made the most of it. His confidence grew and hopefully he can become better. That's probably what we will take from it. Now having them back, hopefully the chemistry stays the same and our confidence grows even more, as they have better players back in the fold with them."
On Robert Nkemdiche's condition:
"That's a good question. It kind of depends on the flow of the game, probably. It will be something we monitor and watch closely. The snaps that the other guys have had, I don't think he has to play an enormous amount of snaps in a game. If he can be really effective in the snaps he does play, that's going to pay dividends for us. That is something that we'll have to watch closely."
On an increased role for Bryon Bennett: 
"I'm not sure. I'll meet tonight with the defensive staff and kind of see what they're thinking. I don't know. I know just watching the limited film I did on them. We better have some mass in there. Those guys are big and strong. They do a really good job running the football and present a lot of different looks for you. Bryon seems to understand what we're doing. I know he'll be in the mix. I'm not sure what their thoughts are at this point."
On Alex Collins:
"I'm not sure how many yards he has. I put on the film and that guy is talented. He's a special guy. He jumps cuts as well as any we've seen. He's patient. He waits on the seam to develop. It doesn't take him long to get through it and finish his runs. I think he's as talented as any freshman I've seen."
On Serderius Bryant:
"Certainly. He's healthy. He ran around good last night. I'm not sure who's going to start or anything. I know that he's going to be on the field a lot of snaps. I don't know if he or Denzel will get the start or if we'll start them both. We'll have to figure all of that out this week. It's good to have him healthy and back."
On having six home games in a row:
"After playing all of those away games at the beginning of the season, we love it. Having said that, I do think it presents some challenges, particularly with our fans that have to come that many games in a row, particularly with small kids. The night games that we've had have probably been a challenge for them. Our fans have shown up and been remarkable. It's not exactly how you design it. Having said that, with the situation we're in, it's great to have the rest of these games at home. We had three and have three more in a row. We will have the 12th man there for us and a normal routine. We'll get into bed fairly early even after games. It's a good thing in a lot of ways, but I don't know that I want to repeat it year after year, particularly having to go to those away game right in a row."
On key to building a successful program in the SEC:
"At the end of the day, it's about recruiting. Can you convince top-level players to buy into your vision?  To help you do something new, fresh and special. We have people they know genuinely care about them. If you can create adequate depth, like the top-tier teams have in this league. It's all about recruiting, team chemistry and accountability."
On running backs: 
"I like them all. Last night we got reps with I'Tavius (Mathers) some with the ones, Jaylen (Walton) some with the ones and Jeff (Scott) some with the ones. I don't think Jeff is 100 percent. We'll have to see how the week goes with him. Mark Dodson earned a look. I like Kailo (Moore), also. It depends on what package we start in as to who will be the starter. You're going to see all of those. All are doing some good things."
On reaching out to Dak Prescott after the loss of his mother: 
"I don't speak for other people. I recruited him at Arkansas State a bit. I know him. I think there are more important things than the game of football. As much as we all love it and are passionate about it. There are times that there's animosity between rivals. I get all of that. I understand it clearly. At the end of the day, a young man has lost his mother. That's a difficult task for anyone to go through."
On Arkansas:
"I did talk to our staff about that last night. I'm not sure. I haven't spent enough time with our kids yet to get a judge of how they're approaching it. I know how we will approach it. If you don't have your attention for them, they'll get it real quick. I'm not astounded that they've lost the games because I've seen their schedule and know what our conference is like. They're closer than people realize. They scare you because if you have one or two turnovers, you may not see the ball again. Last week, Auburn, who is somewhat similar to us in a tempo offense, only had 21 snaps in the first half. If you have some negative plays and turn it over, all of a sudden, you haven't touched the ball. They scare me. They have good players, like all of us have some good ones. They aren't as deep as they want to be, I'm sure. For whatever reason, they haven't finished drives. I hope Saturday doesn't come the time where they find out the answer to that or it could be a really difficult game. We'll work hard at getting our kids attention."
On Tyler Campbell: 
"He looks good in practice. That's pretty normal. Hopefully he can carry all of his mechanics over into the game. He certainly could be a weapon for us. We hope that he can carry over what he's doing in practice over to the games."
On kickers: 
"I love it. It's worked out great for he and (Andrew) Ritter. They've enjoyed it. Like any student, they don't want leave Ole Miss. The longer they can stay here, the better off they probably are. From a football perspective, it's worked out beautifully for them, also."
On health scares among head coach: 
"I don't think about it too much, to be very candid. Probably none of us do. I demand that our coaches get a full physical before the season starts every year, and I do the same. I actually do it twice a year. That's my wife's directions. I'm glad she makes me do that. As a matter of fact, last week I had a full blood test and everything done. That doesn't mean that something won't happen to me tomorrow. I do think about it some. This lifestyle is what you make it. I do think that you can let it get to you for sure. You want to do so well. You want to represent your program. You want to represent your kids well. You want your kids to play well. You want to win games. Hopefully you can keep whatever your core values are and whatever your perspective of how the scoreboard really stands in your priorities. If you can be clear on what that really means to you as an individual, it brings some sanity to it and maybe can help with the stress level. I'm not going stand here and say it's not there, it's there. It's how you handle it that determines how it does affect you. Head coaches kind of set that tone for all of the people in the program. Some people live and die with getting recruit or this recruit is going to flip on you and go there. Everybody gets all in an uproar. If coaches are defined by that, it would be difficult. That doesn't define who we are. I do know there will come a point where the scoreboard defines me. I don't have to let it define me. It will in some people's eyes. Hopefully that will keep some sanity within me. My three girls help with that. There are a lot of times they probably don't care. They do on game day, but there's a lot of time where they just want my time."

Loading ...