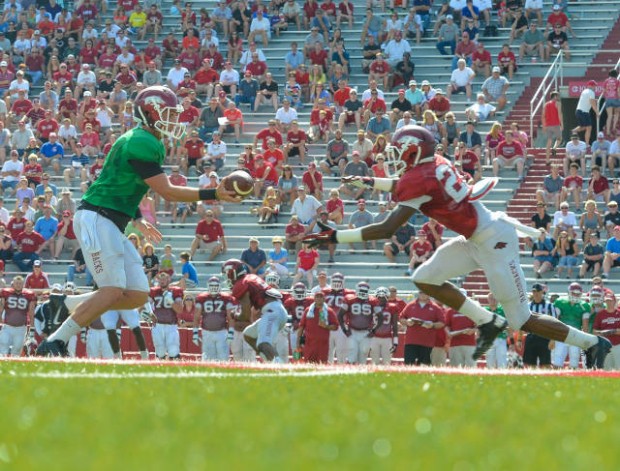 FAYETTEVILLE – The University of Arkansas football team held its first scrimmage of preseason camp inside Donald W. Reynolds Razorback Stadium on Saturday. Head coach Bret Bielema commented afterwards on the energy, play and football IQ he saw from the Razorbacks.
"I liked what went on out there," Bielema said. "I couldn't be happier with their football IQ growth. That's something that we've really been stressing. It's one thing to be a football player, but it's a better thing to be smart football players."
With Saturday's scrimmage marking the end of the first week of preseason camp, Bielema expressed his satisfaction with the consistent and continued growth of the Razorbacks.
"Just taking everything a little step at the time," Bielema said. "Now we've taken a certain amount of steps to get ourselves in position. I think you only get good at football by playing football. It's a very unique sport, in that manner."
The Razorback receiving corps was a position group that stood out to Bielema during the scrimmage.
"One great thing is we have three senior receivers," Bielema said. "Obviously with the departure of seniors from a year ago, it's their chance to step up. I thought our receivers today did an exceptional job competing for the football. It's something we've been stressing. Our guys are just competing for the football that much more."
The work of the offensive line, specifically in the running game, was another area of play that Bielema praised.
"I think any time you lose your starting center and (then) to have the composure our [first-team] offense had in the run game–I was very excited," Bielema said. "I thought Grady Ollisondid very well. He was blocking Chris Smith. Brey Cook is playing very, very well and I thought some others did some good things."
Here is a video from practice earlier in the week.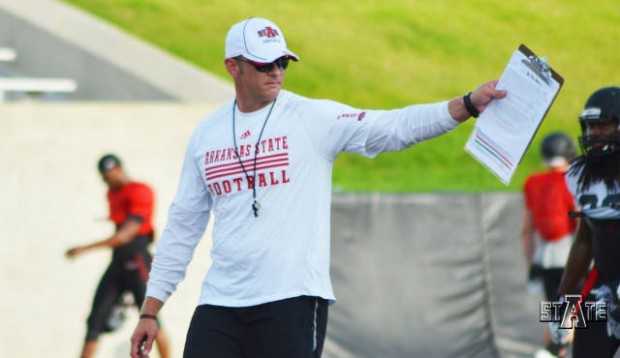 JONESBORO – The Arkansas State Red Wolves football team continued fall camp Saturday with its second two-a-days, holding a couple of practices at Liberty Bank Stadium that were followed by continued team-building exercises and competitive events the coaching staff has termed the "Red Wolf Olympics."
The Red Wolves were in full pads this morning and returned to the field at approximately 4:30 p.m. this afternoon in shorts and shoulder pads for their second practice.  A-State also practiced twice last Wednesday, and head coach Bryan Harsin said he saw improvement over the team's first two-a-days.
"I thought the players did a better job today dealing with and working through the fatigue, both mental and physical, that goes along with two-a-days," said Harsin.  "We were able to get some solid work in this morning, and the second practice was pretty good too.  For a second practice and where we are in our fall camp, our guys were executing well and the energy level was high."
The Red Wolves' players and coaches both benefit from two-a-days, according to Harsin, as there are elements incorporated into them that are similar to what the staff will see during the course of the season as well.
"There is a sense of urgency and a scramble that goes into two-a-days," said Harsin.  "What I like about them is that they're not only for the players, but for the coaches too.  You've got to come in and watch film, get prepared for the next practice and then get back on the field again, so there is a scramble in there similar to times during the season when you've got to get a lot accomplished in a short amount of time."
The Red Wolves had to work around sporadic weather conditions Saturday, including rain and lightning.  The team had to delay its morning practice by 30 minutes due to lightning and while it didn't spend its entire practice in the rain, got some work in under that weather element as well.
"We've had to adjust for the weather some this fall, but it's been pretty good overall and cool enough it hasn't depleted the players energy as much," said Harsin.  "You would like to get in some practices in hotter temperatures so the players can become  more adapt to working in those conditions, and also so we can get back on the grass (practice fields), but the weather we've had so far has been to our advantage in a lot of ways."
Following the second practice, the team went to Arkansas State University's Convocation Center for its "Red Wolf Olympics."  Tonight the team took part in a chili cookoff, the latest in a series of events that has also included a "story race" and home run derby.  Prior to the season the assistant coaches drafted teams of players, and the first event was naming the teams that were voted on by a judging panel made up of Harsin, Director of Football Operations Brian Wilkinson and Director of Player Personnel Antwon Murray.  The coaching staff thanked Richie Crawford and Wixson Huffstetler for providing the food and cooking for the event.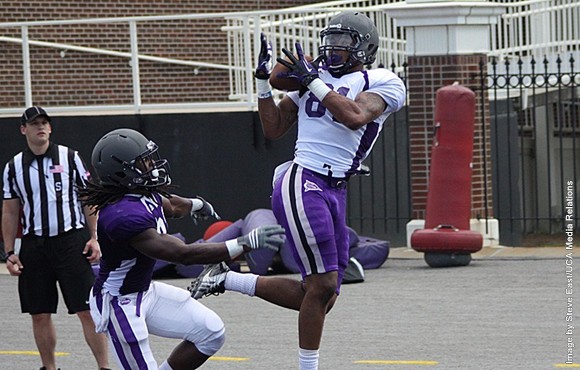 CONWAY - The University of Central Arkansas Bears offense scored twice Saturday in a lightning-shortened first scrimmage, but the Bears' defense still held the upper hand, according to head coach Clint Conque.
Senior quarterback Wynrick Smothers threw a 34-yard touchdown pass to junior wide receiver Damien Watts and sophomore transfer Taylor Reed hit sophomore Courtney Whitehead from 13 yards on a fade route for the only two touchdowns by the offense.
Junior All-Southland Conference receiver Dezmin Lewis was on his way to an apparent touchdown when senior All-SLC linebacker Justin Heard forced a fumble.
"Just way too many mistakes. I'm pretty disappointed again with our offensive performance," said Conque, who has watched his defense dominate since fall camp opened a week ago. "We're just not getting it done on a consistent basis. There were some bright spots, but way too many mistakes. Missed assignments, dropped ball, bad balls, penalties, and on down. And the thing about it is, it's not just rookies or first or second-year guys making mistakes. We had veterans with missed assignments and certainly the turnover. Now I do think that our defense has something to do with that. We're playing with a lot more pressure, and when you do that, it puts a lot more pressure on the offensive line, the running backs, the quarterback to make quicker decisions.
"But overall, very unimpressed with the offense and continue to be impressed with the defense," he said.
UCA's offense played without starting sophomore lineman D.J. Appe and only had sophomore Alec Willis for part of the scrimmage because of injury.
"The defense is playing very hard, very fast," Conque said. "But the thing about this, as a head coach, we're making so many mistakes on offense, I hope I'm not getting a false sense of security about how good our defense is. I think we're fast, I thik we're big, I think we're athletic. We're playing very, very hard. But when you cut people loose at the line of scrimmage and your quarterback can't throw the football, you worry about getting that false sense. We definitely have some things we need to clean up."
Conque said the only parts of the scrimmage that were missed due to the lightning was a red-zone session and most of the goal-line work. He singled out the "hard play" of Heard and the solid play of defensive ends Jonathan Woodard, Derek Floyd and Markeith Gaines, along with defensive tackle T.J. Randall.
"I thought our receivers played pretty well," Conque said. "The first six guys all did some good things. (True freshman) Jatavious Wilson is going to be a good little ball player for us. Desmond Smith flashed, along with Whitehead. Watts obviously made a play and (Blake) Gardner had some nice blocks on the perimeter. And both the touchdown passes were well-thrown balls."
UCA returns to the practice field at 4 p.m. Sunday before their first round of two-a-days on Monday (9 a.m. and 4 p.m.). The Bears will practice Tuesday morning before holding Media Day activities at 4 p.m. that afternoon.