Barry Switzer says his dogs want to meet Lucy Bielema.
"Bring her bikini!"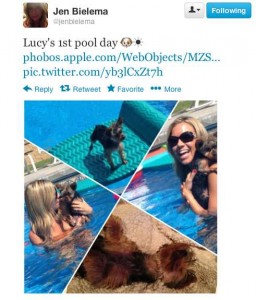 Those of us on the sports desk here at Sporting Life Arkansas are suckers for a dog story. We're not much for cats, but we do appreciate man's best friend.
When former Oklahoma Sooners and Dallas Cowboys head football coach Barry Switzer tweeted an invitation to Jen and Bret Bielema to get his two German Shepherds together for some pool fun with the Bielema's pooch, Lucy, we had to share.
@BretBielema @jenbielema Sieger and Panzer want to meet Lucy! Bring her Bikini! pic.twitter.com/RjhRDIqLir

— Barry Switzer (@Barry_Switzer) July 4, 2013
Bielema has had some fun this week tweeting photos of his pet in anticipation of the Independence Day holiday.
Lucy went shopping for a 4th of July outfit. The shades are a nice touch but might be a little over the top. pic.twitter.com/Ol6Fzg6Bl2

— Bret Bielema (@BretBielema) July 1, 2013
Lucy is tired from an early 4th of July expedition through the neighborhood. Relaxing with @jenbielema and I pic.twitter.com/dkb0lG8aNA

— Bret Bielema (@BretBielema) July 4, 2013
Happy Fourth to you all. Hope you're having a fun day.