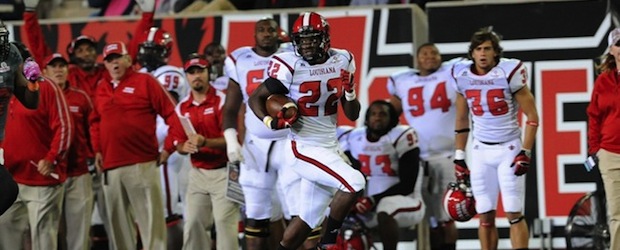 JONESBORO, Ark. – The last time Terrance Broadway faced Arkansas State, he was walking off the field in a 50-27 defeat at Cajun Field. Thanks to a strong performance by the junior signal-caller along with a stellar defensive effort, last year's bitter loss would be a distant memory.
Broadway completed 18 of 25 passes for 205 yards and the Ragin' Cajun defense held a potent Arkansas State offense to over 300 yards below its season average in a dominating 23-7 Sun Belt Conference victory on Tuesday at Liberty Bank Stadium.
"I think Terrance took things a little personal out there tonight" Louisiana head coach Mark Hudspeth said.  "He had a rough game last year and I know he was waiting to redeem himself.  He showed great form and leadership tonight and then in the second half, he showed off his arm and converted a number of third downs."
The victory was Louisiana's fifth straight and came in one of the toughest places to play in the Sun Belt.
"That was a Ragin' Cajuns victory," Hudspeth said.  "It was a total team effort against a very good ball club.  They were focused and ready to go from the start and the they weren't going to let down.
"We had three starters out on defense tonight (Ringo, Gillis & Hill) but we had guys step up and grab ahold of the rope.  The offense helped the defense out by keeping Arkansas State off the field and then the defense came through when they were on the field.
"Still, this game was closer than it should have been.  We did not finish tonight in the red zone which led to us attempting four field goals.  We need to score touchdowns," Hudspeth added.
Red Wolves head coach Bryan Harsin said, "It's not that it's broke, but we've got to fix some things. Penalties; assignment issues; execution on the offensive side, in particular. You know, just routine, not anything special, just routine plays that we make over and over and over. We've got to make those when it counts. And we didn't do that tonight.
When asked about his team's offensive performance, specifically the running game, Harsin said, "There's concern in all phases, after tonight. We didn't run the ball effectively. We didn't throw it effectively. A little tip here; a little miss there. So from across the board, as far as where we are, we've got to go back and do the little things right. Let me say this, we need to go back and do our DNA, our base stuff right. That's what we need to do."
Playing before a national television audience for the second consecutive week, Elijah McGuire and Alonzo Harris each eclipsed the 100-yard rushing mark on the ground and Louisiana (5-2, 3-0 Sun Belt) controlled the football for over 42 minutes in a battle of the league's remaining unbeaten teams.
Despite the overwhelming offensive production and control from start to finish shown by the Ragin' Cajuns, Harsin said he was pleased with his team's defensive effort.
"We knew what they were going to do [offensively]," Harsin said. "We knew they were going to run the football. We did not help them [the Red Wolves' defense] one bit on the offensive side… Where we need to do a better on job is in the play action and one-on-ones."
"Our running game continues to excel," Hudspeth said.  "Alonzo and Elijah did a great job of moving the chains and holding on to the football.
"We need to continue to lift hard, practice hard and play hard because that's why in a game like this, we could run the ball when they knew that we were going to run the ball," Hudspeth added.
Jamal Robinson caught seven passes for 104 yards for the Ragin' Cajuns, which won its fifth straight game after early season losses to Arkansas and Kansas State, while T.J. Worthy tied a career-high with 11 tackles.
After suffering back-to-back losses to Arkansas State (3-4, 1-1 Sun Belt), including last year's game at Cajun Field that marked the first and only loss at home under head coach Mark Hudspeth, the Ragin' Cajuns wasted no time in getting on the scoreboard.
Louisiana's Sean Thomas intercepted an Adam Kennedy pass and returned it 13 yards to the 50 on the game's opening possession before Stephen Brauchle came on to convert a 36-yard field goal to put the Ragin' Cajuns ahead, 3-0, with 9:30 left in the quarter.
Harris, who rushed for 105 yards on 29 carries, pushed the Cajuns lead to 10-0 with 1:11 left in the quarter when he scored on a three-yard run to cap a 12-play, 77-yard drive.
The junior running back added his second touchdown of the game, a 3-yard run, which gave Louisiana a 17-0 lead with 10:44 left in the half to cap an 86-yard scoring drive. The touchdown was set up by a 70-yard run by McGuire, who finished with a game-high 110 yards, which gave Louisiana a first down at the ASU 15.
The touchdowns were the 25th and 26th career touchdown by Harris (25 rushing), moving him past Brandon Stokley (1995-98) and into fourth place on the Louisiana career touchdown list.  The 25 rushing scores tied him with Kenyon Cotton (1993-96) for third on the all-time chart.
Arkansas State got on the scoreboard with 3:39 left in the half when Kennedy found the end zone after a three-yard run to make it a 17-7 game. Kennedy was 11 of 20 on passing for the night with 89 yards.
The Red Wolves had a chance to cut the deficit further after a nine-yard punt by Daniel Cadonagave ASU the ball at the Louisiana 40, but the Red Wolves could not move the ball.  Faced with a fourth-and-two at the 32, Kennedy could not elude the defensive pressure and threw and off-balance pass that Thomas knocked down to end the drive with 1:04 left.
Broadway took advantage of the good field position, completing six passes, including three toDarryl Surgent for 33 yards, to move the Cajuns within field goal distance.  After a seven-yard screen pass to Effrem Reed gave Louisiana a first down at the ASU 21 with four seconds left, Brauchle came on to convert a 38-yard field goal as time expired to send the Cajuns to the locker room with a 20-7 lead.
The Cajuns took the second half kickoff and held the ball for the first 8:03 of the quarter but had nothing to show for it after Brauchle pushed a 28-yard field goal attempt to the right.
After holding the Red Wolves to a three-and-out on their next drive, the Cajuns found the scoreboard when Brauchle booted a 30-yard field goal, his third of the game, to extend the Louisiana lead to 23-7 with just three seconds left in the third quarter.
That led to a dominating ending for the Cajuns, which controlled the football for 13:23 in the third quarter and 42:18 for the game.
Arkansas State, which entered the game averaging 481 yards of total offense, could never get on track finishing with 168 yards, including 59 in the second half. The Red Wolves, which had the football for 11:56 in the first half, controlled the football for 5:46 in the final 30 minutes.
Meanwhile, Louisiana maintained its offensive attack, finishing with 470 yards of total offense, including 265 on the ground. The Cajuns were impressive on defense, limiting ASU to 79 yards rushing – 130 yards below its season average. Kennedy finished 11-for-20 for 89 yards and an interception while Michael Gordon led the Red Wolves with 31 yards on seven carries.
"We cannot let up because even though we are in a good position in the league race right now, we still have a long way to go.  There is no room for error in the Sun Belt," Hudspeth said.
Harsin said he's glad his team gets a break before it's next game,  a conference match up scheduled for Nov. 2 at South Alabama in Mobile, Ala.
"As much as we're disappointed tonight, there's still opportunities," Harsin said of the five remaining games on the schedule. "And the reality of it is, we still have a lot of football left to play. We have a lot of players with a tremendous amount of pride. We have a lot of coaches with a tremendous amount of pride. We have to go out there and play our very best on game day. We didn't do that tonight. We have a lot to prove."
Highlights and lowlights from the game:
http://www.youtube.com/watch?v=g3dtp5BGXRg&