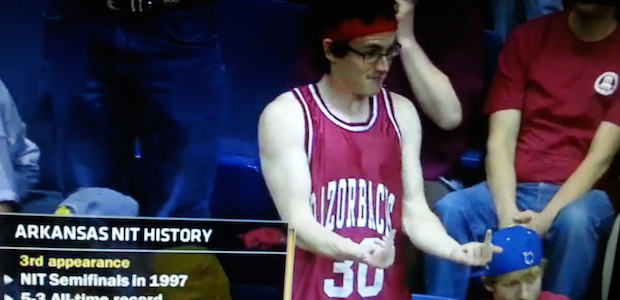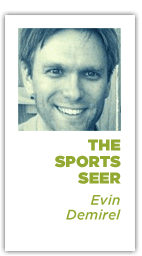 No more imagining.
No more wondering how good the Arkansas Razorback basketball team could become if it finally put it all together away from home. No more charting these Razorbacks' overall progress – which is undeniable –  against their persistent inability to charge out of the gates on the road without tripping over their own shoelaces.
In the end, there's little solace in knowing Arkansas outscored California 58-50 to close Monday night's NIT second round game in Berkeley. It was simply devastating that the Hogs missed their first 22 of 25 field goal attempts. They fell behind 6-25 and that, essentially, was that.
When fans in coming decades recall this season, they will remember a team good enough to beat Kentucky twice and reel off a six-game SEC winning streak, but still bad enough to fail miserably in their final two road games.
Predicting how this team would perform away from home has become about as challenging as straining Bill Walton's meandering monologues for legit basketball insight. Walton, the color analyst for Monday night's ESPN2 telecast, was all over the map, calling Berkeley "the epicenter of the world," predicting both Arizona and UCLA would win the NCAA Tournament and rhapsodizing about an iguana named Merlin.
If you have any doubt that Walton secretly harbors a strong desire to usurp Will Ferrell as Ron Burgundy in any upcoming iterations of the Anchorman franchise, then perhaps his on-air advice to Mike Anderson's team will change your mind: "Don't change your style, particularly when it's such a delicious style." Walton uncorked possibly his most impressive audition with this beauty: "When you get confused, listen to the music on your Meyer sound system at home. Turn it up – to 11."
Walton did pepper these tangents with some real analysis, though. At one point in the first half, after Arkansas had clanged its first 10 or so three-point attempts, he opined "Arkansas needs to spend more time practicing shooting."
Maybe. But, even more importantly, Arkansas needs players who step onto campus already with the ability and mindset to fill up the basket on the road. Twenty years ago, the program had plenty of players who could do that starting with its sophomore superstar Corliss Williamson. Williamson wasn't the most skilled offensive player, but he was brutally effective. He could bury 15-footers or bully his way to the basket, consistently drawing double teams that made three-point killers of Scotty Thurman, Al Dillard, Dwight Stewart and Davor Rimac. Although only 6-6, he scored, rebounded and played defense like a good 6-11 player.
Since then, Arkansas hasn't had a go-to post player of his caliber. This is a core reason the program hasn't come close to fielding teams who could match Williamson's '94 national title and '95 national runner-up squads. But this year's team had Bobby Portis, who has as shown more promise in his All-SEC freshman season than Williamson flashed in his injury-riddled freshman campaign. Yes, Portis' struggled with his shot down the homestretch, but he will hone it this off season. Promisingly, he collected 23 games in the NIT tournament – his best 2-game rebounding stretch all season. Look for more 15+ point/10+ rebound games next season as Portis should pack on 5-10 pounds of muscle this summer. He's already a leading candidate for the 2014-15 SEC Player of the Year.
The emergence of Portis as Arkansas' best post player since Williamson presents an interesting thought experiment, one that allows Hog fans to end this season on a higher note than what went down in these last four games: If you could choose any five Razorbacks who played post 1995 to match up against those powerhouse '94 and '95 teams, who would they be?
Rinse the after taste of this NIT washout from your mouth. It's time to start imagining again:
1994-95 team*
G Corey Beck
G Clint McDaniel
F Scotty Thurman
F Corliss Williamson
C Dwight Stewart

Loading ...
My pick:
Forget trying to match the power of Williamson and Stewart inside. You're not going to do it. No matter what, you will take some lumps.
The best tact to beat the national championship team is strangling them on the perimeter with size and strength, making those entry passes to Williamson difficult in the first place. That's why the core of my team is Joe Johnson, Ronnie Brewer and Sonny Weems. These three wingmen are all in the 6-6 to 6-8 range, very athletic, smart and able to create their own shots from almost anywhere on the floor. They have major height advantages over Beck and McDaniel while not sacrificing too much quickness. Each of these three Hogs would cause havoc in the passing lanes, and they could easily get their shots off. Moreover, each of them is more athletic and stronger than Thurman, which would diminish the sharpshooter's effectiveness.
My big man is Corliss' former pupil, Bobby Portis. Williamson (as a sophomore) would have the advantage over Portis as a freshman. He would have a clear strength and quickness advantage. But Portis would not be absolutely manhandled. The strongest part of his body is his legs, which would would help him keep his balance against an opponent with a center of gravity advantage against any foe outside of Charles Barkley. Portis' four inch height advantage and reach would annoy Corliss enough to minimize the damage.
With the offensive firepower and creativity of Johnson, Brewer and Weems, the key is to find someone who doesn't demand the ball but can clean up on the offensive boards, play sound post defense, has good hands and finishes around the basket. Portis is the best fit here.
For the fifth player, we want someone who is quick, savvy, unselfish and a great passer. By far, the best candidate for the job on this team is Kareem Reid. Arkansas' all-time assists leader will give up inches and strength when guarding Beck or McDaniel, but his ability to penetrate the defense and pass to the Big Three outside or Portis inside will more than make up for this liability. Plus, Reid, who is third on Arkansas' steals list, has the ability to make Williamson and Stewart jumpy as he occasionally goes for strips coming around from the blindside on double teams and traps.
I would put Weems on Stewart to start the game and dare Stewart to try to exploit his size advantage in the paint. You want Stewart trying to be the go-to guy down low. Because the post game was never the long-range bomber's strength, and extra shots for him would likely take his team out of its flow.
On rebounds, Weems and Portis must hustle and keep their bodies on Stewart and Williamson. Johnson and Brewer will swoop in and take care of the boards.
Notes:
*Top five based on who saw the court most in terms of # of starts and minutes played
H/T to Sports Talk with Bo Mattingly, which raised this very thought experiment on air a few months ago.
* * *
Evin Demirel been know to conduct an experiment or two on his blog and Twitter, places where he occasionally uses thought as well.