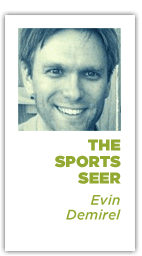 You can hear the rasping if you listen closely enough. There it is: that decripit old maxim – "a win is a win is a win" – now on life support, wheezing out its last breaths. Any week now, expect those tired eight words to keel over for good. And for some Alabama G.A. to wheel it off to the graveyard. Please don't mourn, though. We really have no use for such a cliche any more, anyway, not when Nick Saban once again has this tusked beast of his thrashing in the dungeon, set to demolish the whole damn countryside for the fourth time in five years.
The defending champion Alabama Crimson Tide's dominance has forced most other SEC programs' fans – including Arkansas' – to alter their definition of success.
"Moral victory" actually resonates in this context, as Alabama has become so good that it's come to be seen by many other programs' fans as a kind of platonic ideal, a standard by which their program can gain or lose legitimacy by playing well enough to simply avoid getting their skulls crushed in. Yes, this Crimson Tide program has become a monstrous mirror, reflecting upstart opponents' promise or shattering their expectations.
Look at Hugh Freeze and Kevin Sumlin last year, their first as head football coaches for SEC programs. Freeze's young Rebels announced to the nation they would one day be a force to be reckoned by semi-hanging with Alabama on the road, losing by a respectable 33-14 margin. Of course, Sumlin's Aggies would later one-up everyone by actually beating Alabama, a win that rocketed Johnny Manziel from Heisman Trophy dark horse to frontrunner.
This month, two more SEC newbies – Arkansas' Bret Bielema and Tennessee's Butch Jones – have used Bama as barometer. Entering last week's game in Tuscaloosa, Bielema said he had spent months laying the foundation for a Razorback program that would one day evoke Alabama by grounding and pounding its foes into sniveling, gelatinous masses in the fourth quarter of every game. Granted, as far as last Saturday's game goes, no rational human actually expected Arkansas to win. But most Razorback fans would have been heartened by a loss like Ole Miss' last year. Given how young these Hogs are, a 20 point-ish setback against the nation's #1 team would have gone down as a "W" everywhere except in the record books.
Instead, Alabama out-muscled, out-executed and out-talented Arkansas for a 52-0 knockout. This, a year after beating Arkansas by the same exact score. Indeed, as Bielema put it, Alabama is "some place that we definitely want to strive to be. We're just not quite in that league yet."
To even catch a glimpse of that league, Arkansas must first find a way to unzip the gimp suit Saban has shoved it into. Saban hasn't lost to the Hogs since he took over at Alabama in 2007. And notching consecutive 52-0 wins is historic: No SEC team has been dominated to this extreme in back-to-back seasons since the conference began in 1933.
In fact, this pre-game pep talk from Nick Saban illustrates his how he ties precision to domination.
Arkansas fans are getting sick of it. They know their program isn't some chump SEC program like Kentucky or Vanderbilt. Yes, it's been a rough last year and half, but its fans still expect so much because the program used to win so much – three SEC West titles since 1995, and the nation's 10th-highest winning percentage in the 1960s through 1980s.
Arkansas fans are not alone in their predicament. Look at Alabama's next opponent -Tennessee – another historically proud program which in recent years has assumed the role of easily digestible protein source for Saban on his relentless pursuit of gridiron perfection. For this man, football is far less a form of play than it is an outlet for mind-numbing consistency and precision.
Case in point: Alabama has beaten Tennessee by exactly 31 points in each of the last three seasons. But those losses transpired in the Lane Kiffin and Derek Dooley eras – errors for which an increasingly large swath of Volunteer faithful believe a solution has been found in potential savior Butch Jones. It's Jones who has Tennessee off to its best start in six seasons and rolling after a 23-21 win last Saturday over No. 9 South Carolina, the Vols' first win over a ranked opponent since 2009. "We're trying to get Tennessee back where it needs to be," Vols offensive tackle "Tiny" Richardson told The Tennessean afterward. "I think we took the first step to getting there."
Tennessee will take another step by not assuming the fetal position if it gets off to a bad start in Tuscaloosa this Saturday. The Vols' defense has shown steady improvement through an early-season gauntlet that included four top-20 teams. Yet they could play the game of their season against Alabama's surging offense and still lose by 14 points. Nevertheless, this would be the kind of loss a first-year coach like Butch Jones could hang his hat on – a signature loss every bit as heartening, in its own way, as South Carolina was a signature win. Because, like Bielema, Jones sees in Alabama a model and benchmark for his own future dynasty. "Their program is what we are building here at Tennessee," Jones said. "It is based on competition, it is a competitive environment every day when you walk in there; that is what we are building here at Tennessee."
Arkansas fans heard the same kind of words from Bielema all off-season, but they will have a hard time believing them again until the gap is narrowed against the SEC opponent which has come to loom over all the rest. Now Jones has his own chance to make a "We're going to arrive soon" statement.  In a season like this, the right kind of loss can be a win, too.

Loading ...
—
Demirel has been known to ride the Twitter-go-round a time or 2,000.  He blogs about the worst back-to-back losses in the histories of each SEC team here.