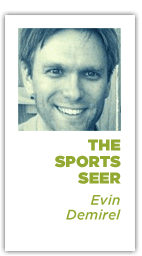 Bret Bielema might have built his national reputation on old-fashioned, conservative offense, but the man's public persona could hardly be more different. The outspoken Arkansas coach's proposal to slow down college football by forbidding offenses to snap the ball until 29 seconds are left on the 40-second play clock is not a popular one. Indeed, he is one of only two coaches to publically support it. And Bielema's reference last week to the death of a University of California football player during a discussion of how the rule changes would affect player safety was widely condemned as tactless.
The ensuing national outcry led one Sports Illustrated writer to opine Bielema is becoming the most reviled figure in college football now that Lane Kiffin is merely an assistant (and Bobby Petrino is nearly two years removed from his motorcycle spill).
Believe what you will about Bielema, but there's one thing about him difficult to argue: The man doesn't hedge. You know exactly where he is coming from, and where he stands, even if his logic backing those stances can appear confounding. Bielema may be unpopular on the Twittersphere, and his slow-down philosophy may make him contrarian, but he can hardly be accused of selling out.
But flat out selling?
Here's a different story altogether. The man can and certainly has done that. Below, we see Bret Bielema at Hot Springs Village Razorback Club meeting on Tuesday night. A wooden football he'd autographed is being auctioned off with a starting price of $50. This is no ordinary football, mind you. An Alabama penitentiary inmate carved it by hand. For years, this convict had used his extraordinary carving skills solely for the purpose of Crimson Tide propaganda until one day a Razorback fan convinced him to turn from the Elephant and carve one for Razorback-kind. At least that's the story, as told by Jim Webb, president of the Hot Springs Village Razorback Club.
The auctioning had only gotten underway when Bielema grabbed the reins and immediately started driving up the price. By the time the dust cleared, and the strutting son of an Illinian pig farmer had returned to his seat, his autographed ball had landed for the sum of $300  into the arms of Alan and Vivian Smith of Conway.
This isn't Bielema's first auctioneering rodeo. Last spring, at a similar event in Texarkana, he worked enough magic to drive up the price of an autographed ball to $1,000.