Courtesy University of Arkansas Athletics Department
FAYETTEVILLE – The University of Arkansas women's basketball team travels to Columbia, Mo., for a matchup Thursday against the University of Missouri. The Razorbacks (13-5, 1-4 SEC) will face the Tigers as a SEC opponent for the first time.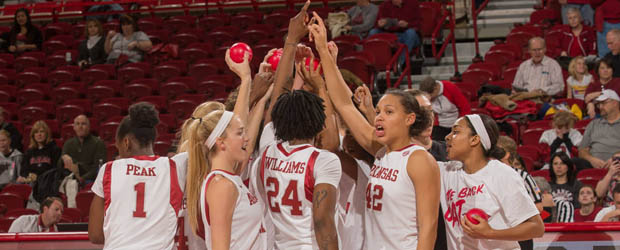 After falling to No. 13/12 Georgia on Thursday, Arkansas had a bye on Sunday, giving them a week to prepare for Missouri (13-6, 2-3 SEC). The Razorbacks battled with the Lady Bulldogs on Thursday night, holding an 11 point halftime lead before dropping the game, and used the weekend as an opportunity to refresh.
"It was good to have the bye week," Arkansas head coach Tom Collen said. "Now the team is pretty fresh. They've practiced really hard the past few days. Now they really want to get back on the court and get it rolling in the right direction." 
The Tigers are 11-1 at home this season, but have lost four of their last six games after an 11-2 start. They are led by Bri Kulas, who averages 14.1 points and 6.7 rebounds per game. Morgan Eye averages 13.7 points per game, and is the leading three-point shooter in the conference at 43.2 percent. 
The Razorbacks are a strong defensive team against the three, ranking second in the SEC in field goal defense allowing opponents to shoot just .357 from the floor, and are third in thee point defense, allowing only 26 percent from behind the arc. 
"We need to shut them down at the three point line," senior Sarah Watkins explained. "We want to force them out of what they're comfortable doing. That's our goal on defense, to force them to take shots that they're not used to taking and playing the game at our speed."
The Razorbacks are led by Watkins, who averages 13.1 points per game and is the leading free throw shooter in the conference at 85.9 percent. Calli Berna continues to give the Razorbacks a strong presence in the backcourt, posting 5.8 assists per game, and is second in the conference in assist to turnover ratio at 2.8.
Arkansas has also been improving on the glass during SEC play. The Razorbacks have outrebounded the opposition in the past three games, and have been lead each game by Quistelle Williams. Rebounding will be one key to a tight matchup between the two squads.
"We need to win for our psyche and our ability to keep marching on and feel like we're in this hunt," Collen explained. "It's a new team we're playing, a new rivalry. They're going to be excited. They've gotten off to a better start than most people thought they would. They really like to shoot the three, they execute like crazy, and they play hard. It's going to be a real challenge. Our kids just have to step up."