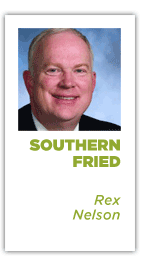 It would be far too cute a play on words to write that "it takes a Carpenter to build a football program." That's the kind of thing you would expect a talented high school kid who's trying just a bit too hard to write in his small town weekly.
So let's just say that one of the top father-son coaching combinations in the history of this state is that of the late Ralph "Sporty" Carpenter of Henderson State University and his son, David Carpenter, the longtime head coach at Junction City High School.
David Carpenter's Dragons will be back at War Memorial Stadium on Friday night to play their adversary from the south Arkansas piney woods – Bearden.
It will be the fifth time in the past decade that David Carpenter has had a Junction City team at War Memorial for a state title game:
In 2003, Junction City defeated Barton, 40-12.
In 2006, Jessieville defeated Junction City, 20-19.
In 2008, Junction City defeated Des Arc, 10-8.
In 2009, Junction City defeated Bearden, 24-14.
Junction City football teams have made the playoffs for 15 consecutive years. In his 21 years at the school, David Carpenter has compiled an amazing 184-63-1 record. Last Friday night, the Dragons defeated Walnut Ridge, 42-6, in the Class 2A semifinals to move to 13-1 on the season. Bearden also moved to 13-1 with a 37-14 victory over Mineral Springs. Junction City beat Bearden, 20-14, back on Sept. 14 during the regular season matchup between the two teams.
I'll admit a bias on the front end. I grew up with David Carpenter in Arkadelphia. I can tell you that David and his late father are alike in certain respects: A good ol' boy demeanor that belies a razor-sharp football mind.
David, though, is not as quick with a quip as his father was. He's quieter, a bit more introspective. And David has never shown an inclination to follow his father into the college coaching ranks or even into a job at a higher level of high school football. That's not to say the opportunities haven't been there. David, however, has been satisfied to make a career in a small town on the Louisiana border, far from the reach of the Little Rock media market and the notoriety it can bestow on successful coaches.
If David Carpenter coached within an hour of Little Rock, he might already be in the Arkansas Sports Hall of Fame.
His father, who was the head coach at Henderson from 1971-89, went into the Hall of Fame posthumously in 2002.
Growing up in Arkadelphia, I lived and breathed Arkansas Intercollegiate Conference sports. The great Jim Bailey chronicled the AIC for the Arkansas Gazette, the newspaper that was in our driveway each morning.
"I met Sporty Carpenter in 1967 after he had joined the coaching staff of Henderson, his alma mater, as an assistant to Clyde Berry," Bailey recently wrote. "Sporty walked over to me, stuck out his hand and said: 'Hey, Scoop, Ralph Carpenter.' Five or 10 minutes later, he had everyone in the room laughing. He always used his formal name in introductions, although I don't recall anyone addressing him as Ralph.
"He grew up in Hamburg ('the Burg,' he usually called it), served in the Navy and played center and guard for Henderson before starting a succession of high school coaching jobs. Duke Wells, athletic director and former Henderson coach, spotted potential in Carpenter. When a coaching vacancy occurred in 1970, Sporty was appointed head coach, obviously with Wells' approval.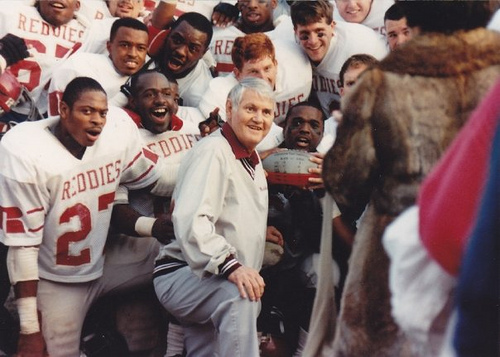 "'Sporty always liked for people to underestimate him,' Wells said a few years later when the Reddies were pretty much dismantling the AIC. But he never fooled me."
Bailey says that by the 1989 season, "Sporty" was "desperately ill, even to a layman's eye. He coached the team that fall."
Earlier this year, former Henderson assistant football coach George Baker released a book titled "When Lightning Struck the Outhouse." The book, which can be ordered at www.georgebakerauthor.com, is a tribute to Carpenter.
Baker calls the decision of his head coach to keep working that 1989 season "the most courageous thing you could ever imagine. You know, Coach Carpenter always worked hard, daylight to dark, meetings, practices. But when the football staff was out eating dinner or something, Coach Carpenter would not allow anyone to mention football. Outside the office and the field, we weren't supposed to talk shop. Coach Carpenter thought 23 hours of football a day was enough."
Baker calls his book "a labor of love that, in retrospect, came easy to me. I drew from 16 years of daily contact with Coach Carpenter. I also garnered the thoughts of his friends, players and opponents. We laughed long and hard almost every day. We passed along inside jokes that only he and I understood, most of which I cannot repeat in the interest of decorum. We traveled the world."
"Sporty" Carpenter died in 1990 without having had the opportunity to see his son become one of the state's most successful high school coaches.
"Over the next few months, even the next few years, people would ask about the funny things he said and did, like jumping on the Southern Arkansas mule mascot after Henderson beat SAU," Baker says of his decision to write a book. "I guess that's what started me to thinking seriously about a book. And the deeper I got into it, the more fascinating it became."
I worried a lot after becoming the sports editor of Arkadelphia's Daily Siftings Herald when I was a college freshman at Ouachita Baptist University. Anyone connected with the rivalry between Ouachita and Henderson knows how heated it is. The Battle of the Ravine is the small college version of the Alabama-Auburn Iron Bowl. People in Arkadelphia live it 365 days a year.
As sports editor, I covered both schools, and I was determined to do it well. Arkadelphia is a small town where everyone knows each other, so folks knew I had bled Ouachita purple and gold since birth. I had grown up in a home one block from Ouachita's football field, running the sidelines at Tiger games since I was old enough to walk. The legendary Buddy Bob Benson, the Ouachita head coach, was like an uncle to me.
How was "Sporty" Carpenter going to treat me? He was going to treat me like a professional but not without plenty of good-natured ribbing in the process.
I had written a profile of Benson in which I pointed out that he had played at the University of Arkansas for Bowden Wyatt and that Wyatt had played at the University of Tennessee for Gen. Robert Neyland. That, I wrote, made Benson a direct football descendant of Neyland.
"Sporty" began referring to Benson as The General.
Each time I would show up at a Henderson practice, the Reddie head coach would say something along the lines of: "What is The General up to today, Rexall? Did he send you over here to spy on us?"
"Sporty" had nicknames for everybody. I was always "Rexall."
My most memorable moments came when gathering quotes after Henderson games.
Once, after a Reddie tailback had fumbled late in a crucial contest at home, his head coach described the running back as a "triple threat – a threat to the opposition, a threat to us and a threat to himself."
I wasn't there for the famous game in Monticello in 1977 when "Sporty" stated that "lightning struck the outhouse and we were in it."
Charlie Boyd, a Lake Village native who's now a Little Rock attorney, was on that team.
"We had just gotten beat by UAM at their place, and the dressing room for the opposing team was around an indoor pool," Boyd says. "I recall being next to Coach Carpenter when the reporter asked him what happened and can attest, under oath, that his answer was just what the title of the book says it was."
I was there four years later when the Boll Weevils again upset a nationally ranked Henderson team. The Reddies were 7-0 coming into the game and ranked No. 1 nationally in the NAIA. UAM won, 27-16. Sporty told me after the loss to the Boll Weevils: "Rexall, it was a total waste of time. We would have been better off to stay home, parch peanuts and watch Barbara Mandrell on the TV."
Mike Dugan, now a Hot Springs business and civic leader, spent a decade as Henderson's sports information director. He tells this story about a trip to Monticello with "Sporty" to see a Henderson basketball game:
"A notice had just been sent out by the university that at no time should a state-owned vehicle be seen at a location other than what was listed as an authorized destination. As soon as I picked him up that afternoon, he told me to drive to Walmart. I protested, but he insisted. So I began a nervous wait while he went inside. When he came out, he threw his package into the back of the car and away we went.
"As we neared Monticello, he began to give me alternate directions and sent me down an isolated highway and through the gates of a cemetery. We left the car, and 'Sporty' got down on one knee to clean the weeds from his parents' graves. The package contained flowers. This was a wonderful, warm side to a man I already knew had a big heart."
I attended his funeral in 1990 at Arkansas Hall on the Henderson campus. Yes, I'm a Ouachita man to the core. But as they rolled his casket down the aisle and the organ played the slow version of "Old Reddie Spirit," I cried like a baby. He was quite a man. I miss him still.
I will be at War Memorial Stadium on Friday night, watching his son try to win a fourth state championship.