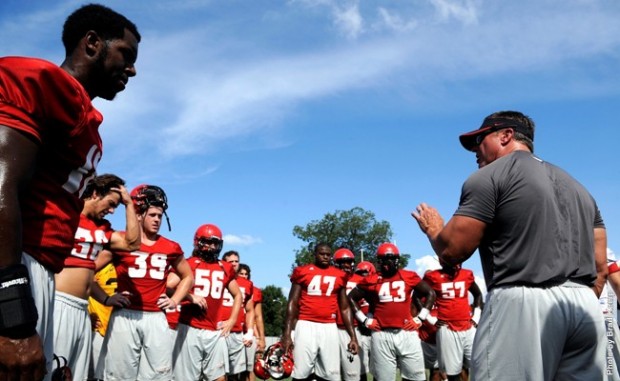 As the Arkansas Razorbacks prepare to open the 2013 football season in Fayetteville against the Ragin Cajuns of the University of Louisiana-Lafayette, the sentiment is almost universal – this game is a real test for the Razorbacks and the Ragin Cajuns are ready to compete.
A roundup of what is being said around the world of sports concerning the game Saturday, Aug. 31, with a 3 p.m. kickoff in Fayetteville, plus pre-game notes from the Ragin Cajuns of UL-Lafayette are below.
From the Advertiser in Lafayette, La.:
"I think it is gonna be a big man's game…" said Ragin Cajun head football coach Mark Hudspeth.

"I think this game is gonna be won up front," he said. "I think most big football games are won at the line of scrimmage, and make no mistake about it: This one will be (too).

"In the past, Coach Bielema has done a great job of running the football. I don't see them getting away from that. A tough, physical mentality. And I see them trying to line up and do that Saturday.
"They're gonna be very prepared," Hudspeth said of the Razorbacks in Bielema's debut. "A very talented team. They're gonna be a very physical team. … We're gonna have to answer the bell.

"That last year's team, that was sort of a train wreck. That was not indicative of the way they have played football the last 10 years there at Arkansas."

Hudspeth seems well-aware that the SEC's Hogs went 10-3 in 2010 and 11-2 in 2011, and that they went to three straight postseason games – the Liberty, Sugar and Cotton bowls – from 2009-11 under Petrino.

In the last decade, they've made six bowl appearances.

"That just tells me they had a little blip on the radar (in 2012)," said Hudspeth, whose own team has gone 9-4 with a New Orleans Bowl win each of the past two seasons.

"I can guarantee Coach Bielema has rallied the troops, circled the wagons," he added, "and I can guarantee that everybody in the state of Arkansas is back on the Kool-Aid, and those players are gonna be anxious to show they were better than what they were last year, I promise you that. They've got an outstanding team."
ULL coach Mark Hudspeth said his team knows beating Arkansas isn't impossible, either, after its experiences last season. ULL led 20-13 in the fourth quarter at Florida last November, but couldn't finish. They lost in heart-breaking fashion, getting a punt blocked and returned for a touchdown with two seconds left.

"The way we at least played at Florida last year — we didn't win the game, but we competed — I think gave our guys even more confidence that you know, we can compete on a bigger stage," Hudspeth said. "Our guys are confident. They're not by any means arrogant or cocky coming into this game, but they're confident.

"They're looking forward to the challenge of competing against these guys."
Bret Bielema's first and best act at Arkansas was hiring his defensive coordinator at Wisconsin the last three seasons, Chris Ash to close the gap in this area. Chris Ash is one of the best fundamental coaches in the great league and an excellent in-game adjuster. Ash has many things going for him to stop Broadway in the season opener. Arkansas' defensive line was the strength last season and will be again this season. Linebacker play was the most improved group from play one to the last play of the season in 2012.
Know your opponent – Game Preview from UL-Lafayette:
UL Web Site: www.RaginCajuns.com
Twitter: @ULRaginCajuns
Facebook: ragincajunsathletics
YouTube: iam4ragincajuns
Instagram: ULRaginCajuns
THE STORYLINE:  After almost a month of preseason drills, the Louisiana Ragin' Cajuns football team will open the 2013 season by travelling to Fayetteville, Ark., to take on Arkansas onSaturday, Aug. 31 beginning at 3:00 p.m. CDT in Donald W. Reynolds Razorback Stadium on the Arkansas campus. . . the game is being televised live on Fox Sports Network (Fox Sports Southwest in Lafayette) with Bob Rathbun, Tim Couch and Elizabeth Moreau providing the commentary. . . the contest marks the beginning of the 112th season of intercollegiate football at Louisiana with the Cajuns going for their 500th win in program history (499-521-34 all-time record). . . this will be the fifth game against Arkansas with the Razorbacks claiming the first four contests, each of which was played in Fayetteville. . . Louisiana is winless in 36 previous meetings with SEC opponents. . . the Cajuns return 14 starters from the 2012 team that tied the school record for the second straight year with nine wins and won the New Orleans Bowl title. . . seven starters are back from the offense that set school records for points (461), first downs (268) and total offense (5,914). . . the Cajuns carry a modest four-game win streak into the contest.
LOUISIANA & LIVE TELEVISION:  Saturday's game will be the first of at least 10 Louisiana games televised this season.  The game will be broadcast by the Fox Sports Network, a series of regional channels, with the game being available live on nine different channels across the country.  It will be shown locally on Fox Sports Southwest and also be available online on ESPN3.com.  The only two games not currently on the schedule are the Sept. 21 game at Akron and the Nov. 16 contest at Georgia State.
FOR OPENERS:  The Cajuns will open their 112th season on intercollegiate football against Arkansas on Saturday.  Louisiana owns a 53-54-4 record in season openers.  The Cajuns will be attempting to reverse a bad stretch as they have gone just 4-18 in openers since 1991.  The Cajuns have faced Arkansas just once in an opener, dropping a 38-17 decision in 1998.
GOING FOR 500:  Louisiana begins its 112th season of competition this week in search of its 500th all-time win for the program.  The Cajuns begin the season with a 499-521-34 record, one win shy of the 500 mark.
CAJUNS HAVE PLAYERS TO "WATCH":  After back-to-back 9-4 seasons, the college football experts have taken notice of the talent on the Louisiana roster with three Cajuns being named to the four different preseason Watch Lists for the 2013 major college football awards.  The list includes:
Player        Award (Honors)
Terrance Broadway        Davey O'Brien Award (QB)
Terrance Broadway        Manning Award (QB)
Andre Huval        Rimington Trophy (Center)
Darryl Surgent        Senior Bowl Watch List (All-Star Game)
THREE CAJUNS NAMED TO SUN BELT TEAM:  Three Cajuns were named to the 2013 Preseason All-Sun Belt Conference team, which was determined by a vote of head coaches and select media throughout the conference.  Senior center Andre Huval was the only member of the offense to receive the honor while linebacker Justin Anderson and defensive lineman Christian Ringo represented the defense.
CAJUNS TABBED AS SUN BELT CO-FAVORITES:  Building on consecutive 9-4 records and New Orleans Bowl titles, the Ragin' Cajuns have been selected as the co-favorites to win the SBC this season in a preseason poll of the league's head coaches.  The Cajuns received four first place votes and 57 points total to share the favorite role with ULM, who received two first place votes.  Defending champion Arkansas State was picked third with the other two first place votes and 45 points total, one point ahead of fourth place WKU (44).  Troy was fifth (35) followed by Sun Belt newcomer Texas State (23), South Alabama (19) and first-year member Georgia State (8).
COACHING CONTINUITY:  One of the reasons for the Cajuns success is the continuity that they have enjoyed on the coaching staff.  Eight of the nine assistant coaches that Mark Hudspeth hired after taking the job 28 months ago remain on the staff.  The lone newcomer is defensive coordinator James Willis, who joined the staff in January after stints at Auburn, Alabama and Texas Tech.  Last year, Louisiana was one of 16 FBS schools to return with the entire coaching staff intact from 2011.
THE LINE THAT PLAYS TOGETHER, STAYS TOGETHER:  Although the offensive line will feature two new starters in 2013, Terrance Broadway should feel comfortable under center this year as the three returning starters each started all 13 games last year and played in better than 95% of the offensive snaps.  Center Andre Huval and right guard Daniel Quave open the year with 26-game starting streaks while left tackle Mykhael Quave started every game at left guard in 2012 before moving to tackle last spring.  Junior Terry Johnson takes over at left guard with sophomore Octravian Anderson getting the nod at right tackle.  This will be just the third starting combination since Mark Hudspeth took over three years ago as the same five starters were used in all 13 games in each of his first two seasons.
IT'S ANOTHER WINNER:  The Ragin' Cajuns 9-4 mark in 2012 signaled back-to-back winning seasons for the first time since going 6-5 in 1988 and 7-4 in 1989, part of four consecutive winning seasons by Louisiana under head coach Nelson Stokley.  In his nine seasons as a collegiate head coach, Mark Hudspeth has produced a winning record eight straight years.
SETTING A STANDARD:  In addition to the first-ever back-to-back seasons appearing in a bowl game, Mark Hudspeth has helped Louisiana to tie the school record for wins in a season with nine.  Prior to the 9-4 mark in 2011, the Cajuns set the school record for wins with a 9-2 record in both 1921 and 1976.    The 18 wins over the last two years is the most in a two-year period in school history.
4TH DOWN EXPLOITS:  Fourth down proved to be a special down for the Cajuns last year as Louisiana ranked in the top 10 in both fourth down conversion and fourth down defense.  On defense, the Cajuns stopped their opponents in 11 of their 14 attempts, ranking second behind Syracuse (2-10, .200) with a .214 defense rate.  Offensively, Louisiana successfully converted eight of its 11 fourth down attempts to rank fifth nationally (.727).  Clemson (14-18, .778) and Ohio State (7-9,.778) shared the national lead.
BROADWAY ON THE RUN:  The 769 yards rushing last season by Terrance Broadway puts him among elite company this year as the junior begins the year ranked sixth among returning quarterback rushers.  Northern Illinois' Jordan Lynch led all quarterbacks with 1,815 yards rushing last year.  He was followed by Heisman Trophy winner Johnny Manziel  of Texas A&M (1,410), Ohio State's Braxton Miller (1,271), Nevada's Cody Fajardo (1,121) and Nebraska's Taylor Martinez (1,019).
IMPACT TRANSFERS:  The Cajuns will benefit this year from the service of five transfers from FBS schools this year.  Quarterback Terrance Broadway played his freshman season at Houston in 2011 before transferring to Louisiana last year.    Broadway will throw this year to seniors Ricky Johnson (Tulsa) and  Devin Figaro, who played his first two years at Tulane this year,  Defenders Darius Barksdale and T.J. Worthy each attended Ole Miss before coming to town last year.  Two transfers are sitting out this year, tight end Evan Tatford and linebacker Trey Granier (LSU), each of whom will have three years left to play next fall.
. . . AND IMPACT FRESHMEN:  The incoming recruiting class by the Cajuns was the consensus pick among the recruiting experts as being tops in the Sun Belt this year.  The quality of the class is quickly appearing as head coach Mark Hudspeth has indicated that as many as four first-year freshmen could play in the season opener at Arkansas.  Freshman running back Elijah McGuire, who led the state with 2,603 yards and 31 touchdowns last year, is listed as the backup at running back this year while teammates Devin Scott (WR), Simeon Thomas (CB), Nick Byrne (TE) may also see action.
IMPROVED RUNNING:  One of the strengths of the Cajuns offense in 2012 was their improvement in the running game.  In 2011, Louisiana ranked seventh in the Sun Belt and 88th nationally averaging 125.2 yards per game.  In 2012, using a running attack featuring two sophomores and two freshmen, the Cajuns ranked second in the Sun Belt and 34th in the nation averaging 193.5 yards per game.
. . . AND THE SOLID RUNNING SHOULD CONTINUE:  All indications are that the offense should be able to continue running the ball effectively this season as the Cajuns return the majority of their running game from 2012.  Lost are quarterback Blaine Gautier (17 carries, 93 yards), wide receiver Harry Peoples (14-72) and running back Yobes Walker (6-0), who combined to rush 37 times for 165 yards.  Returning are juniors Alonzo Harris (170-881, 10 TD's) and Terrance Broadway (119-769, 9) along with sophomore Effrem Reed (86-414, 5) and Torrey Pierce (49-263, 3).
SUCCESS IN THE RED ZONE:  The Cajuns offensive success in 2012 can be tied to their performance in the Red Zone as Louisiana finished the season ranked second in the nation in Red Zone efficiency.  The Cajuns scored 55 times in their 58 trips to the Red Zone last year (.948), trailing only Clemson (56-59, .949).  Of Louisiana's 56 scores, 44 were touchdowns (30 rushing & 14 passing).  Louisiana takes a streak of 31 straight Red Zone scores into the Arkansas game.
. . . REALLY?:  Two of the three times that the Cajuns failed to score when they were in the Red Zone last year came vs. Tulane (10/6/12) when Brett Baer missed one field goal and had a second kick blocked.  The third failure can hardly be called that as the Ragin' Cajuns ended the Sept. 29 game with FIU by taking a knee twice at the FIU 9 to run out the clock.  That snapped a streak of 19 consecutive successful Red Zone trips and cost the Cajuns a national statistical title.
SURGENT PROVES VERSATILE:  Senior wide receiver Darryl Surgent is in some elite company, beginning the year ranked third in school history with 3,757 all-purpose yards.  He trails only Tyrell Fenroy (5,231 yards from 2005-08) and Brandon Stokley (3,789 from 1995-98), both of whom have had their jerseys retired by the Cajuns.  In his first three years, Surgent has picked up 1,242 yards receiving, 2,146 yards on kickoff returns, 340 yards on punt returns with 29 yards rushing.  Surgent is averaging 104.4 yards all-purpose yards per game, the third-highest average in Cajuns history.
BROADWAY & HARRIS SUCCEED AS A RUNNING TANDEM:  The rushing tandem of running back Alonzo Harris and quarterback Terrance Broadway have each rushed for 100 yards or more in the last three games that they played together.  The streak started with Broadway gaining 145 yards on 14 carries and Harris adding 104 on 10 rushes vs. WKU.  Harris missed the South Alabama game but came back to gain 127 yards with three touchdowns while Broadway gained 123 yards in the regular season finale at FAU.  The duo stood out in the New Orleans Bowl as Harris had a 68-yard touchdown as part of a 120-yard afternoon while Broadway picked up 108 yards.
. . . AND MAKE IT INTO THE RECORD BOOK:  A closer look at the Louisiana record book shows that the three games that Broadway and Harris each surpassed the 100-yard rushing mark in together tied the school record for most 100-yard games by a duo.  Tyrell Fenroy and Michael Desormeaux set the record in 2007, going on to set the career mark with five 100-yard games together.  Harris & Broadway have accounted for three of the 17 games with multiple 100-yard rushers in the same game in Louisiana history.
WINNING AWAY FROM HOME:  Louisiana carries a modest two-game road win streak into the season opener at Arkansas.  Last year, the Cajuns were 4-3 on the road, the first winning record on the road since a 4-2 record in 1993.  In two seasons under head coach Mark Hudspeth, the Cajuns are 8-7 away from home, going 4-4 in 2011.
ANDERSON PASSES THE CENTURY MARK:  Linebacker Justin Anderson returns for his senior year after ranking seventh in the Sun Belt last year averaging 8.1 tackles per game.  He is one of three Cajuns in the last six years to total more than 100 tackles in a season, joining Lance Kelley (118 in 2011) and Antwyne Zanders (103 in 2009).  Anderson started the 2112 campagin with just 21 tackles in his first two seasons.
BROADWAY HITS:  Junior Terrance Broadway started the 2012 season as the quarterback-in-waiting, playing as a reserve until senior Blaine Gautier graduated.  He ended it by setting the school records for total offense (3,611) and completion percentage (.654).  Along the way, he. . . :
•  earned New Orleans Bowl MVP honors after completing 21-of-32 passes for 316 yards and a touchdown and rushing 15 times for 114 yards and a score.
•  Against Arkansas State (Oct. 23), Broadway set career highs for attempts (39), yards (374) and completions (28).  The 374 yards was the eighth-highest single game total in school history.
•  His best game came at ULM ( Nov. 3) when he had a personal-best 460 yards of total offense and five touchdowns.  He completed 23-of-32 passes for 373 yards and four TD's and rushed 13 times for 87 yards and a score.
•  Against WKU (Nov. 17), he accounted for 403 of Louisiana's 582 yards of total offense.  He rushed 14 times for a career-high 145 yards and a touchdown and completed 23-of-33 passes for 258 yards and a score.  Down 27-17 with 6:00 left, he led the Cajuns to two touchdowns down the stretch, the last coming on his own 14-yard run with 0:38 left, to give Louisiana the win.
•  Threw for 305 yards and two touchdowns against South Alabama (Nov. 24), his third 300-yard passing game.  He completed just 11 passes, averaging 27.7 yards per completion.
•  For the season, he ranked first in Cajun history in total offense (3,611) and completion percentage (.654), second in passing efficiency (153.3), third in passing yards (2,842), fifth in passing touchdowns (17) and completions (206).
HUVAL NAMED TO ACADEMIC-ALL DISTRICT SQUAD:  Center Andre Huval, who owns a 3.37 cumulative grade point average majoring in business accounting, was named to the 2012 Capital One Academic All-District team, which was selected by the College Sports Information Directors of America.
PROTECTING THE QUARTERBACK:  The Louisiana offensive line finished the 2012 season ranking 13th nationally, allowing only 13 quarterback sacks (1.0 sacks per game).  Louisiana gave up just one sack in the first four games.  When Terrance Broadway took over at quarterback, the line had to adjust and gave up eight sacks over a three-game period.  The adjustments were made however as the Cajuns gave up just four sacks over the last six games, including one sack at Florida, a team that ranked fifth nationally in defense last season and none vs. SBC sack leader WKU (Nov. 17), which had made 31 sacks in their first 10 games.  That is considerable improvement over the 2011 numbers when the Cajuns allowed 25 sacks totalling 169 yards lost in 13 games.
MR. ROBINSON'S NEIGHBORHOOD:  Junior Jamal Robinson is eager to step into a more prominent role among the Cajun receivers this year.  Playing mostly as a reserve last year, he caught 26 passes for 630 yards and three touchdowns.  His 24.2 yards per catch was the second highest by a receiver with at least 25 receptions (FIU's Willis Wright led with a 25.3 avg.).  Thrust into a starting role midway through the year, Robinson caught eight passes for 259 yards and two touchdowns in the games against Arkansas State (10/26) and ULM (11/3) and then came back vs. WKU (11/17) to make three grabs for 27 yards, including a five-yard touchdown catch that pulled the Cajuns to within three points late in the game.  He finished the year with six grabs for 116 yards in the New Orleans Bowl victory.
ROBINSON GOES A LONG WAY FOR NOTHING:  Jamal Robinson gave a glimpse of his season ahead when he set a school record for the longest non-scoring pass play in school history when he grabbed an 86-yard pass from Blaine Gautier in the second quarter against Lamar.  It was his only catch of the game, allowing him to best the old record of 82 yards by Michael Desormeaux to Richie Falgout vs. FIU in 2008.
. . . AND ROBINSON GETS A BLOCK:  Jamal Robinson turned in the special teams play of the day against South Alabama in the regular season finale, blocking a 42-yard field goal attempt late in the first quarter that would have tied the game at 10-10.  It was the first blocked field goal by a Cajun since Le'Marcus Gibson blocked one against North Texas on Oct. 15, 2011.
HARRIS CLOSES IN ON 2,000 YARD MARK:  Three straight 100-yard rushing performances to close the season vaulted Alonzo Harris past the 1,500-yard rushing mark for his career.  He begins his junior season ranked seventh in school history in rushing touchdowns (16), 113th in rushing yards (1,581) and 15th in attempts (333).  His 68.7 yards rushing per game is third best, trailing only Tyrell Fenroy (101.0 from 2005-08) and Brian Mitchell (77.6 from 1986-89).  Harris gained 700 yards as a freshman in 2011 and totalled 881 yards last season.
A COMEBACK FOR STOVER:  A feel-good moment of 2012 was the return of kickoff specialist Hunter Stover, who has taken over the kickoff chores.  Stover kicked off 47 times in the first eight games for the Cajuns in 2011 before suffering a torn ACL in his right knee at WKU.  The injury was nothing new to Stover.  In high school, he tore the ACL in his left knee and a post-surgery infection required a second ACL replacement.  The surgeries worked as Stover kicked off 40 times in 2012, recording a 62.7 average with 13 touchbacks.
. . . AND STOVER DOESN'T JUST KICK:  Hunter Stover's ability as a linebacker is the reason he was brought to Louisiana, but three ACL surgeries later, his days as a linebacker are over and he is limited to just kicking.  Consequently, he has taken advantage of his only opportunities to hit an opponent by ranking second on the team in 2012 with eight special teams tackles.
GRANDPA GILLIS:  Sixth-year senior Rodney Gillis returns as the starter at free safety for the second straight year, a position that he needed four years to take a hold of.  After an injury plagued start to his Louisiana career that saw him make nine tackles in 11 games over his first four seasons, he started the 2012 opener and thrived.  He started all 13 games, ranking second in the Sun Belt with five interceptions and second on the team with 75 tackles.  Gillis joined the program in 2008 and redshirted.  He did not play during the 2009 campaign and then tore an ACL in his knee the following spring and missed the 2010 season.  Gillis was able to play in 11 games as a reserve in 2011, making nine tackles.
Ragin Cajun Game Prep Notes:
LAFAYETTE, La. – After practicing for just about every in-game scenario over the past three weeks, the Louisiana football team put a close to preseason camp on Friday by practicing playing a game.
Although it may sound off, in practicality, the Cajuns practiced doing all of the little things to get ready for next week's opener at Arkansas.
When practice started on Cajun Field, the Louisiana players followed the normal pre-game time schedule, each reporting to the field for the various warm-up sessions that they would be part of.
The kickers and punters were first, followed by several of the position groups.  When the entire team was finally on the field, the squad practiced getting into formation for pregame stretching.
The practice continued for another 90 minutes.
"We ran a mock game situation today to get ready for next week," head coach Mark Hudspeth said.  "We practiced just about every scenario.  We practiced getting substitutions into the game, getting the special units on and off the field and we practiced sideline communications.
"We also went over a lot of unusual game situations in case we needed them," Hudspeth added.  "The best was the victory formation."
When practice ended almost an hour ahead of schedule, it concluded the 19-day preseason camp.
"We had a pretty good camp.  The guys are ready," Hudspeth said.  "They were pretty focusedtoday like they have been for most of the last three weeks.
"I'm pleased that we got through camp without any season-ending injuries and we should have all of our regulars available next weekend.  We have a chance to be a pretty good team if we can continue to stay healthy," Hudspeth added.