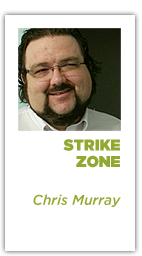 The chilly metallic ping of February can mean only one thing: college baseball has begun. And in Arkansas, all eyes are on the Razorbacks. Following a strong College World Series performance last June, and with a number of starters and contributors returning, the Hogs were ranked No. 1 in multiple preseason polls.
That will probably change this week, as Arkansas failed to complete a sweep of Western Illinois, dropping the final game of the three-game opening series Sunday at Baum Stadium.
Arkansas easily won the first two games behind dominant pitching. Staff ace Ryne Stanek and Barrett Astin, who looks to move from the bullpen into the weekend rotation, both had pitch count-shortened outings, and on both days the bullpen was lights-out. Trey Killian and Jalen Beeks each tossed three innings of scoreless relief.
On Sunday, starter Trent Daniel struggled and the Hogs were shaky on defense as the Leathernecks built a 7-3 lead. The Hogs chipped away but couldn't come up with the big hit and fell, 7-5, in what must be one of the biggest wins in program history for Western Illinois.
Dominic Ficociello, Arkansas' top returning hitter, missed the series with an oblique injury. First baseman Eric Fisher homered in the opener. It was his bat that necessitated Ficociello, an all-SEC defensive choice in 2012, move to second base. Matt Vinson, Brian Anderson and Tyler Spoon all had productive weekends at the plate, but the Hogs will need Ficociello's presence in the lineup.
In college baseball, losses are expected of course, even occasionally to clearly lesser teams. That won't keep some of the more reactionary Hogs fans from lighting up message boards with gloom and doom following Sunday's defeat.
Expectations remain high for the Razorbacks, though. After an up-and-down regular season in 2012, Arkansas stormed through the Rice regional and Baylor Super Regional (aka Waco Freezes Over, the Southwest Conference Reunion Tour). And it took a nebulousstrike zone in Omaha to derail a possible berth in the championship series.
Arkansas sports teams seem to rarely thrive under great expectations. Many expected Mike Anderson's basketball Hogs to be an NCAA tournament team this season, and despite big wins over Florida and Missouri, that still looks unlikely. And the less that is said about the 2012 Razorbacks football disaster the better, but remember the Hogs were ranked in the top 5 preseason before the bottom dropped out.
So while the spotlight on college baseball is not as nearly intense, the 2013 Razorbacks will have to deal with whatever pressure that comes when much is expected.
The Razorbacks host New Orleans for single games Tuesday and Wednesday before welcoming Evansville to Baum Stadium for a three-game series starting Friday.  In a somewhat-interesting note, Western Illinois visits Jonesboro starting Saturday for three games with Arkansas State. The Leathernecks then return to Arkansas on March 1 for a three-game set with Arkansas-Little Rock in the capital city.
In addition to the Razorback Baseball, this column will cover other college baseball items of note from around the state, as well as the Arkansas Travelers and Northwest Arkansas Naturals.
The Travs' season begins April 4 at home against Frisco. That same night, Northwest Arkansas opens its season at home against Midland. The two teams, who have developed a simmering rivalry, don't meet until May 4 at Dickey-Stephens Park.
Baseball Jam – a baseball-inspired YouTube clip. 
The Baseball Project is a alternative-rock supergroup of sorts, with Peter Buck of REM, Steve Wynn, Scott McCaughey and Linda Pitmon. They are all big fans and have released two albums of baseball-related songs. This is one of my favorites from the two records, chronicling hard-luck Harvey Haddix, who in 1959 famously pitched 12 perfect innings for the Pirates in a game against the Milwaukee Braves, only to lose in the 13th.