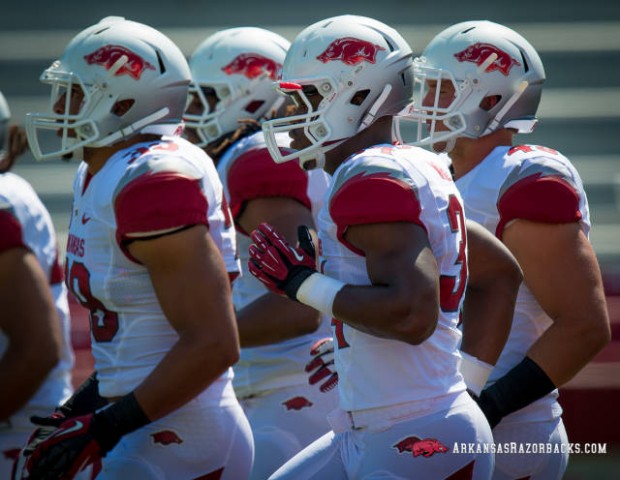 FAYETTEVILLE – The third week of preseason practice continued as the University of Arkansas football team met Tuesday morning. Razorback Defensive coordinator Chris Ash spoke with the media after practice about the team's recent scrimmage.
"We started off slow but then settled down and finished strong," Ash said. "It was the second scrimmage in a row that our ones didn't give up a touchdown. I thought our tackling was better overall, guys were flying to the ball pretty good. At the end of the day, I was pleased with our ones and the progress they've made."
Ash also addressed Chris Smith and his development as a leader on the field.
"He's been a great leader, not just on the defensive line but the whole defense in general," Ash said. "He comes to work every day with a great attitude, he's very enthusiastic. When the ball is snapped he only knows one way to go and that's full speed. Everyone usually feeds off of that. He's a playmaker and has been a great leader for the whole defense, d-line and, really, the football team."
When asked about the 'dog days of summer', Ash had some thoughts about heading into the season.
"As coaches, we are ready to transition into the game prep," Ash said. "I think the players are tired of hitting each other and are ready to transition. Every year I've ever been a coach it's been the same at this point. It gets to be a grind. We've got to keep pushing them through, keep being positive and keep working to get them better and to where we need to be."
You can read Chris Bahn's thoughts on Razorback defensive coordinator Chris Ash and his coaching philosophy by clicking here.
Arkansas Razorback football single-game tickets are now on sale online and can be purchased at ArkansasRazorbacks.com, at the Razorback Ticket Center or by calling 800-982-HOGS (4647). Additionally, tickets for the two Little Rock games can be purchased at War Memorial Stadium Ticket Office, which is open Monday through Friday from 9 a.m. to 6 p.m.