Razorbacks vs Aggies – The Windbreaker Speaks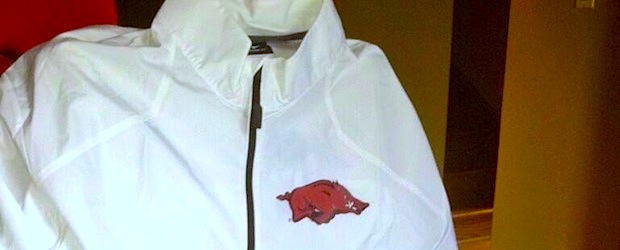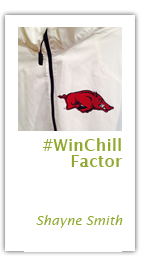 Now that the SEC conference games are starting, perhaps it's time to break through the character limitations of Twitter and expand on some pre-game analysis (otherwise known as "guessing").  But first, let's dive right into the question that fills my in-box each week:  What color will you be on Saturday?
I'm happy to field that question.  I'll start to worry if there is an uprising from the masses to lose the windbreaker and switch to – dare I even say it – a sweater vest.  But as long as the only concern is whether I'm "Red" or "White" for a game is the burning issue on the minds of Hog Nation, all is well.
Or so I thought.  After the Rutgers game, I received a fair amount of criticism for being Red.  As we all know, one shouldn't mess with a 3-0 streak (as authority for that statement, see "Davis, Crash:  Bull Durham (1988)).  But the focus on Red vs. White may inadvertently ignore an initial question:  Does my being Red or White have any bearing whatsoever before, during or after a game?
WinChillers…I'm here to tell you the truth.  As much as it pains me to say it, the color of my Nike® Storm-FIT® skin does not make one iota of difference in the outcome of a game.  It's only because I bleed Razorback red that I can confess this truth to you.  (Admittedly, I don't literally bleed.  You see, polyester is a … never mind, you get me.  It's all good).
So, if the color of the day matters not to the final score, one might be asking themselves what good, then, is the windbreaker?
Fair enough.
But Razorback fans likely already know the answer to that question and it is this:  I'm a spirit.  I'm the Razorback spirit of our grandparents, parents and siblings.  I'm the spirit found in your neighbors, communities and towns all over this state and beyond.  I've known heartbreaking losses to Texas with you, but also a few well-placed victories (I'm looking at you 42-11 (1981)).  I've known Jackie Sherrill at Texas A&M and at Mississippi State…and I didn't like him in either place.  I was there in ecstasy when Kenny Hatfield beat Texas with a punt return in '64, and I was there to take you all in my sleeves when Clint Stoerner left it all on the field in Knoxville in '98 (but also there to carry the goal posts down Dickson Street with you when he led the Hogs to victory a year later with a picture perfect pass to Anthony Lucas against those same Vols).
I was sitting with your Daddy in your grandfather's lap as he listened to Bud Campbell call the game on the radio.  And also with you as you sat in your Daddy's lap while he listened for that magical phrase to pass through Paul Eel's lips:  Touchdown Arkansas!
So, no, the color doesn't matter.  It doesn't any more matter than the pigment of your own skin.  What matters is that on Game Day, we rise up as one to call the Hogs and share in that Razorback spirit.
Now that we've gotten that settled, let's move to this week's WinChill Factor.  Make no mistake; it's going to take a near perfect game by the Hogs to overcome the Aggies this year and their own unique spirit:  The 12th man.  That's why this week's WinChill Factor will be the 70,000+ Razorback Fans in the Stands.  After all, you know as well as I do that this is a pivotal time for these young Hogs.  Let's take this as a golden opportunity to let them know that we know how hard they're working, how committed they are, and how we are with them 100% now and in seasons to come.
In other words, WinChillers, it is time to resurrect a little Southwest Conference mojo and turn D.W. Reynolds Razorback Stadium into Barnhill Arena for one magical night.
Until next week, Fear the Sleeves.
***
Coach Bielema's Windbreaker made its physical presence known on August 31, 2013.  It is chock full of Razorback spirit, has an unhealthy hatred of sweater vests and fears nothing (other than a hot iron on the "Cotton/Linen" setting).  As game days approach, the Windbreaker can be found interacting with the Razorback faithful on Twitter (@BielWindbreaker).
At times, the Windbreaker associates with Shayne Smith, a lifelong resident of central Arkansas who has been known to begin sentences with "Notwithstanding the foregoing…."