Chris Hauser, director of recruiting for the University of Arkansas Razorbacks, is leaving the staff.
From Chris Hauser, via his Twitter account, @ChrisHauserJr, Thursday afternoon: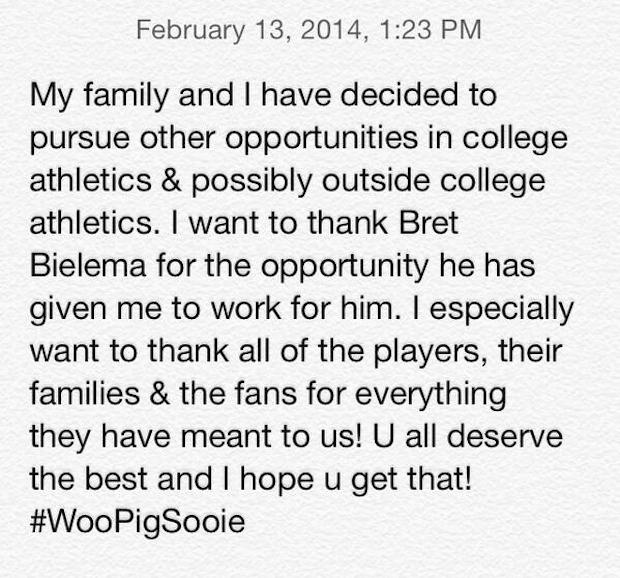 He is the sixth member of the 2013 staff to depart since the end of the season. Other coaches who have left are Chris Ash, defensive coordinator (to Ohio State, same job); Charlie Partridge, defensive line coach (to Florida International as head coach); Chris Hurd, special teams (followed Partridge to FAU) Taver Johnson, secondary coach (to Purdue as a defensive position coach); and Brian Early, defensive quality control coach (to Arkansas State as defensive line coach).
Hawgs 24/7 notes Hauser came to Arkansas with Bret Bielema from Wisconsin, where he served in the same role for the Badgers in 2012.
These changes come despite Bielema's stated desire for no changes to his staff, as he discusses it here.
Here is the bio of Chris Hauser:
Chris Hauser was announced as Arkansas' new on-campus recruiting coordinator on Dec. 17, 2012.
As on-campus recruiting coordinator, Hauser will organize the recruiting process for the football team, including initial eligibility for each incoming student-athlete. He also will plan and organize all official and unofficial recruiting visits while assisting with the daily operations of the Razorback football program.
Hauser spent the 2012 season in the same position at Wisconsin and was Toledo's Director of High School Relations in 2011. Prior to those roles, he collected 11 years of coaching experience.
Hauser served as defensive coordinator, recruiting coordinator and linebackers coach at Capital University in 2010. There, he coached two all-conference linebackers, including Sam Jacobs, who was named the Ohio Athletic Conference's Defensive Player of the Year.
Hauser spent four seasons at Ohio State helping produce one of the top defenses in the nation, first as a graduate assistant and then as defensive quality control coach. During his tenure with the Buckeyes, He worked directly with Vernon Gholston, who was selected sixth overall in the 2008 NFL Draft. Hauser also helped Ohio State to four Big Ten championships and appearances in four BCS bowls, including two BCS National Championship Games. He spent the 2005 season as wide receivers coach at Fort Hays State.
Hauser played at Akron for two seasons before suffering a career-ending injury. He stayed with the program as an undergraduate assistant coach and also was a graduate assistant for the Zips.
Hauser graduated from Akron in 2002 with a bachelor's degree in health education and earned his Master's degree in sports science and coaching in 2004. He and his wife, Whitney, have one daughter.