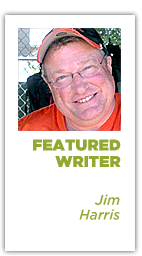 A weekly fan favorite during football season in recent years has been the Pressbox Roundtable, when Jim Harris conducts a panel discussion with other well known sports figures from around the state.
The entire SEC West Football Preview and the entire Pressbox Roundtable is available by ordering your FREE copy of the Sporting Life Arkansas Football Preview 2013 using the form below.
Joining Jim at the roundtable are:
In this excerpt of the "Pressbox Roundtable" Jim asks Bruce James for his SEC West Football Preview for this season
Jim Harris: Bruce, you've spent a significant amount of time recently on the South Mississippi gulf coast and you've attended the SEC meetings and visited other campuses. How do you see the SEC West playing out?
Bruce: My Alabama friends and sources and everybody down here in southern Louisiana and Mississippi, they are convinced Auburn is going to be a better football team than people think. Now, these aren't Auburn people saying this. These are Alabama people, LSU people, Ole Miss people. They believe there was talent there and before last season something happened. There was a philosophical coaching change offensively and a new defensive coordinator also came in and everything fell apart, Gene Chizik was fired, Gus Malzahn was brought back. They look for being a better Auburn team than the average sportswriter or magazine will say this summer.
Obviously Alabama is Alabama and they are going to completely play the same style of football and reload their talent. They'll be very good.
LSU might be the huge surprise offensively. I've been around some of their offensive players this summer, and to a man they are super excited about their new offensive coordinator, Cam Cameron [formerly of the Baltimore Ravens], and they believe they are going to be a much better offensive football team this season.
Ole Miss has a chance to get out of the gate real strong if they can beat Vanderbilt that first football game. They can be a dangerous team if they get on a winning streak real fast.
Mississippi State will still be lacking. I don't think they've put all the pieces together offensively or have enough talent assembled to be a front-runner in the division.
As for Texas A&M, I guess you would have to say this guy [head coach Kevin] Sumlin is for real. They lost their offensive coordinator but I'm pretty sure the head coach was the offensive coordinator, so I wouldn't make a big deal about that. Johnny Manziel, Johnny Football, he has a big bull's eye on him real big now. We'll know real soon about them when they play Alabama early.
The other members of the panel get in on the question regarding who they think will be the Razorbacks' breakout player this season.
Jim Harris: Who will be Arkansas' breakout player this year, and why?
Bruce: Let's hope there are about 22 of them that are vying for it. I don't know if I can name one breakout player. I think our two defensive ends [Chris Smith and Trey Flowers] will be special. I'm a very big Trey Flowers fan, I think he's highly underrated. He closes extremely well on the run, plus he drop-steps and rushes the passer well and he covers well. On offense, I think the fullback, [Keiro] Small, will be better known this year by Arkansas fans, especially on short yardage and the goal line. I think we're going to see the return of a real fullback.
Duff: Let's go with Jonathan Williams. As a true freshman running back, Williams played in every game except one (ULM). He even had two starts last year. He is a dual-threat running back and has proven that he can run and catch the ball. Impressive that as a freshman he had more than 200 yards rushing and 200 receiving. I think his success will continue, as it does from kids out of Allen, Texas!
Sully: I like [freshman running back] Alex Collins or [freshman tight end] Hunter Henry. Collins is one of those special athletes. Track, football, even lacrosse. Hall of Famer Jim Brown was also a star lacrosse player. I think Henry is SEC ready and will excel in the Bielema offense.
Edwards: I expect a lot from Tevin Mitchell. He's a junior and he's going to be trying to step up on that main stage with some of the best CB in the country. He's bigger now and understands what's expected of him.
Bahn: Sophomore running back Jonathan Williams is a guy I'd keep an eye on in 2013. He showed some flashes last year in averaging 5.1 yards per carry, and when you consider Bielema's track record with the run game, Williams is a guy I could see having a big impact.
Doc: If Hunter Henry can provide a reliable short-yardage tight end for Brandon Allen, that could be huge for the Hogs. You never want to put too much on freshmen, but I think Henry has potential to have an impact this year.
Acri: How about [running back] Patrick Arinze? He should benefit with some carries in the run-first offense and he blew up in the spring game. I love the thunder to Williams' lightning. Hopefully the Hogs can present a semi-effective pass game to allow them some space to run.
To read the complete SEC West Football Preview and the entire discussion on Arkansas State, UAPB, UCA and Arkansas high school football, order your free football preview