https://twitter.com/Mountsy/status/293926683935920128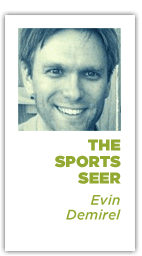 Elite recruits who chose Arkansas over Kentucky helped derail Wildcat national title hopes in the early 1990s. Could a Little Rock native who opted for Kentucky over Arkansas do the same this season?
After Kentucky's 59-55 loss to Alabama on Tuesday night, more Kentucky fans than ever would answer with an emphatic "yes."
Shooting guard Archie Goodwin, who in September of 2011 announced his commitment to Kentucky as a "business decision," is on the receiving end of a tidal wave of Big Blue-in-the-Face Nation anger. He's been accused of playing too selfishly and choosing to impress NBA scouts rather than help teammates.
All those frustrations boiled over on Tuesday as Goodwin, who leads the team in scoring and is second in assists, put together the worst second half of his career. As John Clay, columnist for the Lexington Herald-Leader, put it:
The freshman guard was two-of-12 from the floor and most of the missed shots appeared to be out-of-control drives to the basket in which the Arkansas native mistakenly thought he could either (a) draw a foul or (b) make the highly-contested shot.

"If they are not going to call those (fouls), then Archie needed to pull up or shoot around them," UK coach John Calipari said after the game. "I just kept telling him and he just kept going."

Unfortunately, Goodwin's penchant for unsuccessful drives on Tuesday fit in with his growing reputation of being a guard who shoots first and passes only when he has no other option. That reputation seemed to intensify in the Tennessee game at Rupp last week, especially when Goodwin attempted and missed a posterize dunk when he had teammate Ryan Harrow wide open on the wing.
Goodwin has long embraced the good side of the big business college sports has become. During his senior year at Sylvan Hills High School in Sherwood, Ark., he often tagged his Tweets with #BBN to show his love for Kentucky's "Big Blue Nation" fan base. They loved him back; Goodwin was, after all, the program's first commitment of the 2012 class.
But now he's experiencing all this accumulated celebrity's ugly side. For Goodwin, "business decision"  meant choosing the right platform to springboard to a lucrative pro career in the near future, but the fans who are watching him now don't care about his contracts and endorsements down the line.
They want wins, and this is the first John Calipari-coached team in recent memory that has had considerable trouble delivering them so deep into the season. In the last few years, Calipari has engineered title-winning machines so fearsome it was assumed Goodwin and his fellow five-star freshmen would easily slide in as one-and-done cogs to keep the whole thing humming.
Hardly.
Kentucky is 12-6, far from a lock for the NCAA Tournament and Goodwin appears to have regressed. At season's start, while playing point guard in lieu of Ryan Harrow, he averaged 19 points and 4.4 assists. Since switching to his more natural shooting guard position, he's averaged 12.8 points and 2.9 assists. His slump has been one reason the defending national champs have lost three of their last seven games.
After the Alabama loss, the blowback was severe. Here's just a sampler of the mostly anti-Archie Tweets I collected:
"Why didn't Archie just straight up tell Cal at the recruitment meeting that his last name was an ironic joke? #goodwin #psh"
"Archie Goodwin is the most selfish basketball player I have ever seen. Calipari should refuse to play him. #BBN"
"On behalf of Archie Goodwin, I'm officially petitioning the @NCAA to allow half-and-done players."
Kentucky is an extremely young team that had trouble gelling early on. It was widely assumed by this point in the season the freshmen would be turning the corner, but that hasn't happened yet. And it's starting to appear like it won't happen soon, if at all.
Arkansas plays Kentucky at home on March 2, and it will be fascinating to watch how both teams develop in the interim. In the coming weeks, the Razorbacks will surely continue to lean on guard B.J. Young and forward Marshawn Powell as main offensive weapons. But if Goodwin had joined the Hogs, how different would the outlook of their season be?
Would he have been willing to mesh with Young and Powell as a third, potent scorer and get after it on defense? Or would he have trouble sharing the ball with a similar ball-control, attack-minded player in Young and cause the same frustrations for Razorback fans as he has Wildcat fans?
Hard to tell. What I am fairly confident of is Goodwin will eventually learn to keep tabs on his out-of-control aggressiveness on offense. He'll see the light. He'll adapt. And he'll eventually be a successful pro. He's too smart and too talented not to.
There's a chance when Goodwin does start rolling in the NBA – whether that's one year or five years from now – the Wildcat will still feel a lot of love when he comes home to Arkansas. Because if he keeps playing like he has in recent weeks, Hog fans won't be able to hold back their gratitude that he left their team alone.
I trust Archie Goodwin with the basketball as much as I trust Manti Te'o with my eHarmony account.

— Drew Franklin (@DrewFranklinKSR) January 23, 2013
 The author still considers Goodwin the most electric Arkansas prep basketball player he's ever seen and has written more about him here. Follow Evin here.