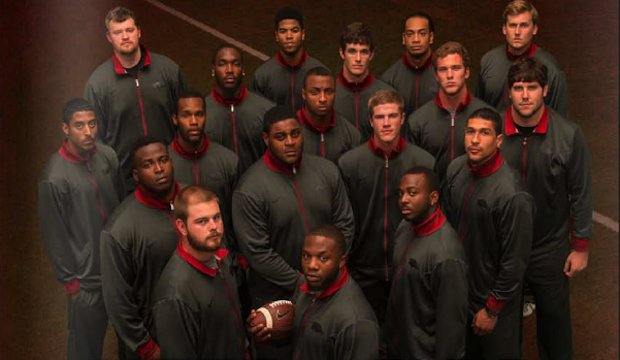 I'm so glad we had this time together, just to have a laugh and share a song.
Seems we just get started and before you know it, comes the time we have to say, "So long"  – Closing song to the Carol Burnett Show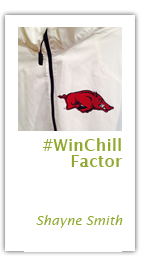 Well WinChillers, here we are.  The last WinChill Report for the season.  Will I be back next year?  Hard to say.  If pressed to answer, I'd guess that I'm going to be replaced by a short-sleeved, Dri-FIT technology-improved shirt.  Heck, I wouldn't be surprised to be replaced by (shudder) a sweater vest at this point.  But, it's been a fun ride – apart from the fact that, well,…you know.
However, all season long I've chosen to focus on the positive and this time will be no exception.  I've thoroughly enjoyed getting to know Razorback Nation.  It is a diverse group of folks with a wide variety of opinions.  We've shared some good laughs this year and I'd rather think about those times instead of the losses.  But, this is not at all about me.  Not hardly.
I'd rather spend my remaining time recognizing the following:
| | | | |
| --- | --- | --- | --- |
| 2 |      Julian Horton | WR |      Norcross, GA |
| 14 |      Eric Bennett | S |      Tulsa, OK |
| 15 |      Price Holmes | S |      Batesville, AR |
| 18 |      Zach Hocker | K |      Russellville, AR |
| 19 |      Javontee Herndon               | WR |      Jacksonville, FL |
| 36 |      Kiero Small | FB |      Baltimore, MD |
| 38 |      Jerry Mitchell | S |      Mandeville, LA |
| 39 |      Jarrett Lake | LB |      Jenks, OK |
| 42 |      Chris Smith | DE |      Mount Ulla, NC |
| 44 |      Robert Atiqa | LB |      West Valley City, UT |
| 49 |      Austin Jones | LB |      Dallas, TX |
| 54 |      Bryan Jones | DT |      Junction City, AR |
| 64 |      Travis Swanson | C |      Kingwood, TX |
| 69 |      David Hurd | OT |      West Monroe, LA |
| 81 |      Demetrius Wilson | WR |      Glendale, AZ |
| 86 |      Brad Taylor | TE |      Springdale, AR |
| 87 |      Austin Tate | TE |      Harrison, AR |
| 98 |      Robert Thomas | DT |      Muskogee, OK |
These are your Razorback seniors (with deep apologies in case I omitted anyone).  Young men who represented this program as best they could through all manner of adversity.  Three head coaches in three years?  Child, please.
Added, however, to the weight of adversity of these seasons is the personal realization that the LSU game will likely be the last time many of them ever step on the field as a player.  That sobering awareness that they will never again put on the pads when it seemed that, as a wide-eyed 7th grader, they'd get to wear them forever – well, that can be a hard pill to swallow.  However, if they remember the many lessons they've learned while playing this demanding game, they will do well.
May the transition be smooth and may their success in life after football greatly exceed the challenges they faced during their playing days.
_______________________________________
This week's WinChill Factor is, quite simply, the Senior Class of Razorback football players.  If there is one great compliment we can give this team and the leadership they displayed, it is this:  They never quit.
Until we meet again, Fear the Sleeves.
***
Coach Bielema's Windbreaker made its physical presence known on August 31, 2013.  It is chock full of Razorback spirit, has an unhealthy hatred of sweater vests and fears nothing (other than a hot iron on the "Cotton/Linen" setting).  As game days approach, the Windbreaker can be found interacting with the Razorback faithful on Twitter (@BielWindbreaker).
At times, the Windbreaker associates with Shayne Smith, a lifelong resident of central Arkansas who has been known to begin sentences with "Notwithstanding the foregoing…."