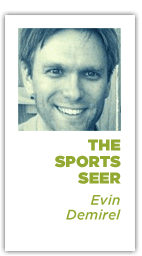 I couldn't help but think of Arkansas' greatest multi-sport athlete when watching ESPN's most recent "30 for 30" film on Bo Jackson. Jackson's record-setting documentary isn't complicated; it is the story of a man who ran faster, jumped higher and was stronger than his competitors. In it are plenty highlight film clips, with plenty people discussing how awesome the feats in those clips are. Sometimes, when no film of Jackson's mythic awesomeness is available, a commentator tells a story passed down the grapevine. Like the one of how as a child unaware of his own powers, Jackson threw a rock so hard at a minister's pig he killed it.
This isn't brain surgery. It's solid cinema, which here is simply getting out of the way and letting Jackson's exploits – real and apocryphal – bowl over the viewer.
It's time the same is done for Arkansas' own Bo Jackson, Pine Bluff's Basil Shabazz.

More than 20 years after his heyday he holds a power over the people who saw him that is unmatched by other Arkansan athletes. I've spoken to people who saw Shabazz play, guys like KATV's Steve Sullivan and Wadie Moore, the longtime Arkansas Gazette prep sports editor, and there is an unmistakable glimmer in the eye and a lift in the voice when they discuss memories of Shabazz.
At Pine Bluff High School, he electrified in football, track, baseball and track. He didn't even play baseball until his senior year, then flashed enough potential to get drafted in the third round by St. Louis. He set state records in track events he hadn't even trained for.  He high jumped 6'9", a record still standing and almost took the 200-meter dash mark in sweatpants, as one Hogville commentator recalls:
shabazz did things that mcfadden couldnt do. ie miss all of the calls at the meet of champs 200 then run across the field with sweats on when the runners are down in the starting blocks. no warming up or anything except running across the field while throwing his sweats off.
Shabazz then ran a 20.8, another record that still stands.
In basketball, Shabazz started for the Zebras' 1990 state champions but it was on the gridiron as a running back that he really made a name.
His last game was his finest, as he rushed for 171 yards and five touchdowns against an undefeated Texarkana team that came in 13-0 and allowing 4.2 points per game. At times, he made the the state's staunchest defense look downright silly. On one play, Pine Bluff lined up in the I-formation about 19 yards from Texarkana's endzone with Shabazz in the backfield. Across the way were "supposedly the two best linebackers in the state," Wadie Moore recalls. "Shabazz got the ball and ran straight through those guys before they could even get their arms up. They just looked at each other." Shabazz, who also notched a 77-yard kickoff return for a touchdown in that game, was named the 1991 USA High School Athlete of the Year by the National Sports News Service.
Bo Jackson's documentary is chronological, his rise fairly linear as a superstar in high school, college and the pros. When he suffered a career-ending injury in early 1991, at 28 years old, he was at the peak of his powers.
Shabazz's story may best be told out of chronological order. His athletic peak came early, as a high school senior (he didn't score the minimum ACT score of 17 to qualify for college athletics) and he played pro baseball before trying college football. The magic was gone, though.
He didn't thrive in either attempt.
Because he is so much more familiar with failure, Shabazz presents a more challenging subject than Jackson. Gleaning from the two Shabazz interviews I have found since he moved to Texas in 1998, he has worked in various fields – helping troubled boys and mentally disabled adults, attending culinary school, teaching private baseball lessons. With all this opportunity to mentor youth, surely he has discussed his poor upbringing – how he and his brother went without electricity, and whatever money they had often had to pay off their mother's gambling debts.
But when it comes to his own rise, and fall and rise again, what lessons has he taught? A few years ago, Shabazz told Nate Olson he had "no regrets" and "played the hand I was given." This is fine for an absolute fatalist, but people in the business of inspiring the next generation often find sharing regret adds power to their message.
Two of Shabazz's children would now be entering adolescence, likely playing sports. Do they know how great their father was? If, out of curiosity, they searched YouTube for highlight clips of him they would sadly find only barren wasteland.
But the tape's out there, in the vaults of an outlet like KATV Channel 7 or the Creative Sports Network. Getting that video would be a fine first step for any aspiring storyteller in Arkansas' burgeoning film industry. It will be a shame if Basil's story isn't told – and shown – in greater detail. We'd all be the better for it.
---
A freelancer, Evin blogs at thesportsseer.com. He also wants to pen a screenplay about this amazing story from Arkansas sports history.