Arkansas State's football team will take the field in Jonesboro on Saturday to play Middle Tennessee State for the Sun Belt Conference title. If you were to refer to the Red Wolves simply as "the governor's team," you wouldn't be far off the mark.
It's safe to say that no Arkansas governor has ever been as close to a college football team as Gov. Mike Beebe is to this group of Red Wolves. Not that Beebe is a Johnny-come-lately, mind you. In fact, he has had the same seats at what's now called Liberty Bank Stadium in Jonesboro since the stadium opened in 1974.
In the fall of 1974, Beebe was 27 years old. Born in the tiny Delta farming community of Amagon in Jackson County, Beebe moved often as a child with his mother. He lived at times in Detroit, St. Louis, Chicago and Houston. Beebe returned to Arkansas for high school, graduated from Newport High School in 1964 and went to Arkansas State, where he was a member of the Sigma Pi fraternity.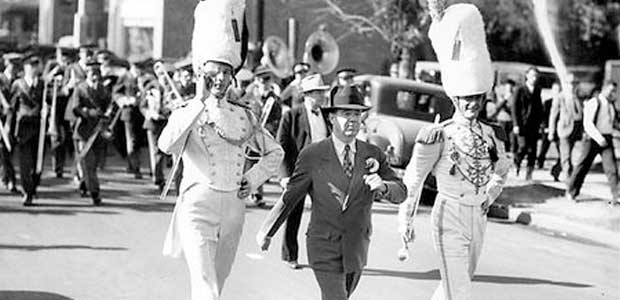 One year behind Beebe at ASU was Archie Schaffer III from Charleston. Schaffer decided to attend college in Jonesboro due to a couple of family friends who worked there – Woodrow Hayes, who ran the school farm, and Don Floyd, the assistant athletic director.
"I fed cattle in the morning for Woodrow, and Don got me on as a trainer for the Indian football team in the afternoon," said Schaffer, who retired this fall as executive vice president for corporate affairs for Tyson Foods Inc. at Springdale. "Bennie Ellender was the ASU football coach in those days."
Schaffer decided to pledge Sigma Pi, and Beebe was the pledge master. After two years in Jonesboro, Schaffer chose to transfer to the University of Arkansas at Fayetteville. The connection to Schaffer would prove valuable to Beebe a few years down the line, though.
Beebe graduated from ASU with a degree in political science in 1968 and headed to Fayetteville for law school. After receiving his law degree in 1974, Beebe accepted a job with a firm at Searcy. In 1970, Schaffer's uncle, Dale Bumpers, was elected governor. Schaffer was the appointments secretary in the governor's office for the first six months of the administration. By the summer of 1971, he had become the youngest gubernatorial chief of staff in the country. Schaffer helped convince Bumpers to put Beebe on the ASU Board of Trustees, making Beebe the state's youngest college trustee.
Beebe has been a constant presence at ASU football games through the years. The first game in the new stadium (which was known as Indian Stadium from 1974-2007 when the name was changed to ASU Stadium after a politically correct mascot switch) was played on Sept. 28, 1974. ASU lost to Louisiana Tech, 21-7. The original capacity was 16,343 with a construction cost of $2.5 million.
ASU went undefeated in 1975, the team's second year in the stadium, and capacity was increased to 18,709 in 1980. In 1991, as ASU moved to what's now the FBS (formerly Division IA), capacity was increased to 30,708. Beebe has been there for all of those changes.
On the night of Thursday, Nov. 8, Beebe was invited by Gus Malzahn to address the team prior to its game against Louisiana-Monroe.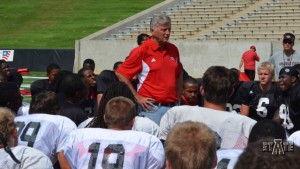 "I wouldn't be here if it were not for this man," Malzahn said in his introduction of the governor.
Indeed, Beebe played a key role a year ago in persuading Malzahn to leave his job (and take a pay cut in the process) as the offensive coordinator at Auburn. Following Beebe's talk, the Red Wolves went on to beat Louisiana-Monroe, 45-23, as an ESPNU national television audience watched.
Beebe's involvement with the team – which I consider a good thing – doesn't come close, however, to the football involvement of another Southern governor in the previous century. That, of course, was Louisiana's Huey P. Long, who adopted LSU as his school even though he never attended. Long had earned a debate scholarship to LSU following his high school education at Winnfield in north Louisiana, but his family was unable to afford the required textbooks.
Long tripled the size of LSU, making it available to poor students. There were only 1,800 students in 1928 with an annual operating budget of just $800,000. Long initiated a massive building program in 1930. By 1936, the school had more than 6,000 students, having soared in eight years from 88th in size nationally to 20th. And its football team was becoming recognized in the process. Long increased the size of the marching band from 28 to 125 to generate excitement. He was known to draw plays for the football team, give pregame talks and personally recruit players.
According to the website maintained by the Long Legacy Project at www.hueylong.com: "In 1934, Long announced that he had arranged for several trains to carry the entire student body to the Tigers' away game at Vanderbilt University in Nashville to boost the team's morale. 'He gave $7 to any student needing it in order to go to the game,' photographer Fonville Winans recalled. 'He accepted IOUs for the amount. Eventually, he ran out of money and, turning to LSU President Smith, says, 'Jimmie, you got any money?' Jimmie produced a big roll of bills and the dole continued.'"
When a circus scheduled a parade on the same day as an LSU home game, Long feared it would hurt the crowd size at Tiger Stadium. He called the circus owner and asked him to postpone a planned parade. When the owner refused, Long said: "Fine. As you know, Louisiana has a flea-dipping law, and you'll be expected to dip the elephants upon crossing the state line." The circus changed its dates.
The Long Legacy Project website notes that Long's "love of music and 'his university' inspired him to write a number of songs for LSU in collaboration with good friend Castro Carazo. These include 'Darling of LSU' and 'Touchdown for LSU,' which is still played before every LSU football game."
When Tiger Stadium in Baton Rouge opened in 1924, it had a capacity of 12,000. Long wanted a major expansion of the stadium, but the Louisiana Legislature refused his request for funding. Long discovered that money had been appropriated for dormitories. He added dorms to the stadium on the east side in 1932 and the west side in 1935. Tiger Stadium was expanded to seat 22,000, and 1,500 male students lived under the seats. In essence, the stadium served as the barracks for the university's ROTC program.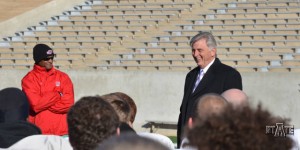 Gary Baker, who lived under the stadium during the 1978-79 school year, told www.rednbluefans.com: "It was very Spartan when we were there. It had a military feeling, but it was a good experience. There were no elevators, and every flight was bigger than the average flight of stairs. We maintained pretty good shape going up and down. If you weren't in good shape, you were by the end of the semester. If it was raining, the rain would just keep blowing at you. By the time you got into your dorm-room hallway, you were soaked."
Until the late 1970s, there was only one pay phone per hallway.
"It was like being in basic training almost," said Bobby Matherne, who lived in the stadium from 1958-61. "The beds were like the ones in Army barracks. In 1958, all the guys had to have their heads shaved and wear beanies and be in ROTC."
Students no longer live in Tiger Stadium.
Though Mike Beebe hasn't drawn up any plays for Gus Malzahn or written any songs for the band, he has taken on the upgrade of the ASU football program as a mission, much like Long did for LSU.
When I saw Beebe prior to the Louisiana-Monroe game, he noticed that I had printed out a stack of information from the ASU sports information department.
"You don't need that," he said. "I can tell you everything in there."
Beebe turns 66 on Dec. 28. He likely would tell you that the best birthday gift he could get would be a Red Wolf victory in a bowl game that week.