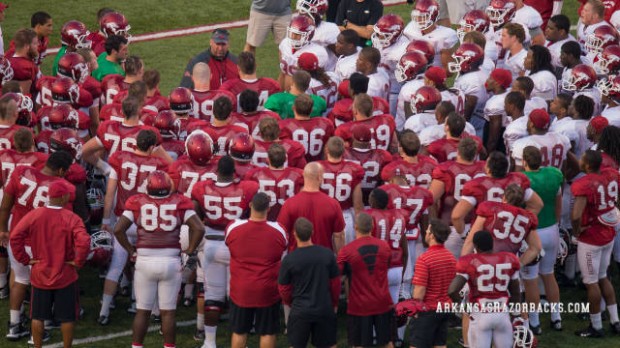 FAYTETTVILLE - Brett Bielema, head coach of the University of Arkansas football team, discussed Razorback player injuries and depth after the team held its second preseason scrimmage Saturday night at 6 p.m. to simulate the game time of their Sept. 7 game in Little Rock against Samford.
Head coach Bret Bielema was available for a press conference after the scrimmage and addressed the Razorback player injuries and team depth.
"I think we've established a lot better depth than I could ever have imagined at the beginning of fall camp just because of our injury situations," Bielema said. "We didn't have a lot of significant injuries, season ending, but a lot of guys that might miss some time here and there, and it really built depth."
Senior tight end Austin Tate was injured last week during practice. You can read more about Tate's injury here. Demetrius Wilson, a senior wide receiver, has a reported torn ACL and will be lost for the season. You can learn more about an ACL injury here. And Otha Peters, a sophomore linebacker, broke his arm.
Bielema also discussed the freshmen presence on the team.
"I think they're very intelligent," Coach Bielema said. "They all come from programs that we knew a lot about them, so there weren't any surprise hiccups or anything like that. They're just really prideful kids. I think the seniors, juniors, sophomores recognize pretty early on that they're very, very gifted. I saw Demetrius Dean interact with Jarrett Lake the other day, an odd couple that I never would have seen together. They were, prior to practice, having a great time, which so many times the chemistry that is developed off the field goes way more than what's developed on the field."
Lake has been mentioned as someone who fans should keep an eye on this season. Jim Harris sat down with the senior linebacker last week to visit about his years as a Razorback and his thoughts on the upcoming season.
Here are a few video of the Razorback fall camp you may enjoy. The first is an overview. The second is kicker Zach Hocker, and the third is a sit down with coach Charlie Partdrige.