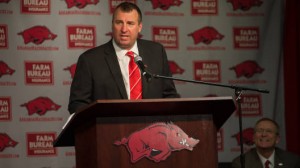 Bret Bielema on ESPN as Part of "Car Wash" For First Time as Razorbacks Head Coach – Video and audio of his appearances are below.
FAYETTEVILLE – University of Arkansas head football coach Bret Bielema went through ESPN's "Car Wash," the sport network's on-site media day in Bristol, Conn., on Tuesday.
Coach Bielema is scheduled to appear live on SportsCenter at 11:40 a.m. and SVP & Rusillo Radio Show at 12:15 p.m. Bielema's other appearances will be taped to be used throughout the season on ESPN's platforms. Coach Bielema will be in Bristol for the first time as Arkansas' head coach taking part in the SEC coaches' annual preseason appearance.
Bielema appeared on the national Jim Rome Show yesterday. We have audio of that interview where Bielema covered topics ranging from what he thinks about his new Razorback team, being the SEC, and his time in the Big 10.
Here is a clip of Bret Bielema on Highly Questionable talking about how he met his wife. He also shares his cover story to stay incognito on the road. He is a history teacher. Ha! And below that video is audio of Bret Bielema on ESPN Radio's Scott Van Pelt show.
http://www.youtube.com/watch?v=7im3G8rD0eo&t=0m13s
[tweet https://twitter.com/BretBielema/status/359758495723171840]