Courtesy UofA Athletics Department
FAYETTEVILLE – Arkansas juniors Ryne Stanek and Colby Suggs continued to receive preseason accolades on Monday as each were named to Perfect Game's preseason All-American team.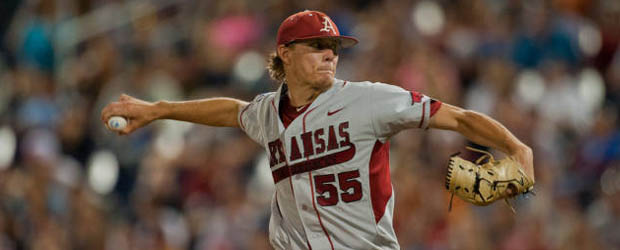 Stanek and Suggs were each named a first-team preseason All-American. Stanek has also earned preseason All-America honors from Collegiate Baseball, while Suggs was named a preseason All-American by the NCBWA and Collegiate Baseball.
A native of Overland Park, Kan., Stanek has developed into one of the top pitchers in college baseball. The right hander started 17 games as a sophomore and finished the season with an 8-4 record and a 2.82 ERA. He ranked tied for 10th in the SEC in ERA, 10th in opposing batting average (.229), tied for 10th in innings pitched (92.2), 12th in strikeouts (83) and tied for seventh in wins. Stanek, who was named to the watch list for the National Pitcher of the Year Award and the Golden Spikes Award in 2012, saved some of his best performances for the postseason. In three postseason starts last season, Stanek compiled a 2-0 record with a 1.59 ERA. He threw eight scoreless innings in Arkansas' victory over Rice in the Houston Regional and was named Most Outstanding Player of the regional. In the College World Series, Stanek allowed just one run on three hits over six innings in the Razorbacks' victory over South Carolina.
Through his first two seasons as a Razorback, Stanek has a 12-6 record with a 3.27 ERA. In 156.2 innings of work, Stanek has struck out 124 batters and has held the opposition to a .222 batting average.
Suggs was one of the best relievers out of the Arkansas bullpen in 2012. The Sulphur Springs, Texas, native appeared in 30 games, all in relief, last season and finished the year with a 7-1 record with a 1.38 ERA. Suggs set a new Arkansas single-season record for fewest runs allowed (minimum 30 innings pitched) by giving up just six runs during the season. Suggs held opposing hitters to a .203 batting average, while striking out 36 batters in 39 innings of work. Suggs ranked tied for 10th in the SEC in wins and was tied for 10th in appearances. Suggs did not allow a run in 24 of his 30 outings last season and had streaks of eight and 11 consecutive appearances without allowing a run.
Suggs has pitched in 42 games in his Razorback career and has a 9-2 record with a 1.22 ERA. He has struck out 58 batters in 59 innings of work and opposing batters are hitting just .171 against him.
The top-ranked Razorbacks open the 2013 season on Friday, Feb. 15, when they host Western Illinois. First pitch is scheduled for 3:05 p.m.