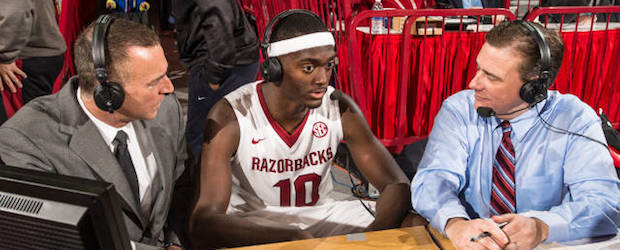 FAYETTEVILLE, Ark. – Behind an Arkansas freshman record 35 points from Bobby Portis (@BPortisTime) that included 17 straight at one point, the Arkansas men's basketball team earned a hard-fought 65-58 win over Alabama on Wednesday night at Bud Walton Arena.
Portis' 35-point night came on 14-of-17 from the field, as Arkansas snapped a four-game skid against Alabama (9-13, 3-6) to improve to 14-8 and 3-6 in the SEC. Scotty Thurman previously held the freshman single-game scoring record, going for 34 points against Missouri and Ole Miss during the 1992-93 campaign.
The lead changed hands 12 times over the first 33 minutes of the game until redshirt junior Alandise Harris' (@AlandiseHarris) jumper with 7:11 remaining gave the Razorbacks a slim 47-46 lead.
The Arkansas lead reached as large as eight, 61-53, with 1:45 to play, but the Crimson Tide fought right back to pull within one possession, 61-58, following a three-pointer by Trevor Releford and even had a chance to tie the game, but Portis came up with his season-best sixth block of the game and followed with two free throws that clinched the game and the freshman scoring record for the two-time SEC Freshman of the Week.
Portis' two clutch free throws with 17 seconds left were part of a 6-for-6 night at the free throw line for the 6-foot-10 rookie, as he led Arkansas on the glass for the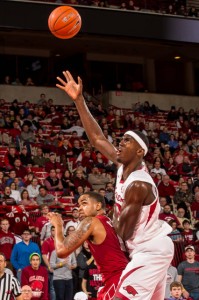 fourth straight game with nine rebounds.
Worthy Of A Hog Call (#WPS)
Portis scored 29 of Arkansas' first 35 points, including 17 straight from the end of the first half (6) and the start of the second half (11). Portis' 17 consecutive points came over a span of 6:29 and were nine more than any other Razorback had the entire game.
Key To The Contest
Arkansas was able to beat Alabama at its own game, as it limited the Crimson Tied to just 36 percent (21-59) from the field. Alabama entered with an 8-0 record when holding teams to 65 points or less, as the Razorbacks won despite being held below 70 points for just the third time this season.
@BPortisTime Quick Hits 
➢ Portis' 35 points are the most by a Razorback since Jannero Pargo scored 35 against Mississippi
State on Feb. 27, 2002.
➢ The 35 points are the fifth-most by an Arkansas player in an SEC contest.
➢ Portis is the 43rd Arkansas player to score 30 points in a game.
➢ Portis' 35 points are the second-most scored by an SEC player this season.
➢ Portis scored 18 points in the first half and 17 in the second.
➢ Portis' three-pointer at the 18:24 mark in the second half was Arkansas only three and extended its
consecutive games with a trifecta to 826.
➢ Portis is the fifth Razorback to block 6+ shots in an SEC game.
➢ Portis' 14 field goals are the second-most by a Razorback in an SEC game.
➢ Portis is the only Arkansas player to lead the team in scoring and rebounding in a game this
season, doing so five times.
➢ Portis has led the team in rebounding 11 times (7-4) and scoring in seven games (6-1), both are team-highs.
➢ Portis has scored in double figures 15 times.
#Fastest40 Facts
➢ Arkansas won the turnover battle for the 25th time in its last 26 games, including 20 of 21 this
season.
➢ Committing just four turnovers in the second half, the Razorbacks finished with a positive
assist/turnover ratio for the 19th time in 22 games, while opponent has done so just four times.
@RazorbackMBB Postgame Tweetables (140 Characters Or Less)
➢ It was @BPortisTime at BWA 2nite! Portis set an Arkansas freshman record with 35 points vs.
Alabama in a Razorback win! #WeHOGS
➢ The 35 points scored by @BPortisTime vs. Alabama is the 2nd-most by a @SEC player this season.
Up Next
@RazorbackMBB will look to put together its first win streak in SEC play on Saturday when it heads to Nashville, Tenn. to take on Vanderbilt (13-8, 5-4). Tip is slated for 3 p.m. on SEC TV.